Food & Spirits
The Lobby Lounge – Design In Motion
The Lobby Lounge redesign at the Miramar exudes understated glamour, which is what our guests expect and deserve. But more than that, the recently unveiled space ushers in an entirely new era of hospitality with a luxurious modern design that manages to make guests feel relaxed, comfortable and quite at home. As Mad Men's Don Draper famously said, "Make it simple, but significant," and that is just what we did.
Open and airy, with palm fronds swaying in the ocean breeze, the inviting new Lobby Lounge is the perfect place to host a meeting or lunch with friends, enjoy Happy Hour or sip on a delicious cappuccino or craft cocktail after checking in. At night, the Lounge takes on a softly romantic glow, when the stage is set for dining, drinks and low-key social gatherings.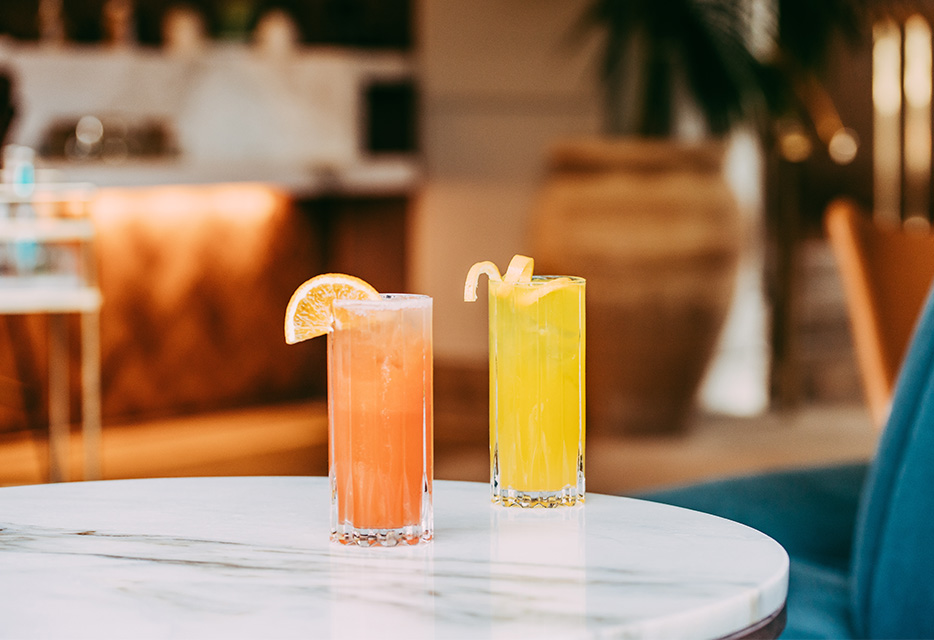 With a collaboration between Fairmont Miramar's Creative Director Mark Humphrey and Household Design—the creative agency with offices in the US and UK that also designed FIG, the Potting Shed, Lloyds Barber Shop and Dogtown Coffee—the Lobby Lounge, heart and soul of Miramar, has fully come into its own.
Well-known for their work in luxury retail design—with credits that include Soho House and flagships for Christian Louboutin, Dunhill and Zero Bond NYC—the award-winning brand experience design agency and specialist in retail and hospitality was the perfect partner, and understood, intuitively, that the ultimate challenge was to figure out how to bring life to the space, and to the people who fill it. "The Miramar has always enjoyed a special and enduring friendship with its guests, and we wanted to create the next chapter of experiences and memories for them," says Julie Oxberry, Group CEO, Household.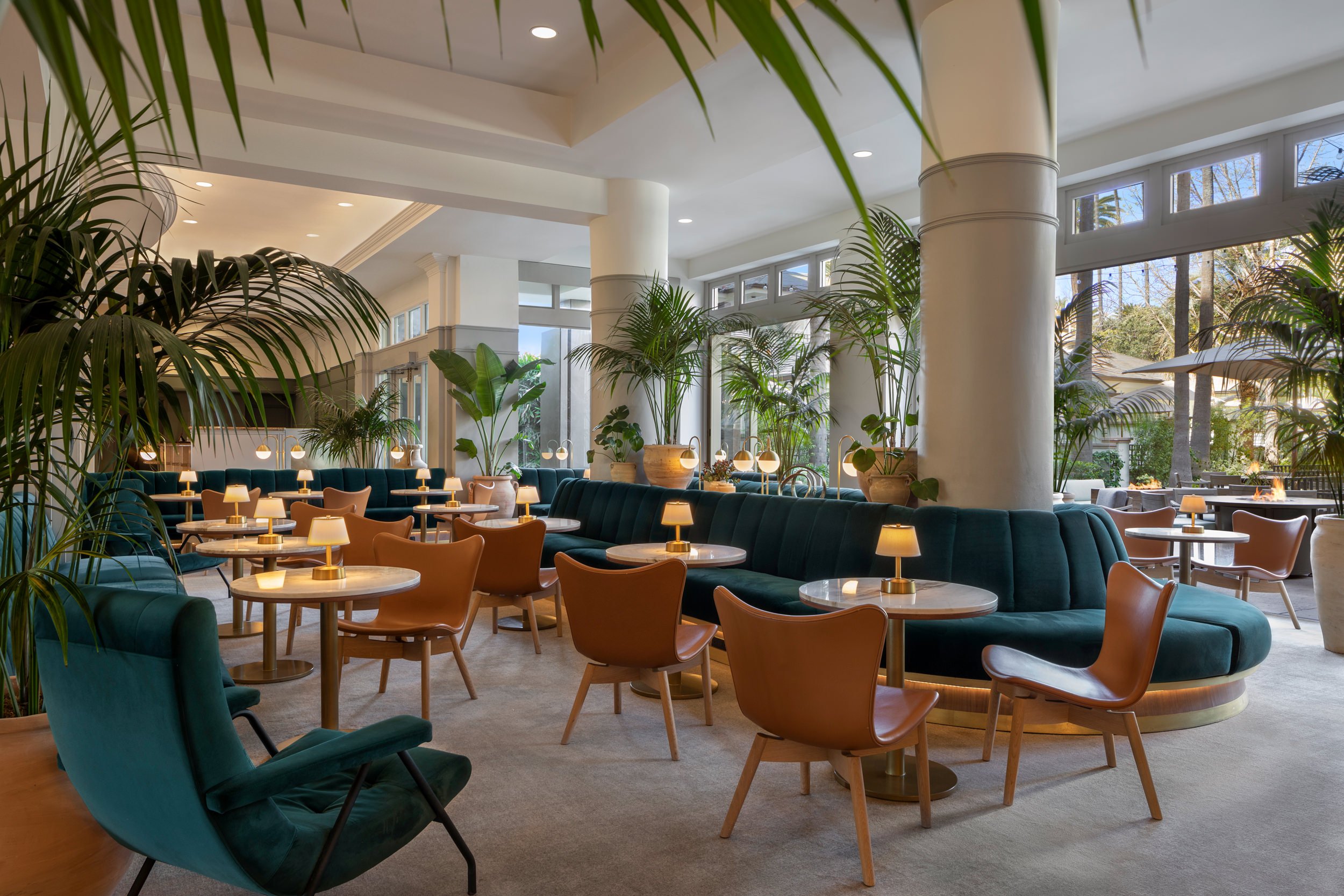 The rooms and lobby of the Fairmont Miramar Hotel in Santa Monica, CA. Photographed by Lisa Romerein and sytled by Robin Turk.
The centerpiece, a custom-made banquette designed by Household, winds through the Lobby Lounge, creating areas for open conversations as well as private exchanges, while guests drink, dine and enjoy themselves in the many curving nooks and crannies that create a relaxed and playful "hideaway" feel. Textural elements play a big part, with a nod to the Miramar's Art Deco history–with marble surfaces, polished brass, a jewel-tone palette including deep ocean blues, velvet-upholstered seating and dancing palms that thrive in the naturally lit indoor/outdoor space, with glass doors that open to enticing ocean views. "We wanted to bring back old Hollywood and a return to glamour for a new joyful time, giving a richer sense of place and experience for guests," says Oxberry. "Pairing curves with details and bold colors creates a distinctly modern interior with uniqueness and depth that connects with guests on another level."
Service from the Lobby Lounge to Georgina's next door is relaxed yet impeccable, and the beauty is in the details: an expansive new gin program, along with other launches in the works, welcomes locals and international travelers in a discrete yet joyously social gathering place, encircled by floor-to-ceiling glass doors that open onto breezy private terraces, where guests can enjoy the mesmerizing thrum of the ocean.
In its 100-year history, the Miramar has established itself as a hotspot for Hollywood A-Listers, politicians, sports icons, intellectuals and the local community. With this spot-on new design, we once again elevate the guest experience with a warm and welcoming gathering place that will inspire and sustain new and memorable experiences.
"Creating future-forward and guest-focused spaces and experiences at the Fairmont Miramar is a relevant and crucial design challenge for changing times," says Oxberry. "The pandemic has shown more than ever the importance of tuning into what makes guests feel safe and relaxed–yet creating unexpectedness, curiosity and moments to remember still matters very much too." Only at Miramar.