In-Room Dining
Breakfast in bed, a picnic on the beach, or dinner for two in the privacy of your stylish room or exclusive bungalow. Our staff is ready to take your order from our locally sourced, farm-fresh California menu at Fairmont Miramar. Or let us cater your private party, reception, or meeting. Requests may be placed from the tablet in your guestroom, or by calling In-Room Dining.
Available daily 6 am – 11 pm
Coffee & Tea

Cafe Au Lait

House Brew Coffee + Steamed Milk

Espresso

Espresso + Steamed Milk

Cappuccino

Espresso + Foam + Steamed Milk

Macchiato

Espresso + Steamed Milk

Flavored Lattes

Caramel, Hazelnut, Mocha, Vanilla

Iced Latte

Single Or Double - Espresso + Steamed Milk

Hot Latte

Single Or Double - Espresso + Steamed Milk

Chai Tea Latte

Lightly Sweet And Spicy Chai + Choice Of Milk

Organic Matcha Latte

Organic Premium Matcha Tea + Almond Milk + Honey

Flat White

Double Shot Espresso + Microfoam (8oz)

Vietnamese Iced Coffee

Dark Roast + Condensed Milk

Whole Milk

Skim Milk

Soy Milk

Almond Milk

Smoothies, Soft Drinks & Water

Strawberry Smoothie

Mango Smoothie

Pineapple Smoothie

Ginger Ale

Sprite

Diet Coke

Coca-Cola

Red Bull

Red Bull Sugar Free

Fanta

San Benedetto Still Water

San Benedetto Sparkling Water

Taste Nirvana Coconut Water
Champagne

5oz Glass or 750ml Bottle

Prosecco

Della Vite Treviso

Champagne

Louis de Sacy 'Grand Cru', France

Champagne

Veuve Clicquot Brut

White Wines

5oz Glass or 750ml Bottle

Sauvignon Blanc

FIG, Napa Valley

Sauvignon Blanc

Cloudy Bay, New Zealand

Sancere

Les Beaux, France

Gruner Veltliner

Georgina Jones, Santa Barbara

Chardonnay

Louis Max 'Beaucharme' Bourgogne, France

Rosé

5oz Glass or 750ml Bottle

Red Wines

5oz Glass or 750ml Bottle

Pinot Noir

FIG, Sonoma Coast

Syrah

Favia 'Quarzo', Amador County

Chianti

Poggerino, Villa Antinori, Tuscany

Red Blend

Aleksander, Paso Robles

Cabernet Sauvignon

Lancaster, Alexander Valley

Spirits

Patron Silver Tequila

750mL

Jack Daniel's Tennessee Whiskey

1 Liter

Johnny Walker Black Label Scotch Whisky

1 Liter

Macallan 12 Year Single Malt

1 Liter

Beer
Pet Friendly Options

Rise & Fido

Free Range Scrambled Eggs, Steamed Carrots & Brown Rice

Bow Wow

Organic Chicken, Yukon Gold Potato & Sweet Peas

Tail Wagger

Beef Tenderloin, Sweet Potato & Green Beans
Brunch

Available Saturdays and Sundays 11:30am - 3:00pm

Shareables

Warm Cinnamon Bun

vanilla fondant

Market Oysters

habanero cocktail sauce & horseradish, red wine-shallot mignonette & FIG's Fesno hot sauce

Rosemary Fries

avocado ranch

"Millionaires Bacon"

maple glazed

Crispy Calamari

blistered garlic & shallots Momma's Lil's Peppers & charred lemon

Queso Fundido

creamed rajas & impossible green chorizo, warm tortillas

Warm Croissant Bread Pudding

Fruit Loops, white chocolate

Eggs

Soft Scrambled Eggs

beurre de burrata, chives & black pepper

FIG's Eggs Benedict

poached eggs, Canadian bacon, hollandaise

Soft Poached Eggs

buttermilk biscuit, short rib ragu

Herbed Frittata

smoked salmon, capers, crème fraiche

Crab Cake Benedict

poached eggs, jumbo lump crab, hollondaise

Pizza Pies

Margherita

Sicilian oregano, basil, mozzarella & tomato fondue

Brunch Fest Pizza

bacon, sausage, crème fraiche, baked egg, smoked mozzarella

Main Plates

Brunch Ramen

crispy pork, miso, slow-cooked egg

Market Vegetable Hash

Japanese sweet potato, sunny-side-up egg, mint yogurt

Avocado Toast

country bread, Ninja raddish, heirloom cherry tomatoes, ricotta salata

FIG Burger

allium aioli & heirloom tomatoes, Muenster cheese, gem lettuce, wispy onions & rosemary fries, avocado ranch *beyond burger available

Coconut Chia Pudding

açaí, market fruit, shaved young coconut, lavender honey

Chilaquiles Verdes

vegan green chorizo, fried eggs radish, cilantro & tomatillo salsa, queso fresco

Classic American

bacon, sausage, breakfast potatoes, choice of eggs

Smoked Salmon Club

multi-grain bread, lemon dill mayonnaise, crispy bacon

Fried Chicken & Sweet Potato Waffle

bacon, candied yams, sage & maple powder

Spicy Fish Tacos

shaved cabbage & mango salsa, cilantro crema & avocado

Hash Brown Breakfast Sandwich

crisp potato, bacon, sunny-side-up egg

Kitchen Sink Salad

chilled shrimp, chicken, creamy mustard dressing

From the Griddle

Buttermilk Pancakes

local strawberries, whipped cream

"Fruity Pebbles" Pancakes

Vermont maple syrup

"Bananas Foster" Pancakes

vanilla cream, caramelized bananas

Breakfast Burrito

bacon, eggs & cheddar cheese crispy potatoes, avocado, pico de dallo & Guajillo salsa
All-Day

Available daily 11:00 am - 10:00 pm

Appetizers

Roasted Tomato Soup

Croutons & Basil Oil

Chicken Noodle Soup

Egg Noodle & Dill

Grilled Shrimp Cocktail

Lemon Chutney, Horseradish, Cocktail Sauce

Market Vegetable Carpaccio

Lemon Garlic Hummus & Olive Oil

Ahi Tuna Poke

Maui Onion, Shoyu & Green Onion

Flat Bread

Margherita or Mushrooms & Tarragon

Beef Tartare Tart, Yuzu & Shallot

Crème Fraiche, Black Garlic & Chives

Warm Crab Cake, Vanilla & Radish

Apple, Avocado & Haricot Vert

Deviled Eggs, Smoke Salmon & Tapioca

Dill, Dijon mustard & Mustard Seeds

Korean Fried Chicken

House-Made Pickles

Entree

Caesar Salad

Romaine Hearts, Parmigiana Reggiano & Garlic Croutons

Steak Salad

Warm Fingerlings, Arugula & Point Reyes Blue Cheese

"Kitchen Sink" Salad

Chilled Shrimp, Chicken & Creamy Mustard Dressing

Classic Burger

Niman Ranch Beef Patty, Classic Garnish & French Fries

"Classic" Club

Grilled Chicken, Bacon, & Sunny Side Up Egg

Marinated Shrimp or Fish Tacos

Cabbage, Radishes & Blistered Tomatoes

Roasted Scallops, Celery Root & Truffle

Lemon, Hazelnuts & Celery

King Salmon, English Peas & Yukon Potatoes

Malt Vinegar, Capers & Parsley

Togarashi Seared Hamachi

Wok-Fried Vegetables, Spicy Red Miso & Cilantro

Market Fish

Simply Grilled, Charred Lemon & Fennel Arugula Salad

Steak Frites

6oz Grass Fed Wagyu, Red Wine Butter & French Fries

Truffle Gnocchi, Brown Butter Bread Crumbs

Parmesan, Sunchokes & Pearl Onions

Braised Veal Osso Bucco, Sweet Onion & Polenta

Beech Mushrooms, Garlic & Fontina

Spring Chicken, New Season Carrots & Honey Mustard

Garlic, Farro & Cippolini Onion
Main

Homestyle Breakfast

Two Eggs Any Style, Choice of Bacon, Sausage or Ham, Weiser's Crispy Potatoes, Includes Coffee & Juice, Pick your Toast

Santa Monica Breakfast

Scrambled Egg Whites, Chicken Apple Sausage & Asparagus, Seasonal Fruit, Includes Coffee & Juice, Pick your Toast

Eggs

Two Eggs any Style

Choice of Meat & Toast

Breakfast Burrito

Bacon, Eggs, Cheddar, Breakfast Potatoes, Pico de Gallo & Avocado

Omelette

Cage Free Whole Eggs or Egg Whites. Choice of 3: Ham, Mushrooms, Tomatoes, Peppers, Onions or Spinach. Choice of Cheese: Cheddar, Boursin or Muenster. Pick your Toast

Smoked Salmon Benedict

Poached Eggs, House-Smoked Salmon, Fine Herb Hollandaise

FIG's Eggs Benedict

Poached Eggs, Canadian Bacon Hollandaise

Chilaquiles Rojos

Cage Free Eggs, Pulled Chicken, Queso Fresco, Jalapeño, Cilantro & Red Onion

Griddle

Lemon Ricotta Pancakes

Almonds & Blueberry Butter

Buttermilk Pancakes

Warm Maple Syrup

Blueberry Pancakes

Seasonal Compote

Crispy Waffle

Bananas, Walnuts & Nutella

Cereals, Grains, Fruit & More

Acai Bowl

Bee Pollen, Honeycomb, Granola, Almonds & Strawberries

House Smoked Salmon & Bagel

Market Tomatoes, Shaved Red Onions, Salted Cucumbers & Capers, Dill-Black Pepper, Cream Cheese

Olive Oil Crushed Avocado Toast

Country Bread, Ninja Radish, Heirloom Cherry Tomatoes, Ricotta Salata

Steel Cut Oatmeal

Brown Sugar & Raisins

Housemade Granola

Almonds, Cranberries, Greek Yogurt & Strawberries

Greek Yogurt

Plain, Blueberry or Strawberry

Farmer's Market Fruit Plate

Baked Goods

Muffins

Blueberry, Banana or Monkey Bread

Croissants

Traditional or Chocolate

New York Style Bagels

Plain, Sesame or Everything

Toast

Multigrain or Rustic Bread

Rejuice

G1

Kale, Celery, Apple, Lemon & Ginger

GFT

Grapefruit & Turmeric

Sides

Applewood Bacon or Turkey Bacon

Natural Pork Sausage or Chicken Apple

House Sliced Smoked Salmon

Tomato, Cucumber & Avocado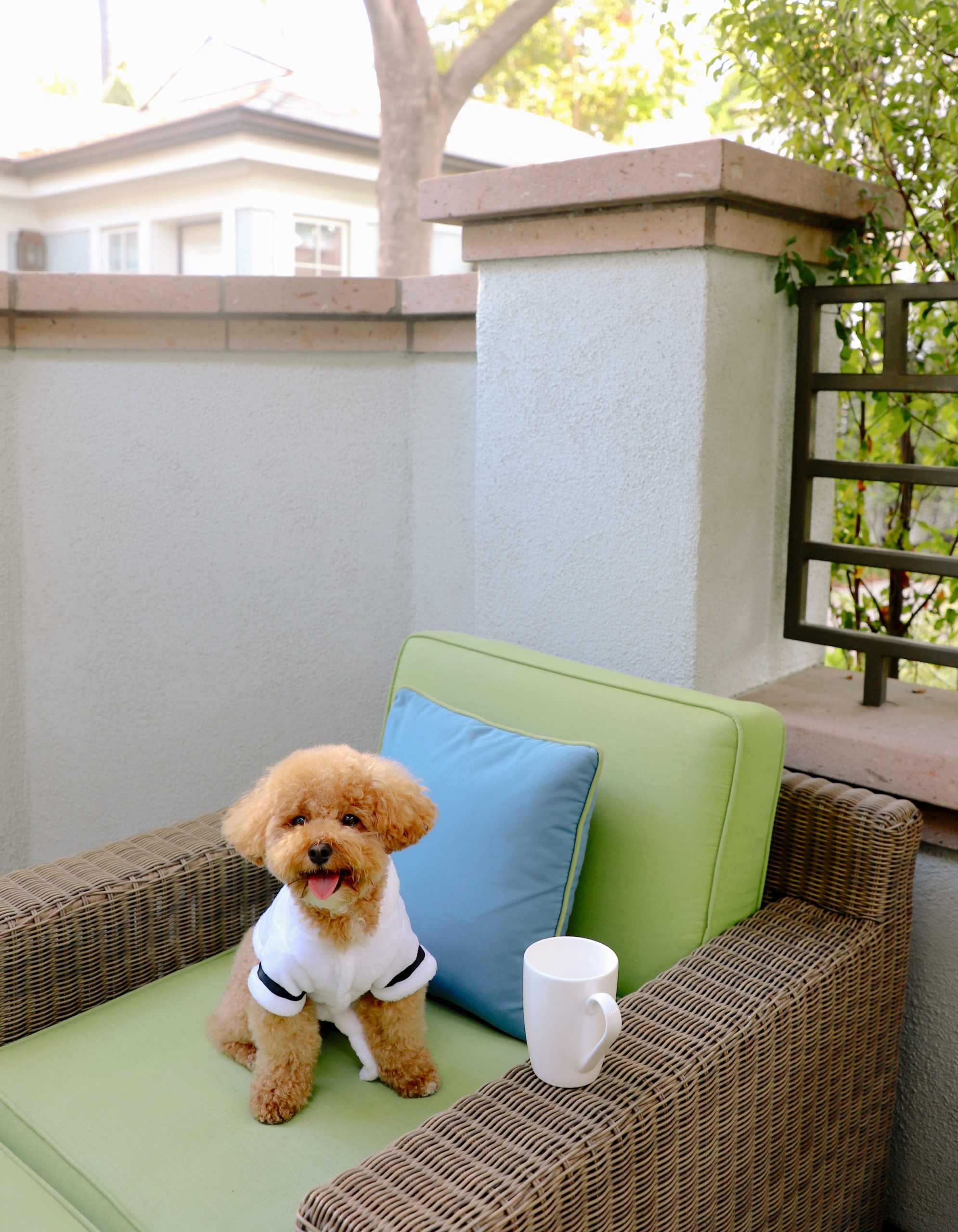 Only at Fairmont Miramar: we welcome your furry friends with open arms, and that includes our 31 private bungalows. Take advantage of our exclusive menu of in-room dining for pets. Choose from proven canine favorites like the Tail Wagger, Rise & Fido, and Bow Wow dishes.
Exclusive Offers and Updates from Fairmont Miramar