Activities
A Perfect Afternoon Tea
Picture this: Lolling about on a lazy afternoon, catching up with friends in a light-filled setting, enjoying the lovely English tradition of Afternoon Tea, SoCal style! Our elegant reimagining is infused with whimsy, excellent conversation, and delightful treats.
Inspired by the stylish Georgina Francis Sullivan Jones, a gifted botanist who built the original Miramar mansion that is now the Hotel, our new Afternoon Tea at The Miramar is a modern version of a time when gathering in a Salon-like atmosphere for Afternoon Tea was a much-anticipated daily event.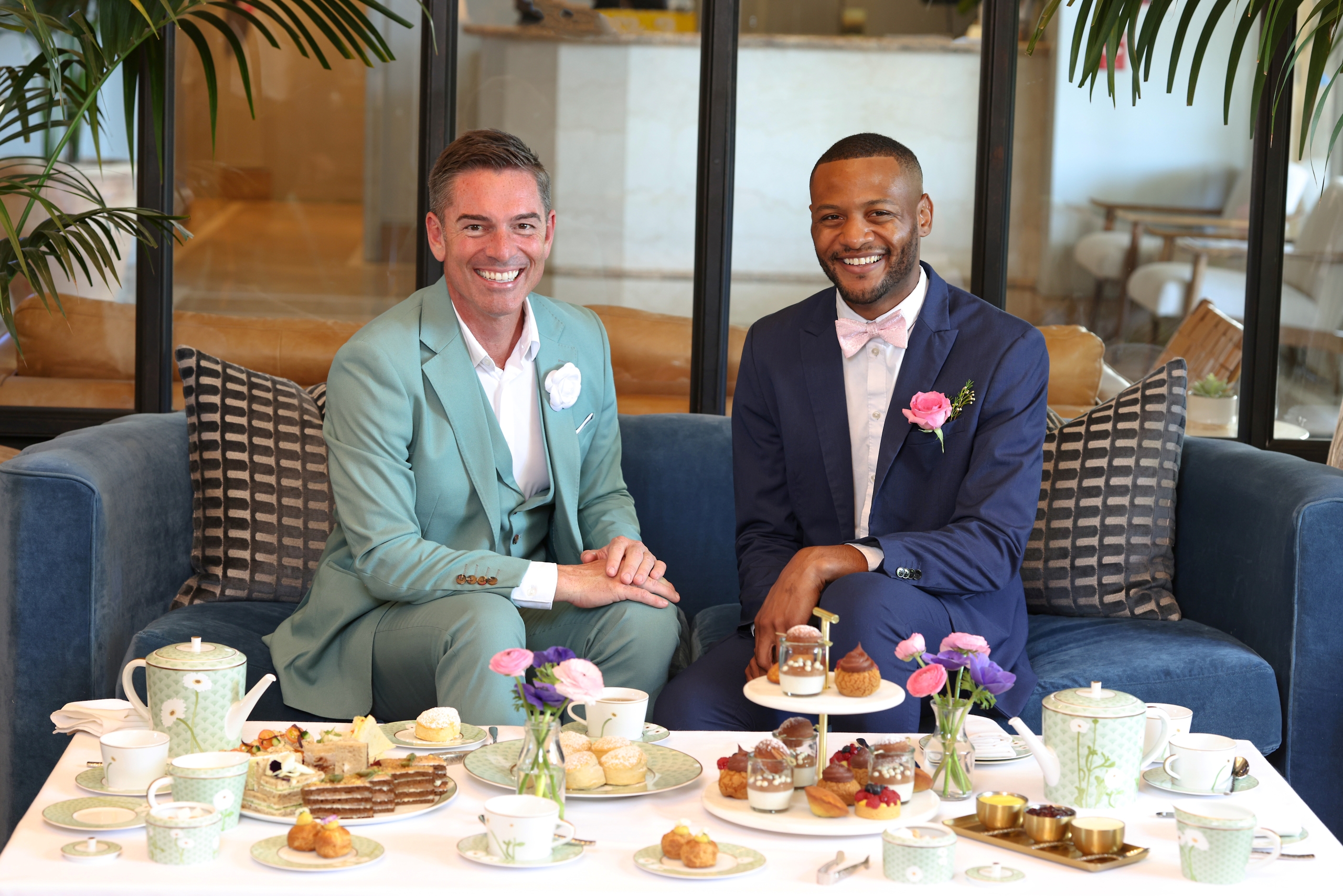 Jeffrey Hattrick & Malik Washington
"In a busy world, Afternoon Tea gives us time for a pause, when the world stops and we make space for a ritual of enjoyment," says renowned tea expert Jeffrey Hattrick, aficionado of highbrow Afternoon Tea, who partnered with us for the launch. "We wanted to make it an elevated event," says Food & Beverage Manager Malik Washington, "and also a very calming, elegant, and unexpected experience."
Georgina Jones, renowned for her lavish parties and literary soirees, would have loved to host Afternoon Tea in The Miramar Fountain Room, where the sun streams through the glass, framing amaryllis and palm fronds, and guests are treated to three generous courses. Indulge in elegant finger sandwiches, warm Gougeres, goat cheese & caramelized fig sandwiches, lobster rolls, warm scones with clotted cream and house-made preserves. Also, a scrumptious array of miniature cakes, pastries and classic madeleines from Executive Chef, Damon Gordon's playful and inventive menu.
Served on our divine Bernardaud porcelain, inspired by images of the beloved garden that Georgina tended so well, our guests balance a delicate tea cup, lean into a plush loveseat or velvet banquette and slowly savor a selection from our freshly brewed Lot 35 loose leaf teas, Fairmont's exclusive luxury tea collection.
Afternoon tea can be a highbrow family affair but it is also especially attractive to casual gatherings of adults who share in the languorous ritual of swirling, sipping tea. Most delicious, perhaps, is the opportunity to linger for a while, and catch up on news & conversation. Imagine this as your own private tea salon, and anticipate an afternoon filled with little gifts and surprises!