Food & Spirits
Make Time for Gratitude
The holidays can be a stressful time, but we have something we know can help. It's simple and relevant to everyone. It's Gratitude.
A recent article in the NY Times cited research proving there are mental health benefits to be had from feeling, receiving and expressing gratitude. Researchers found those who experience gratitude in their day to day lives not only feel better, they sleep better. Psychologists say it can lead to enhanced self-esteem and satisfaction, and that "Gratitude is strongly and consistently associated with greater happiness."
We appreciate the beauty of our beachside location, our stunning architecture and design and the glamorous history that makes The Miramar such a uniquely wonderful place to stay!
We are grateful for our incredible team and want to thank all of them for making the The Miramar experience exemplary.
We are grateful for our guests, many of whom return to share Thanksgiving with us at FIG every year.  (This year's menu, by the way, will stop you in your tracks, it's that good! Join us.)
In the spirit of the season, we want to give thanks for everything–and everyone–we are grateful for.
As you prepare to host your Thanksgiving Dinner, we invite you to pause and contemplate the abundance of things you're grateful for. Amidst the tranquility of the moment, savor FIG Executive Chef Damon Gordon's ingenious holiday hacks, ensuring a stress-free and delightful meal preparation.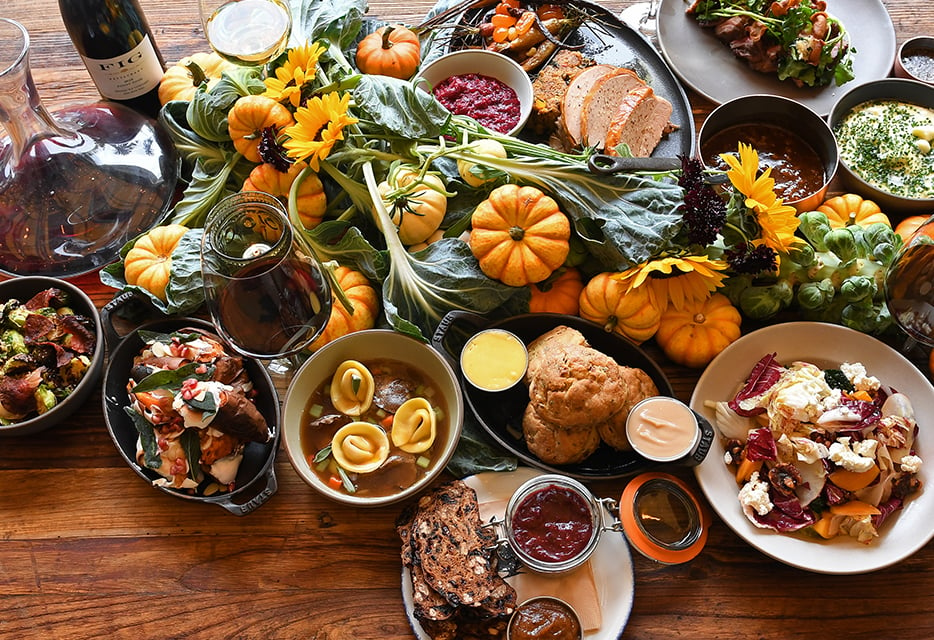 Make a prep list
Build in extra time to avoid feeling rushed
Cook the turkey early so that the juices can settle, and you will free up the oven!
Keep the recipes simple unless you are a seasoned cook
Check your list before your guests arrive to make sure everything is ready so that you can greet them with a smile!
And if cooking a gigantic meal is not for you this year, let us prepare a Thanksgiving feast To-Go! Just place an order for the FIG Turkey-To-Go Thanksgiving Dinner Extravaganza. We promise that you and your guests will be very, very happy–and grateful!