Lobby Lounge
Expertly mixed craft cocktails are the star of the show at Fairmont Miramar's sophisticated and serene Lobby Lounge. It's the ideal spot for a casual meal or drink at any time of day. Gather with friends or colleagues for dinner or a nightcap by the koi fish pond and waterfall. The Lobby Lounge exudes glamor and a chic and relaxed California coastal vibe.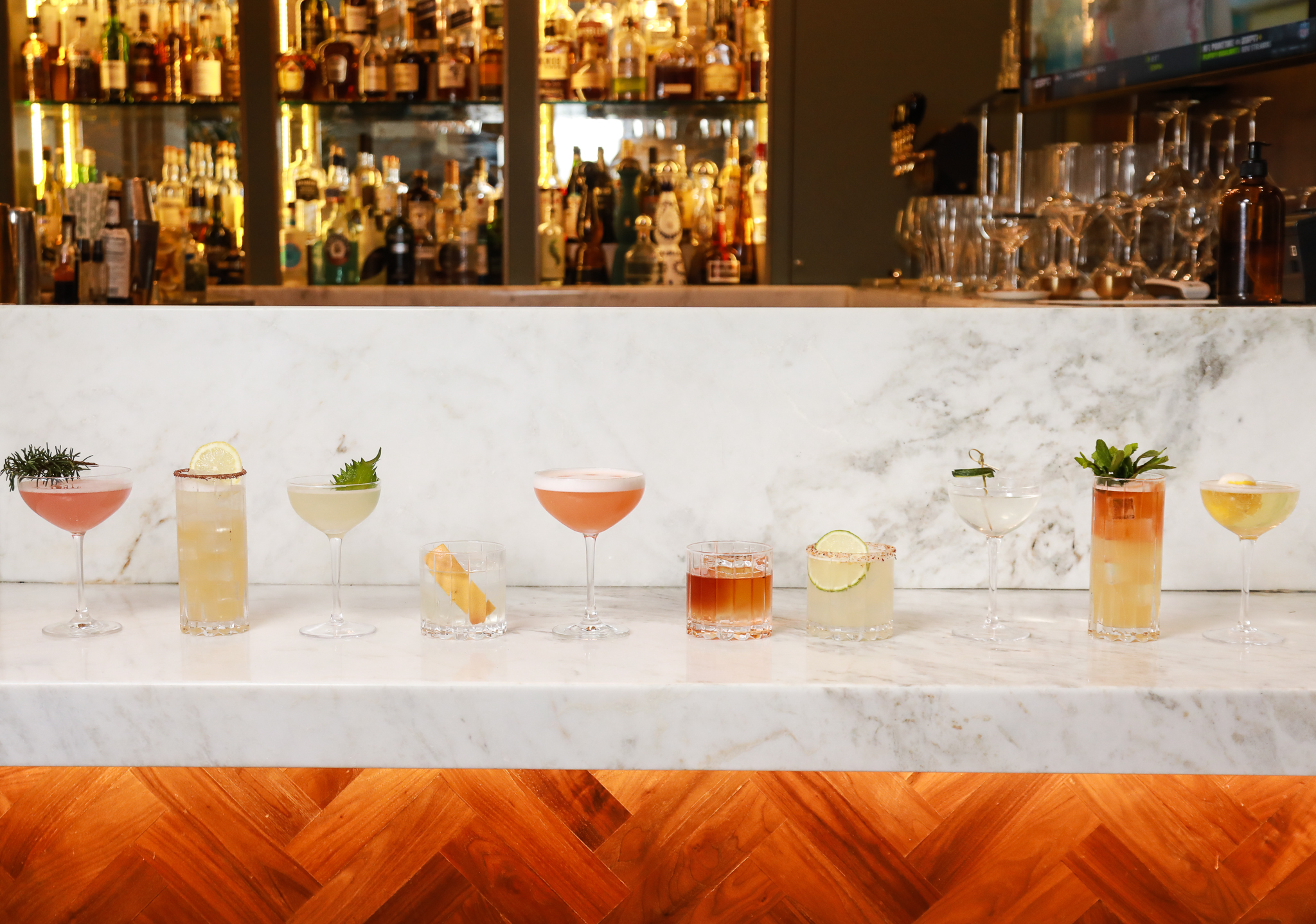 Our brand-new menu pairs beautifully with cocktails or newly launched mocktails. On the food front, Executive Chef, Damon Gordon, and our entire culinary team went all out to showcase elegant comfort foods from around the globe. Grab a drink, and join us for our new All-Day Menu!
Available daily 11 am – 10 pm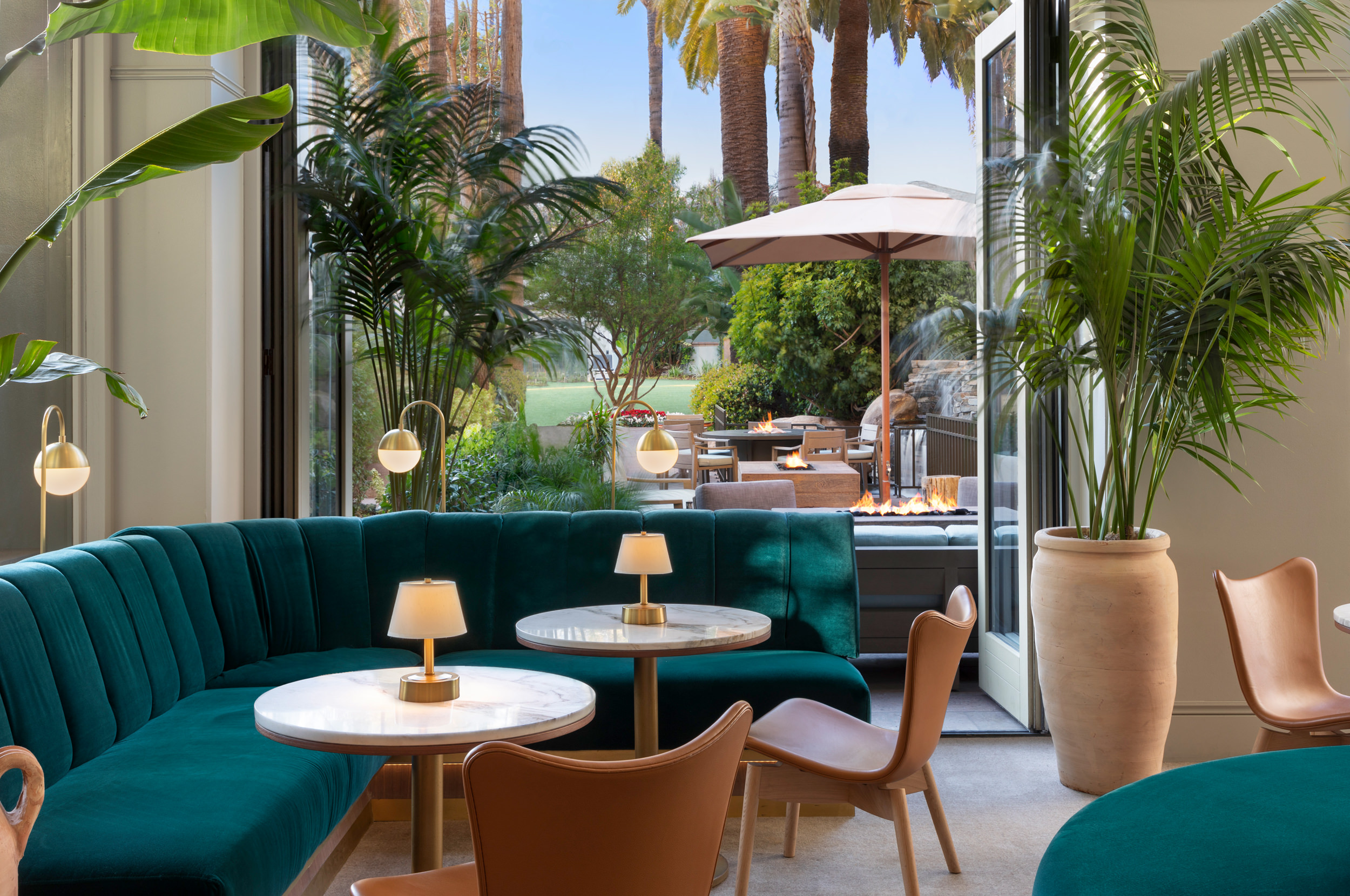 Designing a New Era of Hospitality
Our recently redesigned Lobby Lounge space ushers in a new era of hospitality with a luxurious modern atmosphere created to make you feel relaxed, comfortable, and at home. Read more about the redesign on our blog, Under the Fig Tree.
LOCATION
101 Wilshire Blvd
Santa Monica , California 90401
HOURS
Monday – Thursday  | 11 am – 10 pm
Friday | 10 am – 12 am
* Late Night Pizza | 10 pm – 11:30 pm
Saturday | 9 am – 12 am
* Late Night Pizza | 10 pm – 11:30 pm
Sunday | 9 am – 10 pm
Gin & Tonic

Mediterranean Tonic

Roku Gin, Orange Peel, Mint, Fever Tree Mediterranean Tonic

Aromatic Tonic

Malfy Gin Sicilian Pink Grapefuit 'Rosa' Strawberry, Pink Peppercorns, Thyme, Rosemary, Fever Tree Aromatic Tonic

Floral Tonic

Nolet's Gin, Elderlower Fever Tree, Lime, Melon, Cracked Black Pepper

Citrus Tonic

Surf City Gin, Mint, Orange Peel, Lemon Peel, Star Anise, Fever Tree Citrus Tonic

Cucumber Tonic

Plymouth Gin, St. Germain, Lemon, Dill, Refreshingly Light Cucumber Tonic

Indian Tonic

No. 3 Gin, Lime, Cinnamon, Fever Tree Indian Tonic

Featured Drinks

Anchor Distilling 'Old Tom'

San Francisco

Barr Hill Reserve Tom Cat Gin

Vermont

Darnley's View

Great Britain

Gunpowder Irish Gin

Ireland

Full Selection of Gins Available at different price points. Please inqure with our servers for more details.
Craft Cocktails

Kick off a special evening with signature cocktails from our new Lobby Lounge menu, created by our favorite mixologist, Gianna Jones. Each is inspired by our celebrated history, and they are as lovely to look at as they are to taste.

The Miramar

Amass Vodka, Hibiscus, Rosemary, Champagne

The Georgina

Champagne, Lavender, Lemon Essence

A Touch of Mink

Roku Gin, Cucumber, Sake, Yuzu

The Don

Kikori Whiskey, Balcones Rye, Toasted Sesame, Bitters

Ninotchka

Grey Goose La Poire Vodka, Shiso, Coconut, Vanilla, Lemon

Driven to Abstraction

Buffalo Trace Bourbon, Ginger, Peach Lemongrass, Mint, Soda

Citron Fizz

Aviation Gin, Hojicha Tea, Cacao, Lemon, Soda

Lucky 101

Beefeater Gin, Blanc Vermouth, Gentian Liqueur Celery, Aquavit

Carousel

Beefeater Gin, Aperol, Yellow Chartreuse Apricot, Pink Peppercorn, Egg White

Carmen Miranda

El Jimador Blanco Tequila, Plum, Lime Agave, Szechuan Salt

Beer

Firestone Walker 'Union Jack' IPA

Santa Monica '310' Blonde Ale

Three Weavers 'Seafarer' Kolsch

Santa Monica Brew Works 'WIT"

Wines by the Glass

Prosecco

Della Vite Treviso

Brut Rose

Perle De Ma Mere, 'La Perle Brut' Bourgogne

Champagne

Veuve Cliquot Brut

Rosé

Rosé Margerum 'Riviera', Santa Barbara

Rosé

Rosé Daou Paso Robles

Rosé

Aix Vin De Pro Coteaux D'Aix En Provence

Bombino Bianco

Masseria Furfante, Puglia, Italy

Sauvignon Blanc

FIG, Napa Valley

Sauvignon Blanc

Honig, Napa Valley

Pinot Grigio

Terlato, Italy

Pinot Blanc

Au Bon Climat, Santa Barbara

Sancere

Les Beaux, France

Chardonnay

Rombauer, Carneros

Aglianco del Vulture

Grifalco, Basilicata

Chianti

Villa Antinori, Tuscany

Pinot Noir

Banshee, Sonoma

Red Blend

Aleksander, Paso Robles

Cabernet Sauvignon

Honig, Napa Valley
All-Day

Available daily 11:00 am - 10:00 pm

Appetizers

Roasted Tomato Soup

Croutons & Basil Oil

Chicken Noodle Soup

Egg Noodle & Dill

Grilled Shrimp Cocktail

Lemon Chutney, Horseradish, Cocktail Sauce

Market Vegetable Carpaccio

Lemon Garlic Hummus & Olive Oil

Ahi Tuna Poke

Maui Onion, Shoyu & Green Onion

Flat Bread

Margherita or Mushrooms & Tarragon

Beef Tartare Tart, Yuzu & Shallot

Crème Fraiche, Black Garlic & Chives

Warm Crab Cake, Vanilla & Radish

Apple, Avocado & Haricot Vert

Deviled Eggs, Smoke Salmon & Tapioca

Dill, Dijon mustard & Mustard Seeds

Korean Fried Chicken

House-Made Pickles

Entree

Caesar Salad

Romaine Hearts, Parmigiana Reggiano & Garlic Croutons

Steak Salad

Warm Fingerlings, Arugula & Point Reyes Blue Cheese

"Kitchen Sink" Salad

Chilled Shrimp, Chicken & Creamy Mustard Dressing

Classic Burger

Niman Ranch Beef Patty, Classic Garnish & French Fries

"Classic" Club

Grilled Chicken, Bacon, & Sunny Side Up Egg

Marinated Shrimp or Fish Tacos

Cabbage, Radishes & Blistered Tomatoes

Roasted Scallops, Celery Root & Truffle

Lemon, Hazelnuts & Celery

King Salmon, English Peas & Yukon Potatoes

Malt Vinegar, Capers & Parsley

Togarashi Seared Hamachi

Wok-Fried Vegetables, Spicy Red Miso & Cilantro

Market Fish

Simply Grilled, Charred Lemon & Fennel Arugula Salad

Steak Frites

6oz Grass Fed Wagyu, Red Wine Butter & French Fries

Truffle Gnocchi, Brown Butter Bread Crumbs

Parmesan, Sunchokes & Pearl Onions

Braised Veal Osso Bucco, Sweet Onion & Polenta

Beech Mushrooms, Garlic & Fontina

Spring Chicken, New Season Carrots & Honey Mustard

Garlic, Farro & Cippolini Onion
Breakfast

Available Saturdays and Sundays 9:00am-11:00am

Mains

Homestyle Breakfast

Two Eggs Any Style, Choice of Bacon, Sausage or Ham, Weiser's Crispy Potatoes, Includes Coffee & Juice, Pick your Toast

Santa Monica Breakfast

Scrambled Egg Whites, Chicken Apple Sausage & Asparagus, Seasonal Fruit, Includes Coffee & Juice, Pick your Toast

Eggs

Two Eggs any Style

Choice of Meat & Toast

Breakfast Burrito

Bacon, Eggs, Cheddar, Fries & Guacamole

Omelette

Cage Free Whole Eggs or Egg Whites.
Choice of 3: Ham, Mushrooms, Tomatoes, Peppers, Onions or Spinach.
Choice of Cheese: Cheddar, Boursin or Muenster. Pick your Toast

FIG's Eggs Benedict

Poached Eggs, Canadian Bacon, Jalapeño Hollandaise

Smoked Salmon Benedict

Poached Eggs, House-Smoked Salmon, Fine Herb Hollandaise

Chilaquiles Rojo

Cage Free Eggs, Pulled Chicken, Queso Fresco, Cilantro & Red Onion

Griddle

Lemon Ricotta Pancakes

Almonds & Blueberry Butter

Buttermilk Pancakes

Warm Maple Syrup

Crispy Waffle

Bananas, Walnuts & Nutella

Blueberry Pancakes

Peach Compote

Cereals, Grains, Fruit & More

Acai Bowl

Bee Pollen, Honeycomb, Granola & Strawberries

House Smoked Salmon & Bagel

Market Tomatoes, Shaved Red Onions, Salted Cucumbers & Capers, Dill-Black Pepper Cream Cheese

Olive Oil Crushed Avocado Toast

Radish, Cucumbers & Sprouts, Everything Bagel Seasoning & Rustic Bread

Farmer's Market Fruit Plate

Steel Cut Oatmeal

Brown Sugar & Raisins

Housemade Granola

Cranberries & Greek Yogurt, Strawberries

Greek Yogurt

Plain, Blueberry or Strawberry

Baked Goods

Muffins

Blueberry or Honey Bran

Croissants

French Butter or Chocolate

New York Style Bagels

Plain, Sesame or Wheat

Toast

Multigrain or Rustic Bread

Rejuice

G1

Kale, Celery, Apple, Lemon & Ginger

Sides

Applewood Bacon or Turkey Bacon

Natural Pork Sausage or Chicken Apple

House Sliced Smoked Salmon

Tomato, Cucumber & Avocado
Brunch

Available Saturdays and Sundays 11:30am - 3:00pm

Shareables

Brioche Donuts

Strawberry-Mint Sugar, Strawberry Jam

Cheddar-Bacon Biscuit

Whipped Butter & Momma's Jam

Chilled Mexican Shrimp

Habenero Cocktail, Marie Rose Sauce & Lemon

Queso Fundido

Creamed Rajas & Impossible Green Chorizo, Warm Tortillas

Toast

Soft Scrambled Eggs

Beurre de Burrate, Chives & Black Pepper

Avocado

Shaved Cucumbers, Radishes, Sprouts, Soft Boiled Egg & Everything Spice Mix

Pizza Pies

Margherita

Sicilian Oregano, Basil, Mozzarella & Tomato Fondue

Foraged Mushroom

Black Truffle, Taleggio & Wild Arugula

Brunch Fixings

FIG's Eggs Benedict

Poached Eggs, Canadian Bacon & Jalapeño Hollandaise

Breakfast Burrito

Bacon, Eggs, Cheddar Cheese, Guacamole, Fries & Guajillo Salsa

Smoked Brisket Hash

Yukon Gold Potatoes, Mop Sauce & Caramelized Onions Poblano Peppers & Eggs

Chilaquiles Verde

Vegan Green Chorizo, Honey Dew Radish, Cilantro, Tomatillo Salsa, Queso Fresco & Fried Egg

Farmer's Market Veggie Salad

Shaved & Chopped Vegetables, Chickpeas, Piquillo Peppers & Red Wine Vinaigrette

Spicy Fish Tacos

Shaved Cabbage, Mango Salsa, Cilantro Crema & Avocado

FIG Burger

Allium Aioli & Heirloom Tomatoes, Muenster Cheese, Gem Lettuce, Wispy Onions & Rosemary Fries, Avocado Ranch

Kegs & Eggs

Any Brunch Item with Endless Beer

45

Desserts

Warm Chocolate Chip Cookies

Short Cake

Tamai's Strawberries, Bee Pollen & Yogurt Sorbet
Soko Sushi by Chef Masa Shimakawa

Available daily from 5:00pm - 10:00pm

Starters

Edamame

Sea Salt Or Spicy Garlic

Miso Soup

Tofu, Nameko Mushrooms, Wakame, Japanese Parsley

Shareables

Roll Platter

Bluefin Tuna Roll *Omega Blue Kanpachi With Scallion (2 Rolls)

Nigiri Platter

Bluefin Tuna, *Ora King Salmon, *Omega Blue Kanpachi, *Selva Shrimp, Red Snapper (5 Pieces)

Sashimi Platter

Bluefin Tuna *Ora King Salmon *Omega Blue Kanpachi (2 Pieces ea.)
*Consuming raw or undercooked meats, poultry, seafood, shellfish or eggs may increase your risk of foodborne illness.
WARNING: Certain foods and beverages sold or served here can expose you to chemicals including acrylamide in many fried or baked foods and mercury in fish, which are known to the State of California to cause cancer and birth defects or other reproductive harm. For more information go to www.P65Warnings.ca.gov/restaurant.
Exclusive Offers and Updates from Fairmont Miramar