Exclusive Stays in Santa Monica
Original, eclectic and stylish. Stay in our exclusive luxury accommodations at Santa Monica Beach. Our landmark property includes three one-of-a-kind experiences: an immaculately restored mid-century modern ocean-facing tower; a classic-meets-contemporary residential Palisades wing; and 31 private beach-inspired garden bungalows from the 1930s.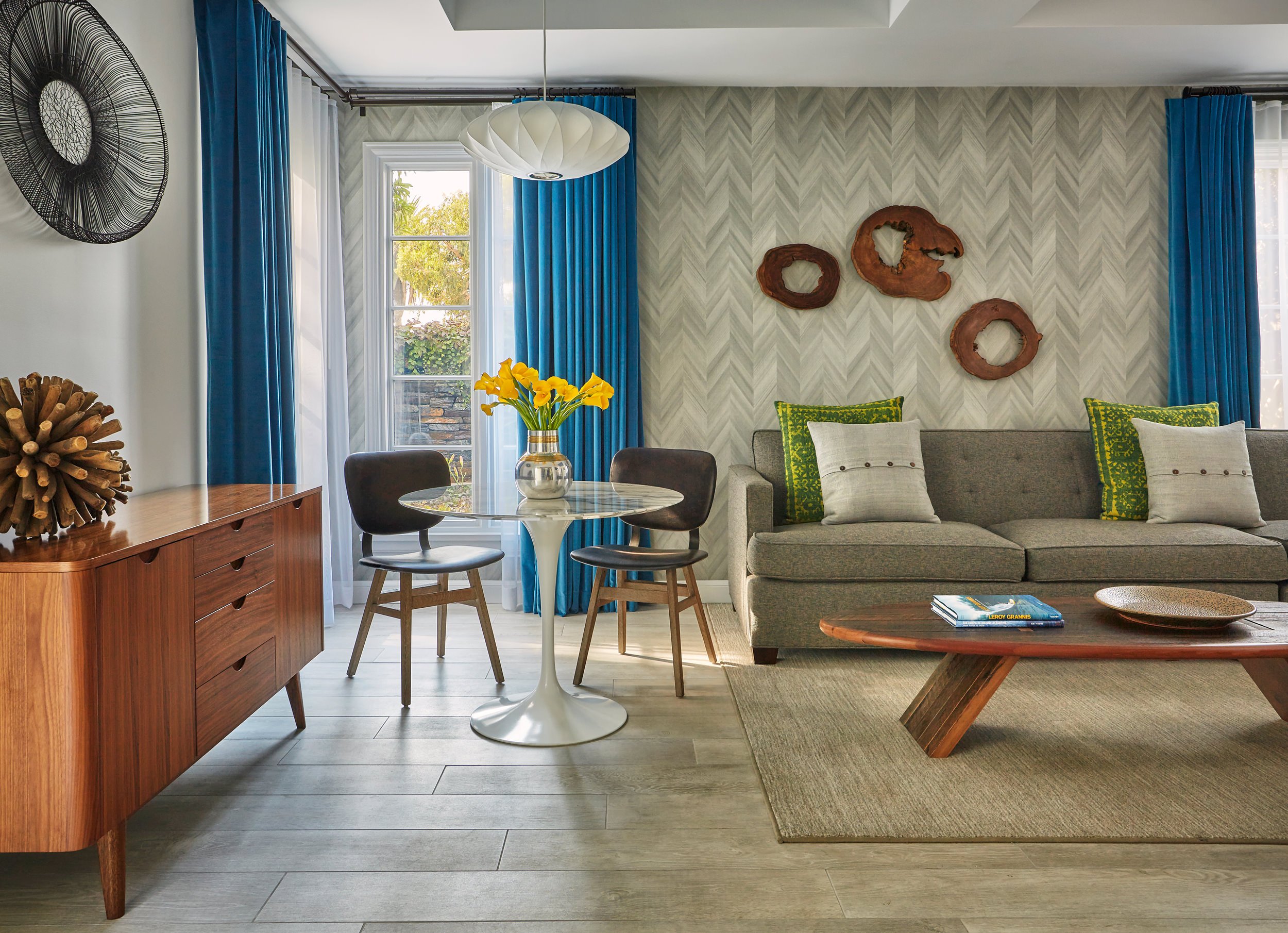 Our spacious guest rooms span up to 550 square feet. Soak in deep soaker tubs in the rich marble bathrooms, sleep comfortably on 100% cotton linens and, wrapped in a plush robe, toast the day from your private balcony while taking in the California beauty.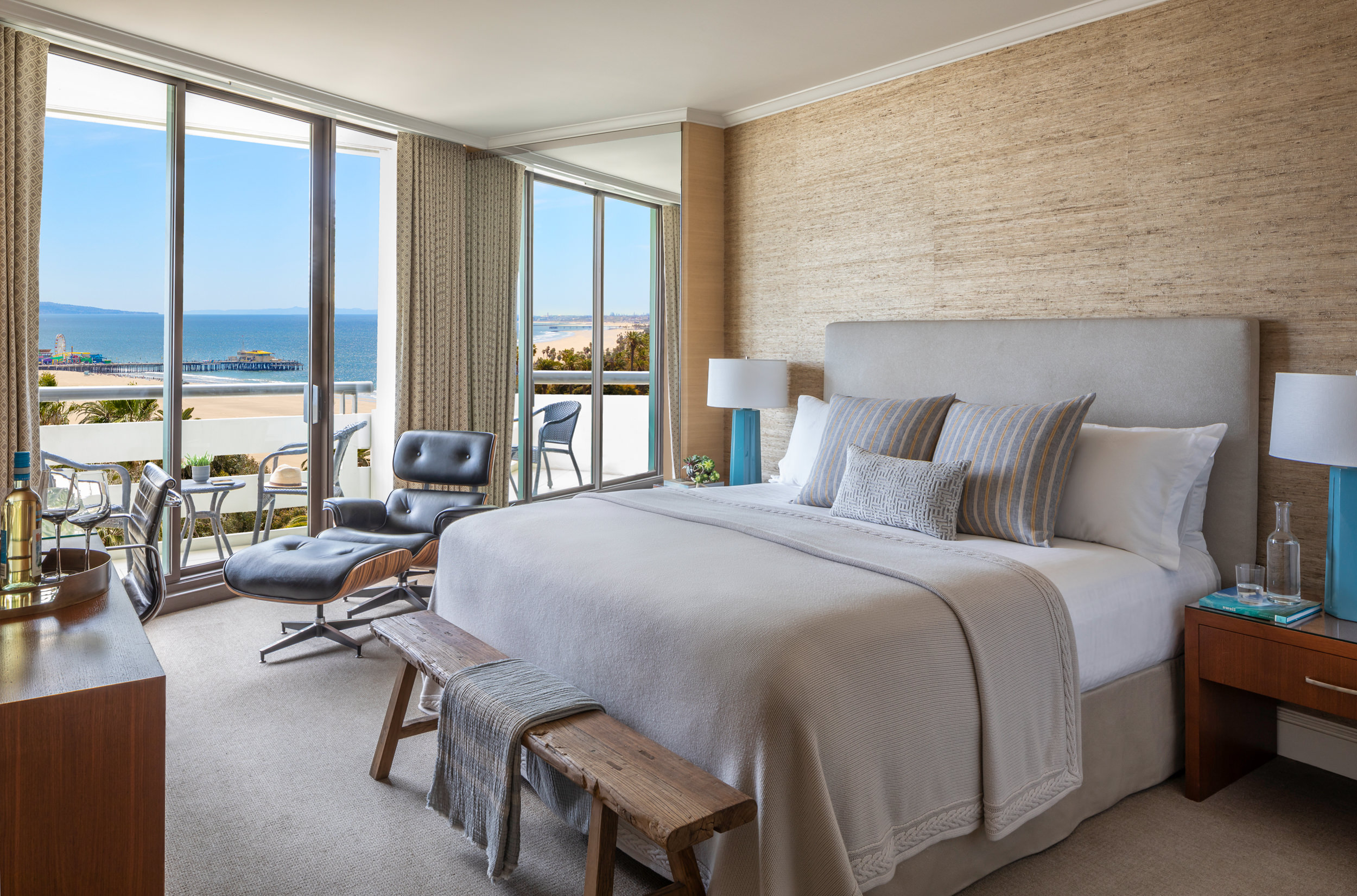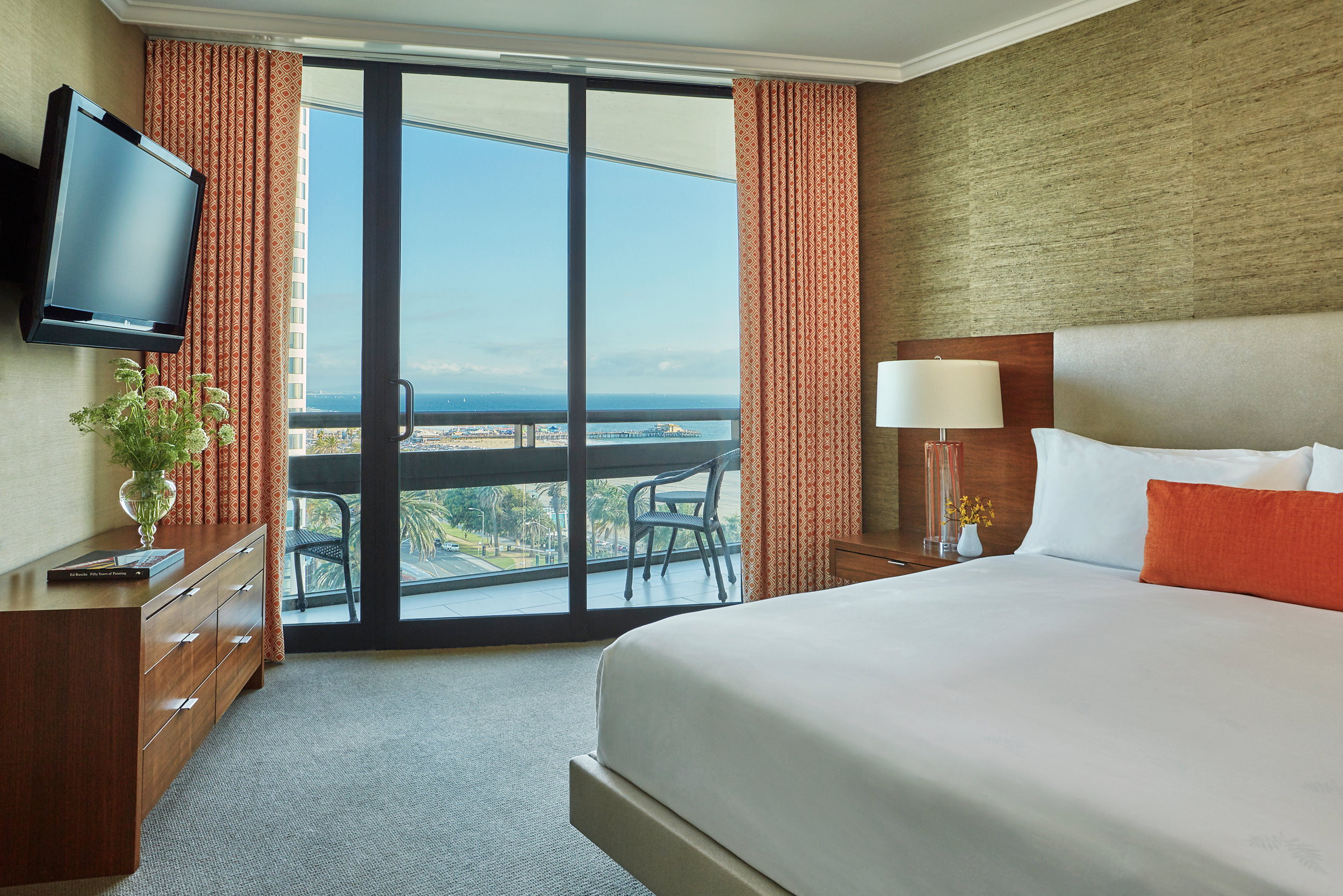 Ocean Tower
Wake up to a sea breeze or take in the Pacific sunset from your private balcony. It's all about views from our mid-century modern Ocean Tower, restored to its original style by our skilled craftsmen. Iconic walnut-grain 1950s furniture sets the classic tone, accented by oh-so-comfortable beds, vintage lighting and vibrant SoCal photography.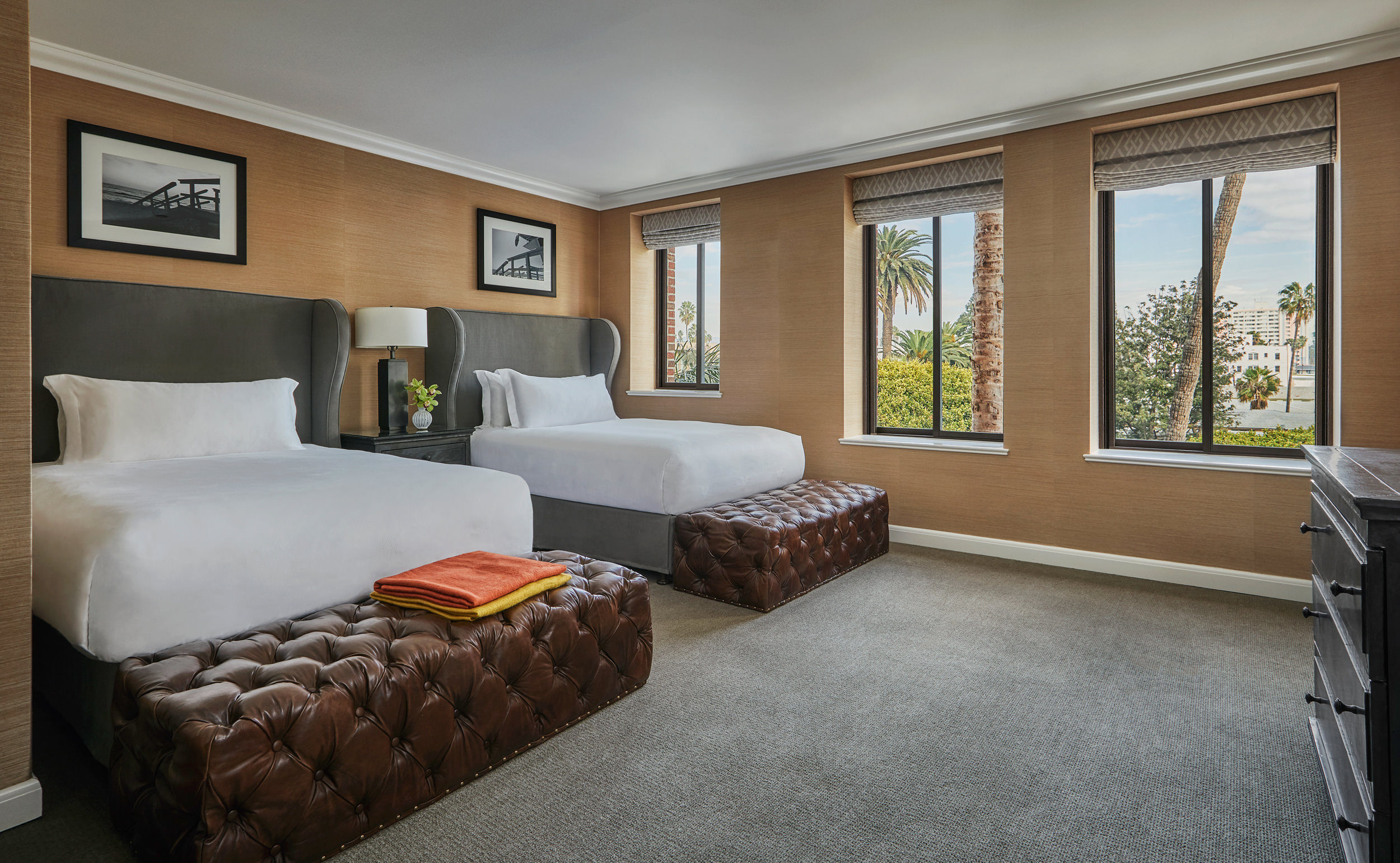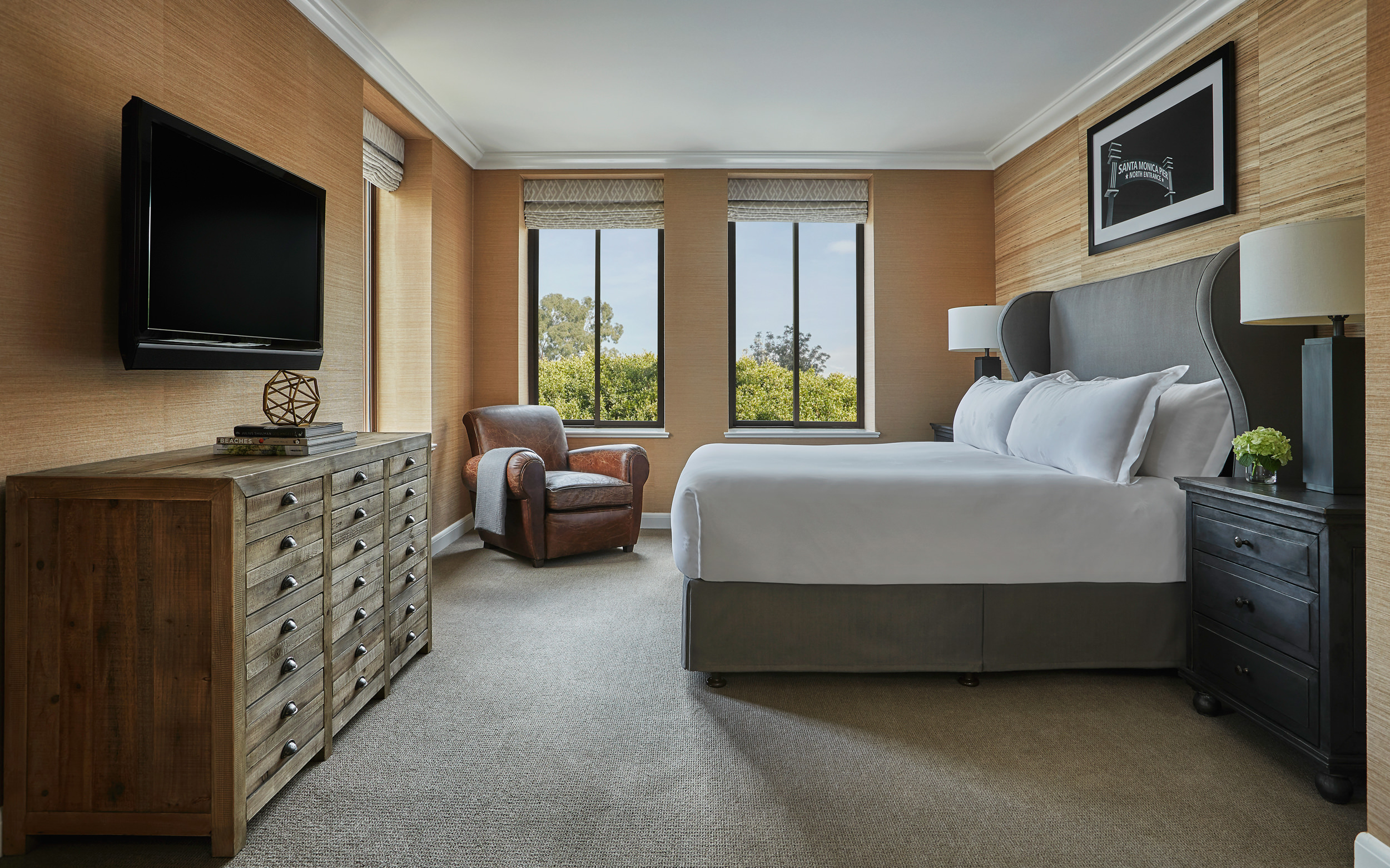 Palisades
Kick back in style where legendary politicians and Hollywood stars once stayed. Our spacious Palisades guest rooms and suites are ideal for families or guests looking for a little extra space. Choose your ideal view: the city, our lush gardens or the serene Pacific ocean.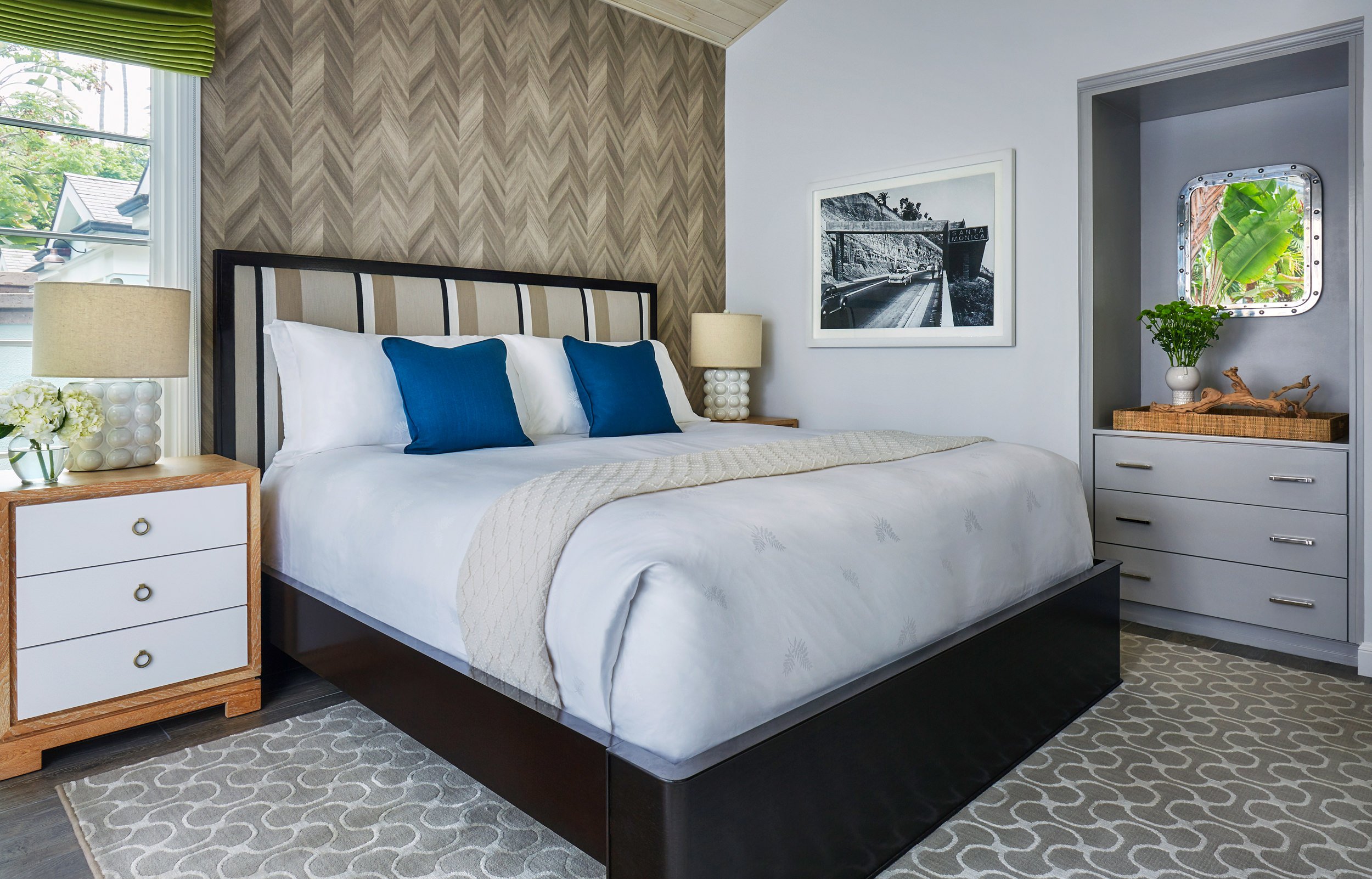 Our accessible ADA-compliant rooms are thoughtfully designed to ensure your comfort and safety during your stay at Fairmont Miramar.
Amenities
Laundry Service

Concierge

Bedside Reading Program

Pet Friendly

Premium Internet access

Beach Cruiser Rentals

24 Hour Fitness Center

Pool Access

EV Charging Stations

Daily Turndown Service

Valet Parking* Fees Apply

Wheelchair Accesible

Keurig Beverage Machine

Flat Screen TV

Plush Bathrobes

Iron & Ironing Board

In-room Safe

Work Desk

Bedside USB Ports

Crib (Upon Request)

Microwave (Upon Request)

Mini-Refrigerator (Upon Request)

Nespresso Machine (Upon Request)

Rollaway Bed / Sofa Bed (Upon Request)

Tea Kettle (Upon Request)
Explore the World of

Fairmont Miramar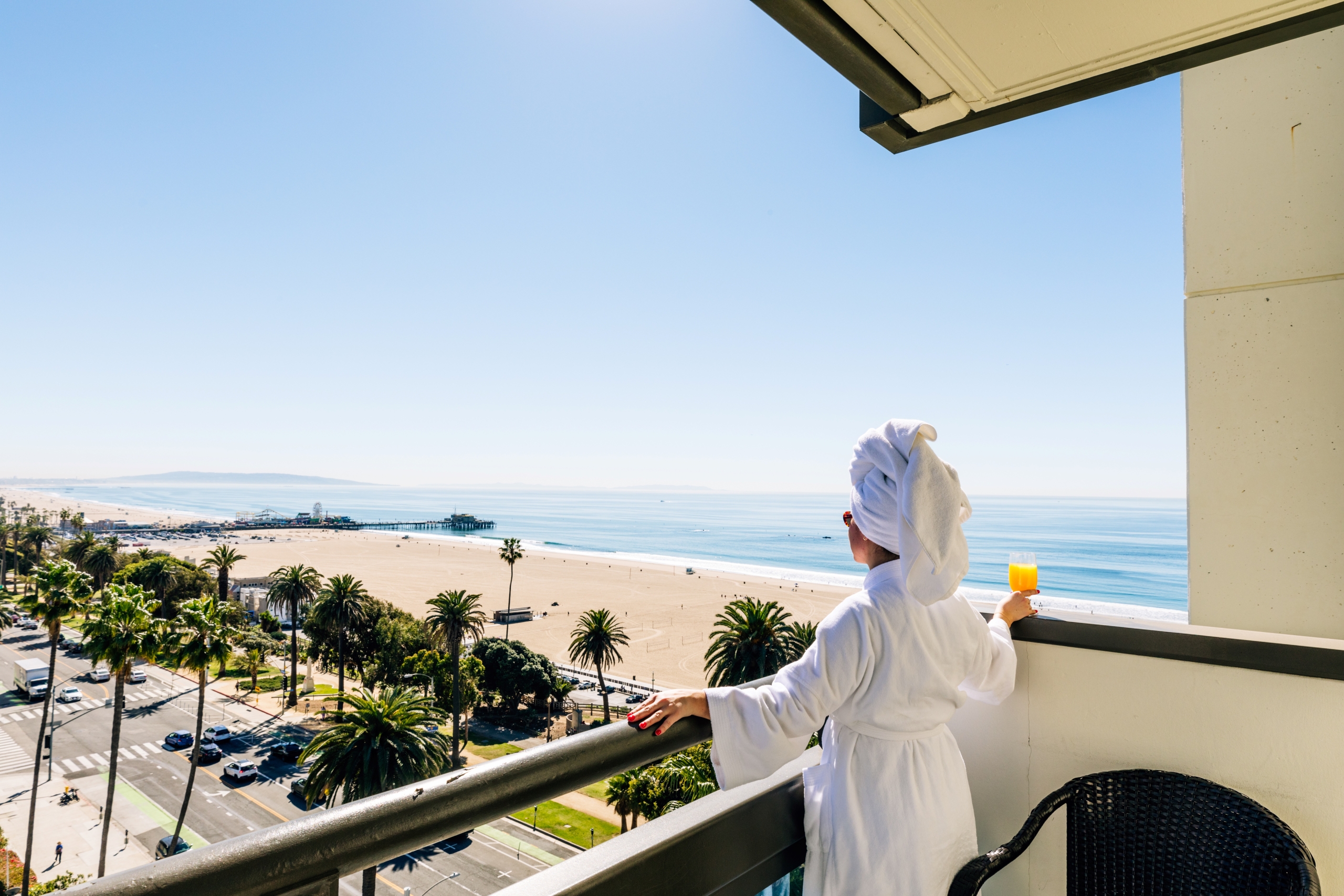 Offers & Exclusives
Make your Fairmont Miramar stay even more inspiring with one of our exclusive Santa Monica hotel offers or packages.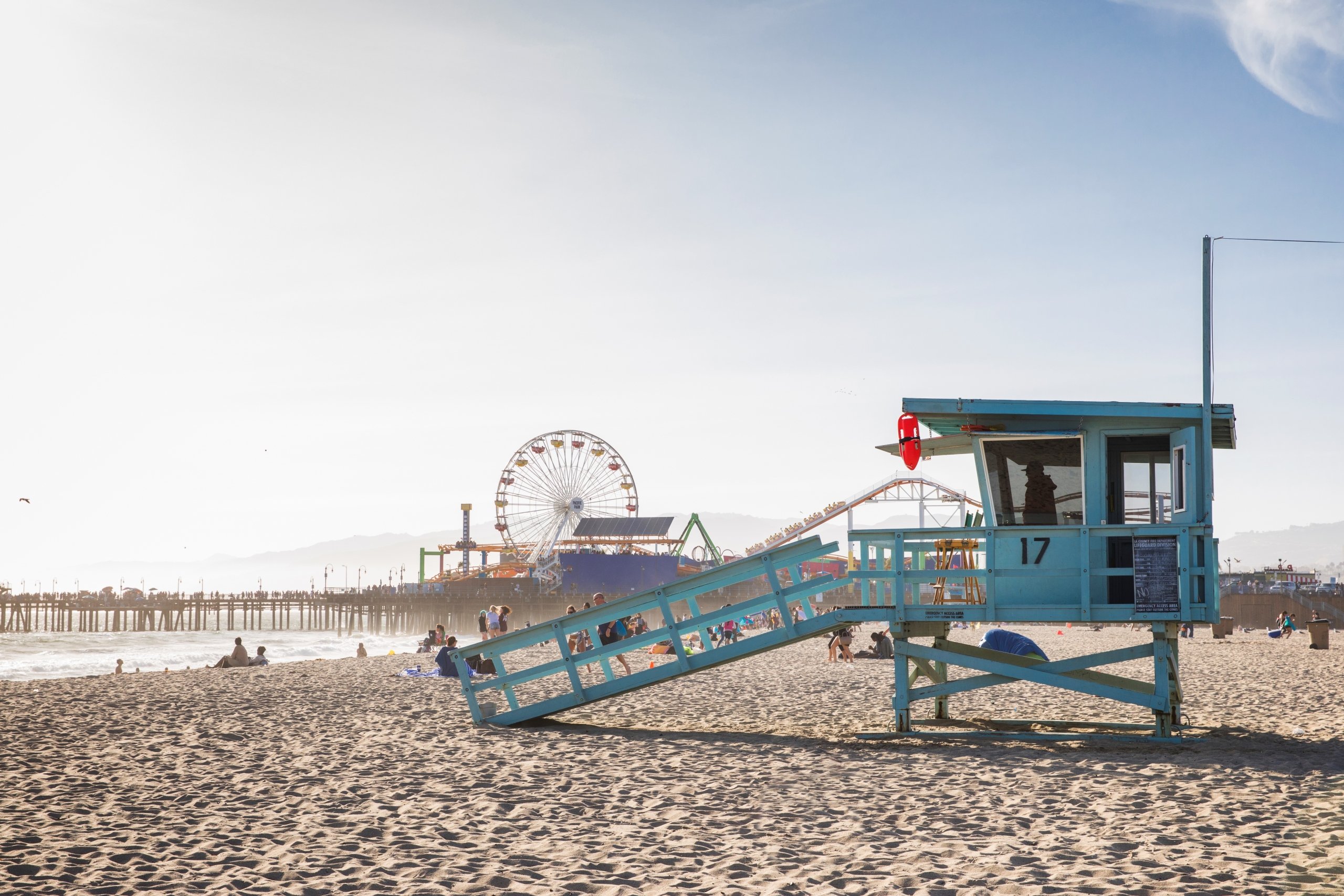 Discover Santa Monica
Experience all Santa Monica has to offer from the perfect location at Fairmont Miramar. Get out and enjoy the fresh ocean breeze, blue sky, and palm trees.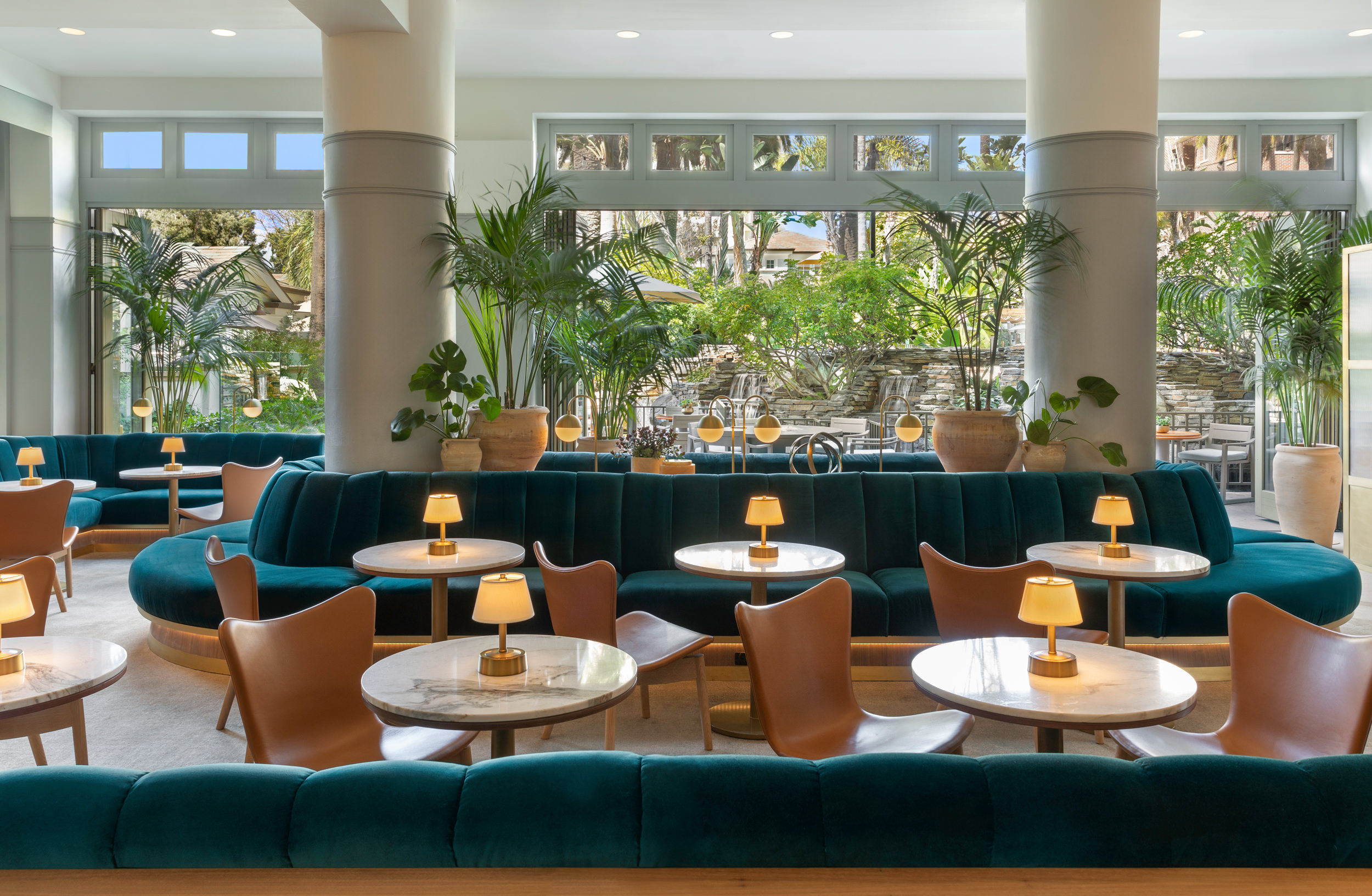 Dine in Style
Taste the best of Santa Monica's fresh, local bounty at our diverse dining options. From casual poolside eats to fine dining Fairmont Miramar offers what you're craving.
Impressive
Attended a wedding weekend on property, and could not have been more impressed with the amenities and service at this great hotel – oh, and the view of the Pacific from our hotel room was nice too! Despite the convenient location, really no reason to leave the property! Hope to return again soon.
---
Wonderful
Fantastic location, great service and very clean rooms! All staff at the hotel are very friendly, courteous and greet you with a smile. Lots of shopping, restaurants nearby and the beach is less than a five minute walk. The rooms are modern, clean and the beds are very comfortable. Travelled for business however would definitely come back to this hotel if coming for vacation. Truly a wonderful experience.
---
Great Views
I had a great stay at the Fairmont Miramar in Santa Monica. The staff were very friendly, our room was lovely, the location was terrific. We had a great view of the pool and the water. The restaurant was good, the spa was very nice, the workout room was great, and overall, the hotel was just as really, really nice place to relax and get away.
---
The Best
There is nowhere else to stay in Santa Monica – hands down. From the quality service, to Fig at 5 Happy Hour, and the hotel's Glam+Go blowdry bar — there is nothing you need the Fairmont Miramar doesn't have. Cannot recommend any more strongly.T
---
Amazing
When you visit LA there are so many things to do and see! Not the least of which is the Pacific Ocean. Some of the best views are from Miramar! The rooms have all the comforts of home and the staff makes you feel like you are home! Amazing place, amazing views and amazing staff!
---
Perfect
Great, relaxing property. Away from the busy LA center. Easy stroll into town. Close to the beach and all the services are on hand. It's the perfect place to spend the weekend or week on business or leisure
---
Relaxing
We wanted to stay in a nice place in Santa Monica and the Fairmont delivered. The staff is so accomodating & professional. The grounds are beautiful and relaxing & we especially loved the indoor/outdoor gym!
---
Lovely
Love this hotel, great views, smooth atmosphere. Friendly staff. Rooms are nicely designed and spacious. Delicious food at the restaurant. Nice and relaxing music. Great aroma! A+++ all the way! Highly recommended!
---
Private and Cozy
The hotel, staff, and customer service was outstanding. We will undoubtedly stay at the Miramar again. I highly recommend the bungalow accomodations. They are private and cozy. The Fig restaurant was also enjoyable.
---
Beautiful
What a Wonderful Hotel. It met all of my expectations and then some. We really enjoyed being able to take a bike out for a spin during our visit. The location is ideal and the hotel is such a Beautiful part of Santa Monica. I can't wait until our next visit.
---
The Getty
A museum with someone for everyone: art, gardens, and the best view of the city.
BMO Stadium
Catch a Los Angeles Football Club game in the first open-air stadium to be built in LA over 30 years ago.
Abbot Kinney Boulevard
The perfect place to stroll and absorb beach Venice vibes, with high-end retail and local restaurant favorites such as Gjelina, the Butcher's Daughter, and Felix Trattoria.
Walking Distance: 60 minutes
Montana Avenue
Not far from The Miramar, Montana is the heart and soul of fantastic boutique shopping and restaurants.
Walking Distance: 1 hour 
Walking Distance: Over an hour
Third Street Promenade
A lively local hangout for first-run cinema, dining, shopping, street performers, artists, vendors and musicians.
Walking Distance: 4 minutes
Walking Distance: 4 minutes
Cayton Children's Museum
In Downtown Santa Monica, just blocks from the Pacific Ocean, the Cayton Children's Museum offers 21,000 square feet of discovery-based exhibits and interactive-play for kids.
Walking Distance: 10 minutes 
Walking Distance: 10 minutes
Crypto.com Arena
Crypto.com Arena is a multi-purpose indoor arena in Downtown Los Angeles.
Walking Distance: Over an hour
SoFi Stadium
SoFi Stadium is an unparalleled sports and entertainment destination in Inglewood.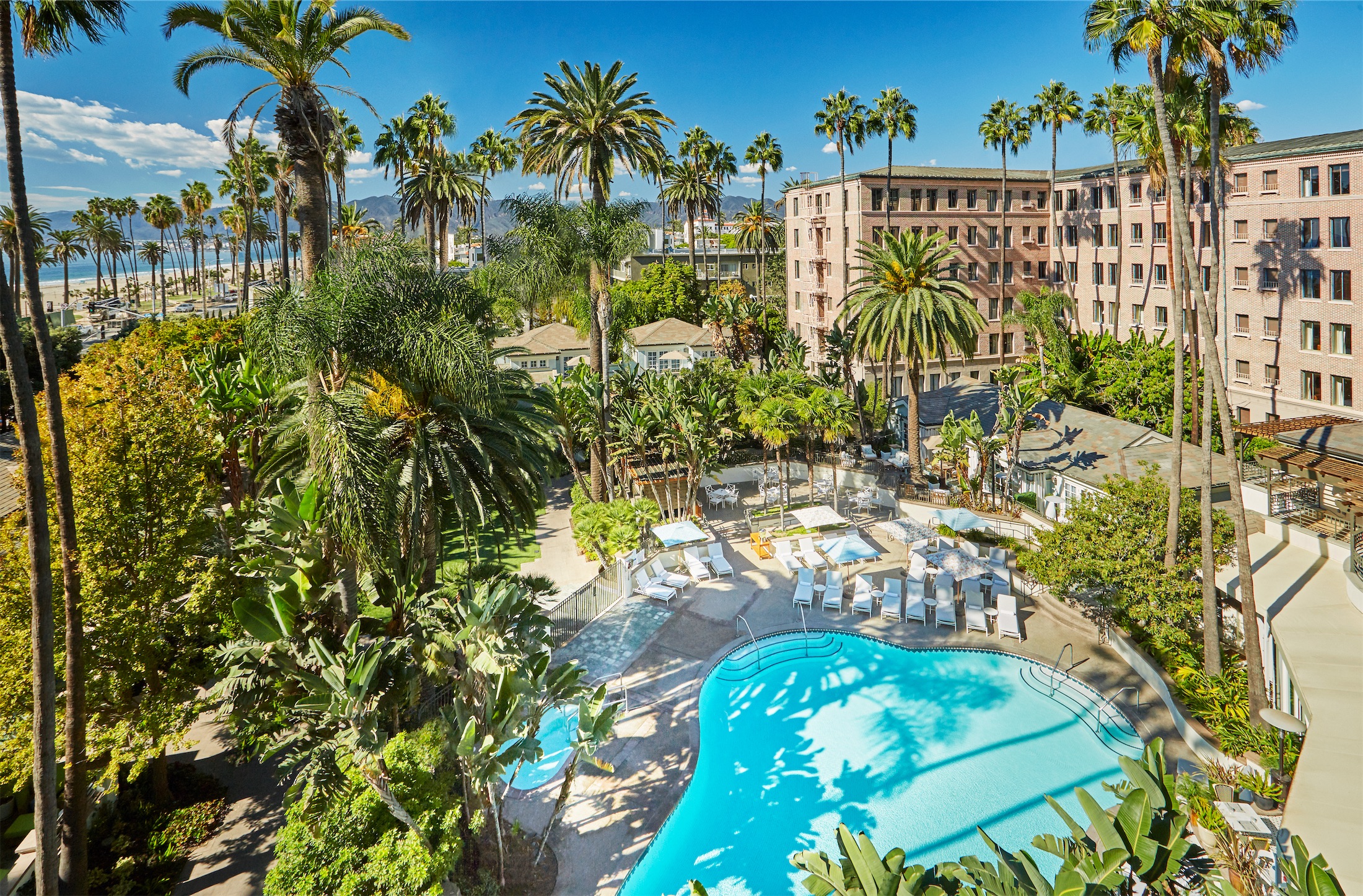 Pool
On Fairmont Miramar Hotel & Bungalows property.
Walking Distance: 1 minute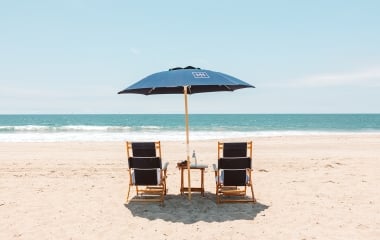 Miramar Beach Club
Enjoy a front row seat of the Pacific ocean and enjoy all the activities that Santa Monica beaches have to offer, in your own private area. Butler service available with beach essentials, towels, suntan lotion, and a full menu of snacks & drinks.
Available to hotel guests only. Guests are escorted to and from the beach in our Jeep House Cars.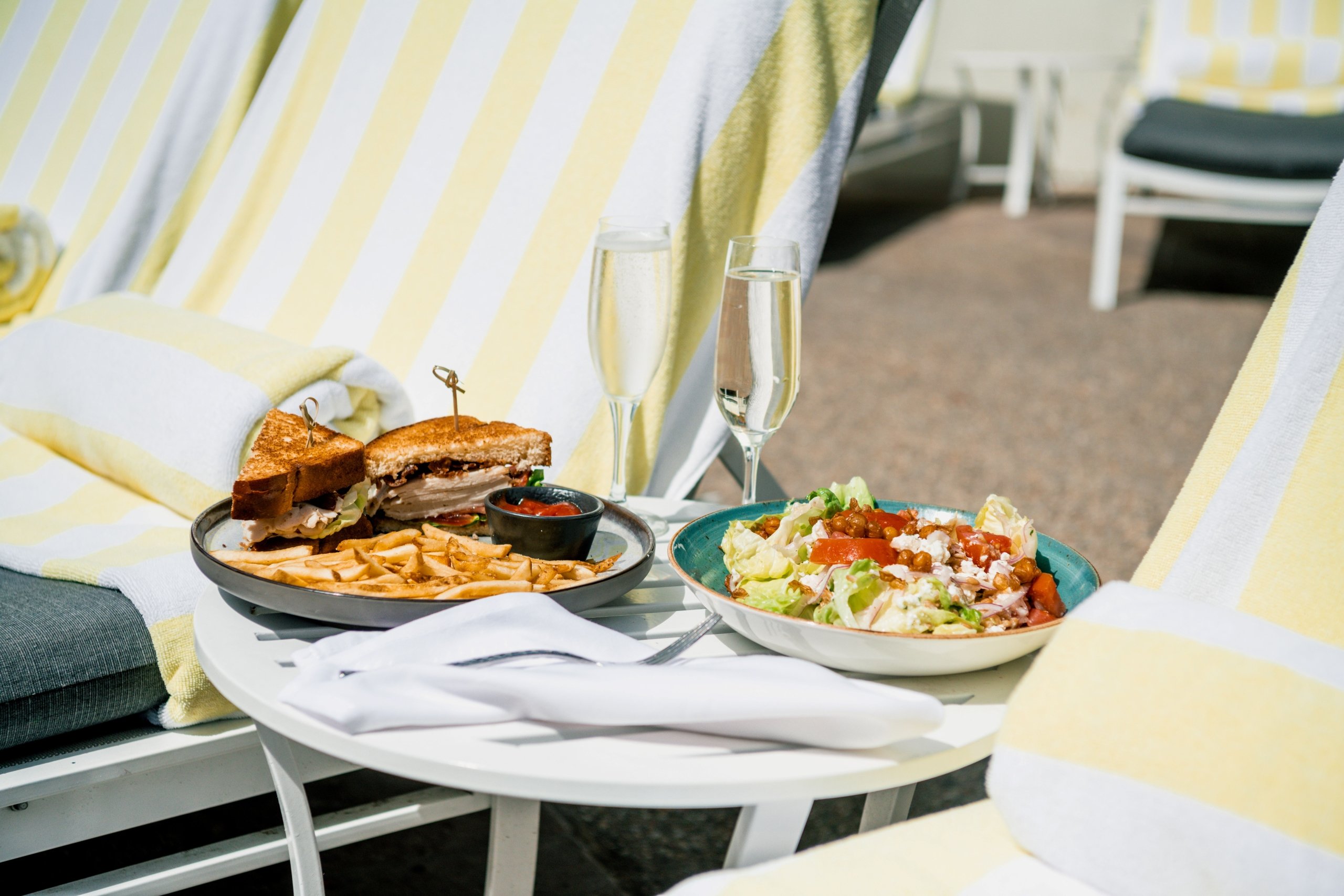 Poolside Kitchen
Dining outdoors with a fresh sea breeze is an elemental part of Southern California living. Lunch on a lobster cobb, poke bowl or burger with luscious fresh fruit over watermelon mojitos on the swimming pool patio. Eat from your chaise lounge or at the water-side bar. Join us for Poolside Cinema happening every weekend from Memorial Day to Labor Day.
On Fairmont Miramar Hotel & Bungalows property.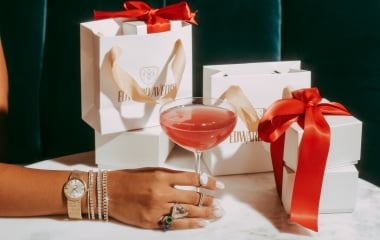 Atelier by Edward Avedis
Surprise your sweetheart with a sparkly bauble or pick out a special watch or ring together. Sixth-generation jeweler Avedis "Avo" Guerboian displays gorgeous ready-made jewelry designs, hand-picked vintage luxury goods and top watch brands. Ask for suggestions or discuss your custom jewelry ideas with the master, too.
On Fairmont Miramar Hotel & Bungalows property.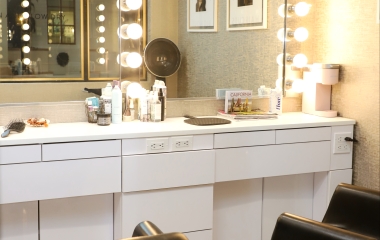 Em Styles Salon
Em Styles Salon does everything styling hair, makeup, cuts, color, balayage, extensions and smoothing treatments, like the Brazilian blowout. By appointment only.
On Fairmont Miramar Hotel & Bungalows property.
Walking Distance: 1 minute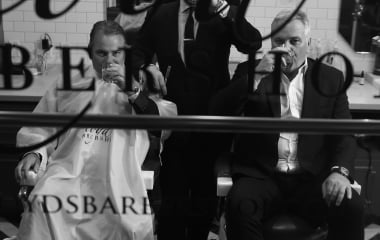 Lloyd's Barbershop
A beloved institution, Lloyd's is an old-school barbershop that took up residence at The Miramar in 2011. Get a hot shave and traditional cut over a complimentary glass of bourbon, cognac or scotch.
On Fairmont Miramar Hotel & Bungalows property.
Walking Distance: 1 minute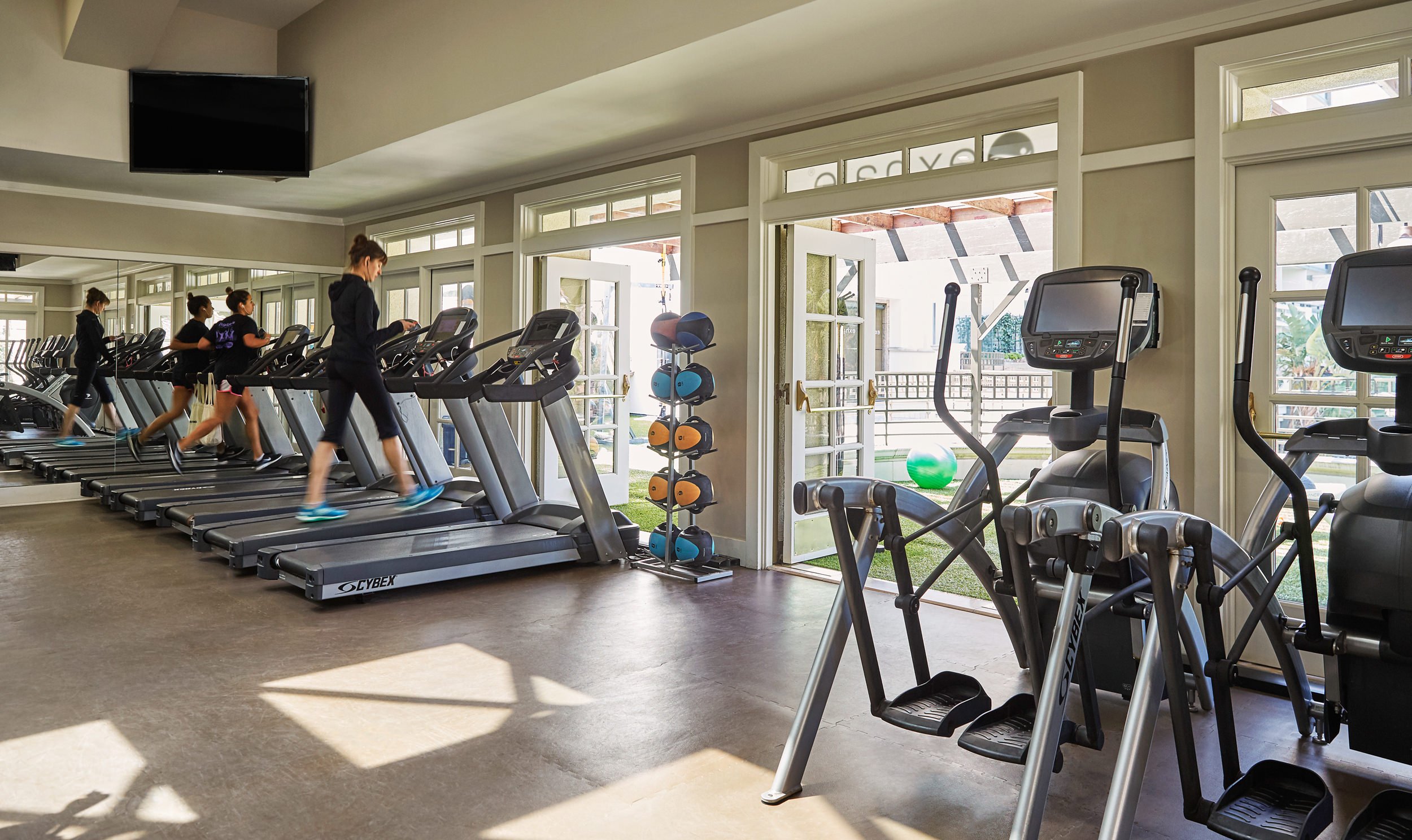 Exhale Fitness
Located on the 2nd floor of exhale® spa, the fitness center offers an array of exercise equipment to help you reach your goals. The fitness center features Cybex equipment, Peloton bikes, free weights, and weight training machines. Enjoy the relaxing ocean view from our spacious outdoor gym terrace. To arrange a personal training session contact exhale®. Available 24-hours to hotel guests. Guests enjoy one complimentary Exhale Fitness class during their stay.
On Fairmont Miramar Hotel & Bungalows property. 
Walking Distance: 1 minute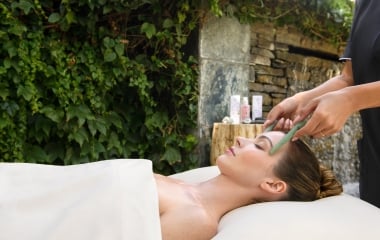 Exhale Spa
Exhale Spa offers the perfect escape for hotel guests and Los Angeles residents alike. Our fully appointed spa boasts a menu of massage, facials, and nail therapies, including outdoor treatment rooms. Relax in the zen lounge, shop the fully-stocked boutique, and get settled in the well-amenitized changing rooms.
On Fairmont Miramar Hotel & Bungalows property.
Walking Distance: 1 minute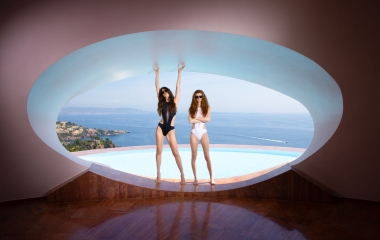 Vilebrequin
You've basked in the carefree Santa Monica lifestyle, now get the look. The pioneering French luxury label that spawned the father-son matching swimwear trend offers its fresh, flirty and vibrant swimwear and beachwear for men, women and children year-round. Vilebrequin's stylish boutique at The Miramar is a favorite with locals and visitors.
On Fairmont Miramar Hotel & Bungalows property.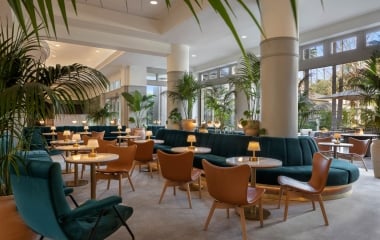 Lobby Lounge
Open and airy with palm fronds swaying in the ocean breeze, the inviting Lobby Lounge is the perfect place to host a meeting or lunch with friends, enjoy Happy Hour or sip on a delicious cappuccino or craft cocktail after checking in. At night, the Lounge takes on a softly romantic glow, when the stage is set for dining, drinks, and low-key social gatherings.
On Fairmont Miramar Hotel & Bungalows property.
Walking Distance: 1 minute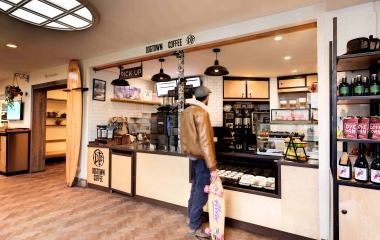 Dogtown Coffee
Named for the 70s skateboarding greats the Z-Boys and their stomping grounds known as "Dogtown," the Fairmont Miramar is the exclusive location of Dogtown's first outpost. Serving freshly squeezed juices, smoothies, breakfast, lunch, grab-and-go options and more. Start your day of adventure with the best cup of coffee at Dogtown.
On Fairmont Miramar Hotel & Bungalows property.
Walking Distance: 1 minute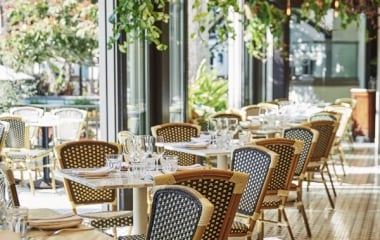 Fig Restaurant
FIG is a neighborhood bistro committed to fresh, seasonal cuisine. The menu features diverse Southern California bounty, sourced from multiple weekly visits to the local farmers markets and from specialty foragers that comb the coastline for hard to find items.
On Fairmont Miramar Hotel & Bungalows property.
Walking Distance: 1 minute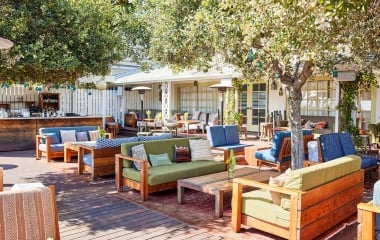 The Bungalow
This lively lounge is an LA and Santa Monica it spot. Set in a Baja-chic cottage with a rambling outdoor patio, The Bungalow is a little bohemian, lots of fun and totally unpretentious. Join revelers who gather inside around the billiards table or outside on sofas under the hanging surfboards.
On Fairmont Miramar Hotel & Bungalows property.
Walking Distance: 1 minute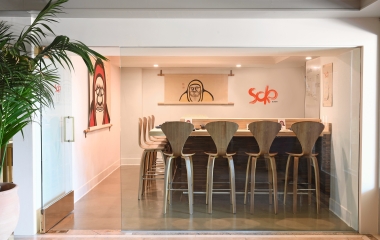 SOKO
Soko Sushi, the latest pop-up at Fairmont Miramar Hotel & Bungalows, is a literal tribute to the origins of sushi. The name "Soko" means "storeroom," and Soko is, in fact, set in a simple storeroom on our main-floor lobby. Here, Sushi Chef Masa Shimakawa delivers a Master Class in refined technique, presentation, and quality. Now available on DoorDash!
On Fairmont Miramar Hotel & Bungalows property.
Walking Distance: 1 minute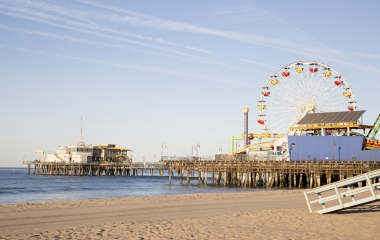 Santa Monica Pier
The west coast end of Route 66 includes games, rides, vendors, trapeze lessons, the world's only solar-powered Ferris Wheel (130 feet high, with over 174,000 energy-efficient flashing LED light), as well as food and vendors.
Walking Distance: 10 minutes
Walking Distance: 10 minutes
Griffith Observatory
Southern California's gateway to the cosmos! Visitors may look through telescopes, explore exhibits, and get a clear view of the infamous Hollywood sign.
Walking Distance: Over an hour
The Broad
An art museum with world's leading collections of postwar and contemporary art.
Walking Distance: Over an hour
Grand Central Market
Grand Central Market provides a national-caliber eating experience that showcases California's best ingredients, chefs, and entrepreneurs.
Walking Distance: Over an hour
Disneyland
Discover the magic at the happiest place on Earth.
Walking Distance: Over an hour
The Huntington
A collections-based educational and research institution. Explore the library, art museum, and botanical gardens.
Walking Distance: Over an hour
The Strand
Ride along the 22-mile paved bicycle path along the Los Angeles coastline in our complimentary beach cruisers available for guests.
Walking Distance: Over an hour
Santa Monica Mountains
Escape Los Angeles' urban life to find a remote habitats, trails, and beaches.
Walking Distance: Over an hour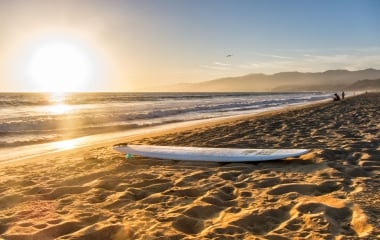 Santa Monica Beach
Make a splash at the 3.5 mile Santa Monica Beach.
Walking Distance: 8 minutes
Walking Distance: 8 minutes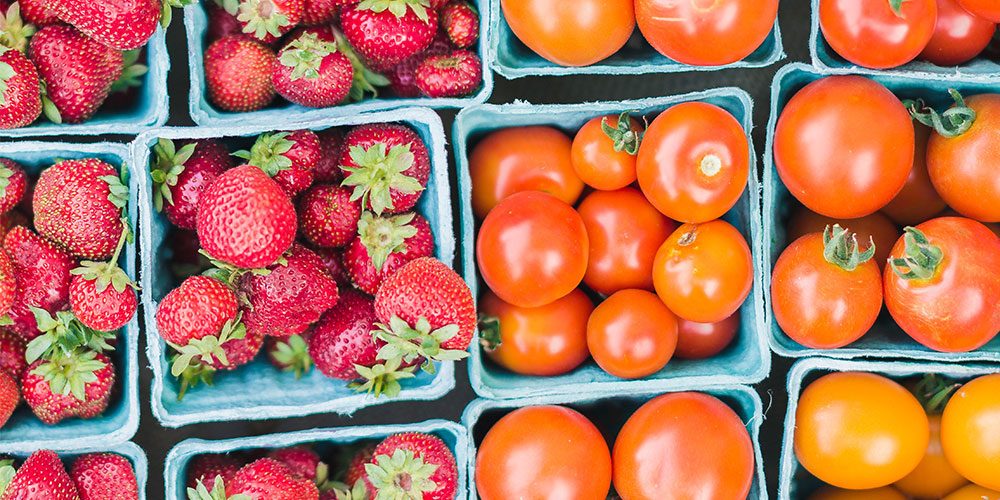 Santa Monica Farmers Market
Our culinary team is there every Wednesday and Saturday, sourcing the best organic bounty from the world-famous Farmer's Market.
Walking Distance: 5 minutes
Walking Distance: 5 minutes
Loading map ...
Exclusive Offers and Updates from Fairmont Miramar