Wellness
Sun, Sand, And Sweat: Working Out With The Fitness Communities Of Santa Monica Beach
From the deck of the Fairmont Miramar's fitness center, the view of the beach is breathtaking — at least, if you have a breath to spare midway through a two-minute plank hold or a heart-pumping yoga flow. But it's well worth it: Whether you're viewing it from above or sweating on its sand, Santa Monica Beach has an undeniable fitness energy to it.
It's not surprising that Santa Monica locals and Angelenos alike would find a way to bring their workouts oceanside. This is a town, after all, where the largest shopping mall is outdoors, and so many restaurants feature patios or decks. Living outside is one of the reasons that residents put up with the traffic. But working out on Santa Monica Beach is something different: a chance to not only get fresh air, but to do so with a community of like-minded fitness fans.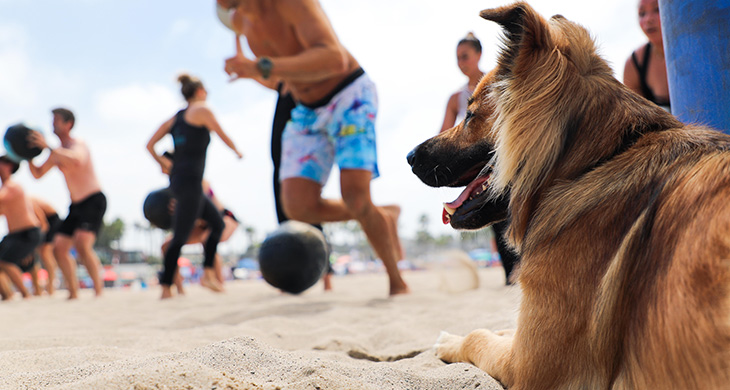 "We live in this beautiful place, and we want to take advantage," says Kaj Larsen, co-founder of CrossFit Santa Monica. His "box," as it's called in the CrossFit community, features BeachFit during the warmer months, a mix of CrossFit and Navy SEAL training (both founders of the studio are ex-SEALs). "And I do think that's built this incredible sense of community, a very supportive community."
After years of allowing fitness classes and trainers to crowd onto any open space on the beach, the City of Santa Monica intervened in 2013 to create a permit system. Since then, the beach community and the fitness community have been more in harmony.
The right to use the sand comes with the responsibility of cleaning up, of course. "Both the city and the lifeguards recognize that we share the same kind of goals and vision and [see] that we're good stewards of the beach environment," Larsen says. "We don't leave anything behind, and we don't disturb other patrons. We make the beach look a little more lively."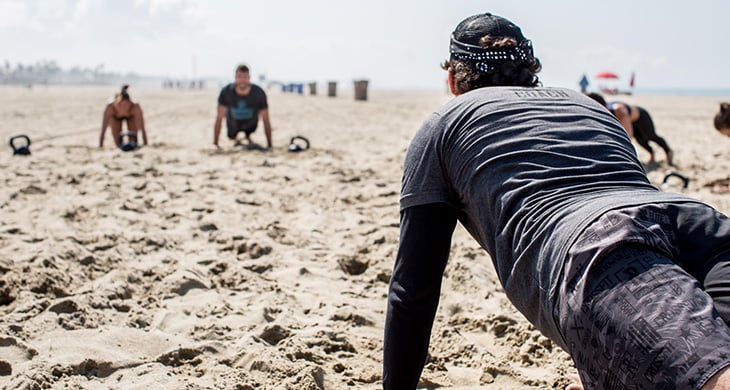 "More lively" is one description for BeachFit. Another might be "ultra-strenuous." While CrossFit Santa Monica takes pride in its ability to scale a workout to accommodate anyone's fitness level, there's little doubt that a participant will be in for a challenge.
"I call it the fusion between our SEAL roots and our love for the beach culture of Santa Monica," Larsen says. "I think in terms of fitness, using the natural resources that Santa Monica has, the workout's not only incredible — we've had professional athletes show up, and the soft sand is such a natural equalizer — but we're taking advantage of geography here in this beautiful place. [It's] virtually impossible to have a bad time when you're getting in shape and getting sun."
If CrossFit Santa Monica's BeachFit is the Navy SEAL-inspired "yang" of the beach, then Beach Yoga SoCal is its calm, meditative "yin." Vee Gomez settled in Los Angeles 10 months ago to take over the decade-old "studio without walls," a move that's in line with the studio's magnetism to out-of-towners near and far.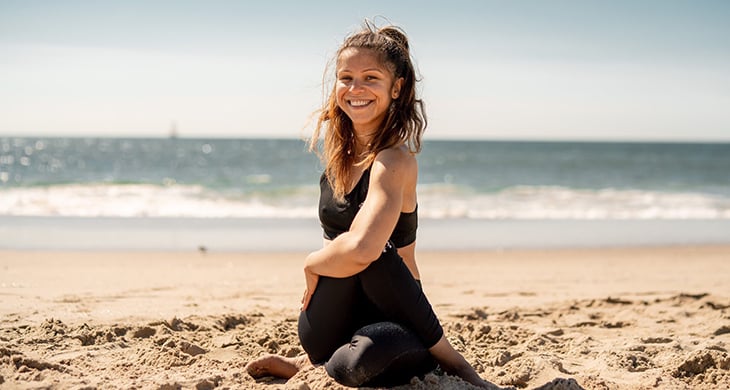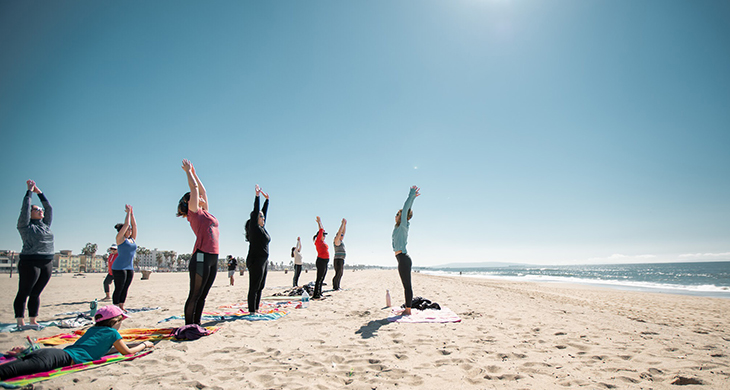 Photos: Jeremy Bishop / Beach Yoga SoCal
"I meet people from Europe, Australia, Japan, China, all over, who come here and experience practising yoga on the beach in Santa Monica," she says. "Nothing, to me, could be more fulfilling than that. It continually energizes me and gives me the fuel to keep going, to keep teaching, and to keep spreading it to as many people as I come across."
While the instability of the sand multiplies the effort needed to get through a CrossFit workout, the beach brings a sense of grounding to a yoga practice (in spite of its challenging surface). "When you practice on the sand, you're more grounded and connected to the earth," Gomez says. "When you practice by the ocean, there are ions in the air that allow you to breathe deeper [and] take in more oxygen, your lungs expand and give you more energy, [and] it helps with inflammation… so, when you couple that with the natural benefits of yoga, I think it just makes for a heightened experience."
Maybe as importantly, Gomez also sees a bond that develops between class participants, whether they come from around the world or around the block.
"The beautiful thing about beach yoga is that every class is a unique experience," she says. "You don't know if you'll see dolphins or whales that day, or if the tide's high, you never know. Each time, even if you're a regular, it's an experience. And everyone connects on that level."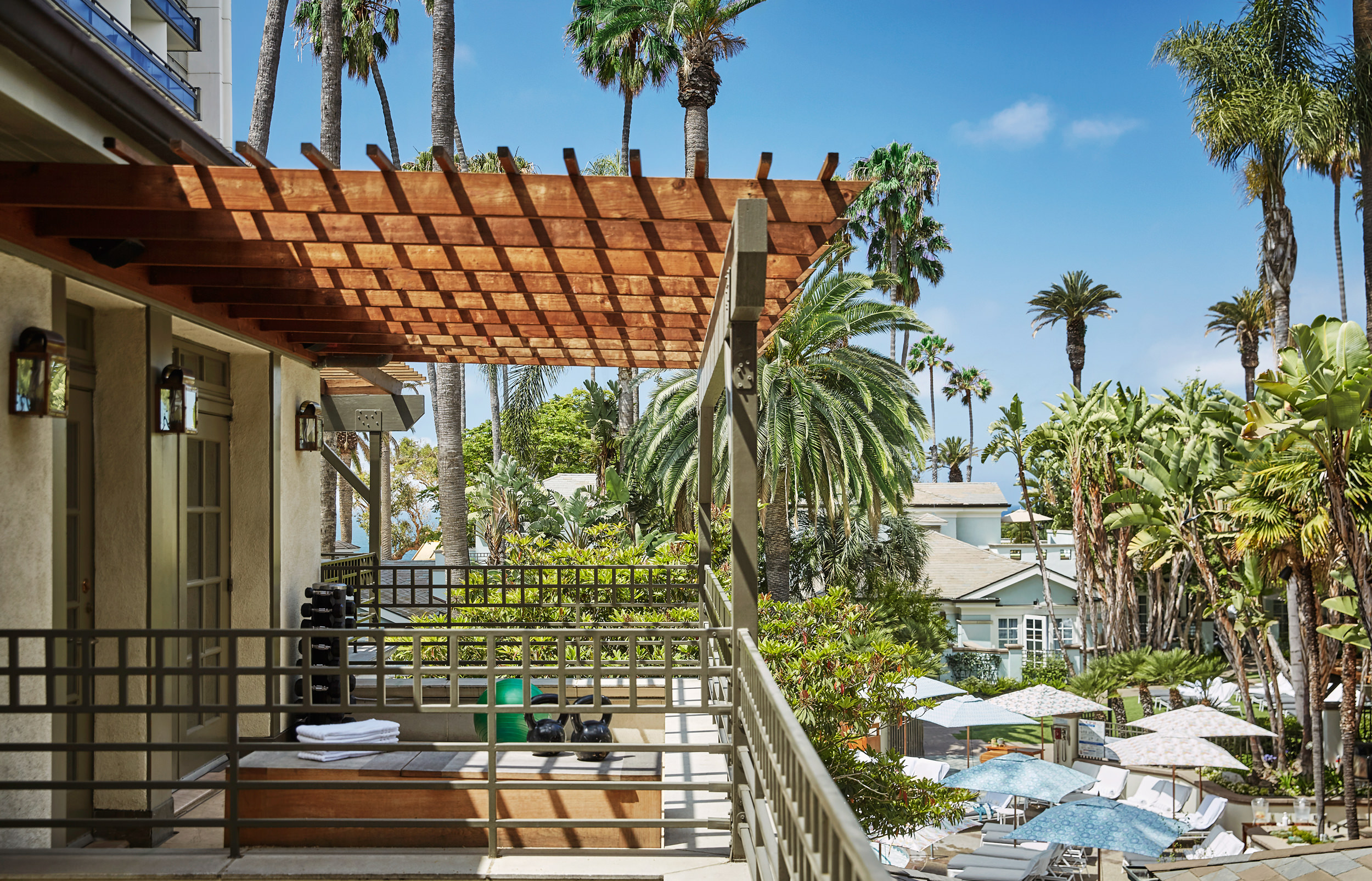 BeachFit is offered on Saturdays at 10:15am from April to October (the class meets at 10am at CrossFit Santa Monica, and drop-ins are welcome), and Beach Yoga SoCal classes are scheduled throughout the week year-round (register online at least two hours beforehand). Guests can also enjoy Santa Monica Beach views from the Fairmont Miramar Fitness Center, or sign up for a rejuvenating Exhale workout class.
Featured Photo: CrossFit Santa Monica