Wellness
8 Hours Of Wellness: Inside Wanderlust At The Santa Monica Pier
Santa Monica may be set in the heart of Southern California, but this spring, it's the perfect place to "find your true north." At least, that's the driving force behind Wanderlust, a buzzy wellness triathlon that's returning to the Santa Monica Pier on April 27 from 7:30am to 3:30pm. Along with its signature good-vibes ethos, Wanderlust is known for its exhilarating fitness experiences, world-class instructors, and infectious spirit.
"I've been teaching at Wanderlust for 10 years — the overall energy is unifying, exhilarating, and happy," says renowned yoga instructor Chelsey Korus, who will be taking the stage at Wanderlust Los Angeles again this year. "It feels like you're part of a big family; like you belong."
With thousands of attendees in past years at the Santa Monica Pier, its "big family" feeling is no exaggeration. Participants bond through three main events: a 5K run/walk, a 75-minute yoga flow, and a 25-minute group meditation, with plenty of other soul-nourishing activities in between.
"Wanderlust offers a well-rounded experience because it gives you a chance to change up your fitness routine and challenge both your mind and body," says Chelsea Kruse, Exhale Mind Body Manager at the Fairmont Miramar. "[And] surrounding yourself with like-minded people is motivating and inspiring, especially when it's overlooking the ocean in the heart of Santa Monica."
From glimmering ocean views to rejuvenating group energy, here's what to expect at Wanderlust Los Angeles at the Santa Monica Pier, plus tips to make the most of your experience.
Triathlon Part One: 5K Run/Walk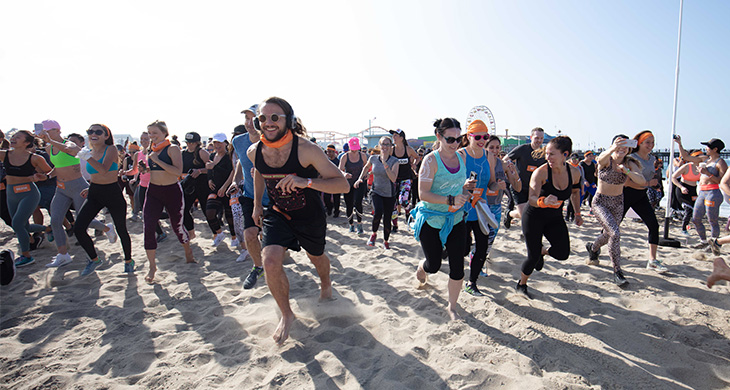 After checking in and setting up your mat (starting at 7:30am), the day officially begins at 8:30am with a motivating dynamic warm-up at the main stage, led by the run leader. Following the group stretch, the 5k commences on the beach — so a little sand in your shoes is to be expected.
"During the race, focus on your breath and letting go of tension in your body," says Kruse. "Deep breaths can help center us and bring oxygen to our muscles. This will naturally bring your heart rate in sync with your breath… and increase your endurance."
The 5k is scheduled until 10:30am, so there's plenty of time to complete the 3.1 miles at your own speed. "No matter if you're walking or running, you are improving your cardiac health, your endurance, and boosting your mood," says Kruse. "Everyone's goals are different: You may be aiming for a faster pace, challenging yourself to maintain a consistent jog, or just aiming for completion. Cheers to that!"
Triathlon Part Two: 75-Minute Yoga Flow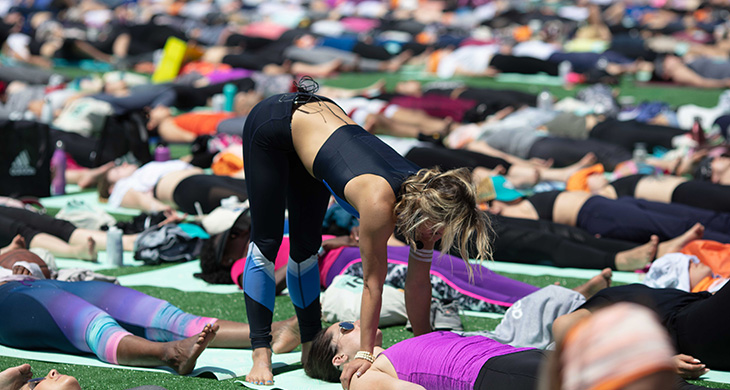 Back on the pier, yoga is scheduled from 11am to 12:15pm. "Get ready to have the most exciting practice of your life," says Korus. "There is something so unique about gathering 1,000 people together on the pier and doing yoga together near the ocean."
From established yogis to those new to their practice, the session caters to everyone in attendance. "The yoga is an all-levels vinyasa flow class," says Korus. "The music is dialled-in with the breath, with a mix of recognizable tunes and original music created and played by a live DJ."
Yoga is an excellent complement to the 5K run, adds Kruse: "Runners need stretching, mobility, and breathwork in their routines. Pair that with music that moves you and motivates you, and you have quite the combination." Yoga also helps relieve tightness and improve flexibility, which reduces the risk for injuries (both in other workouts and in everyday life).
And remember, it's your mat and your space (even when you're surrounded by thousands of other yogis). "You know your body best, so take modifications when needed and challenge yourself when you can," says Kruse. "Just like your run, pace yourself through your yoga flow and regularly check in with your breath and core balance."
Triathlon Part Three: 25-Minute Meditation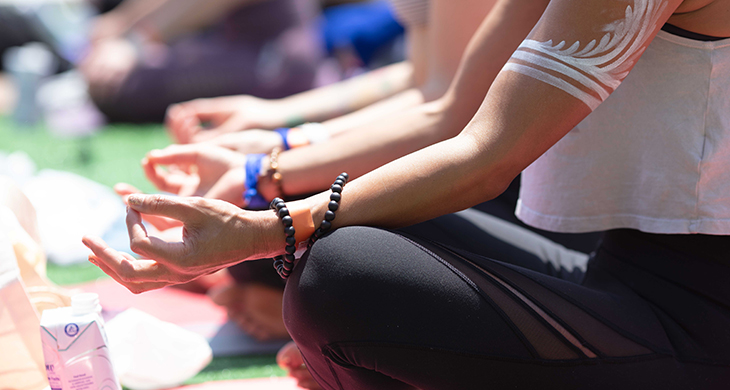 Immediately following yoga, the 25-minute meditation (starting at 12:15pm) may seem like the most daunting part of the day for some. But when it comes to meditation, the challenge of sitting still is also the reward.
"Taking time to turn off and shut down from your day is important; meditation is a great way to de-stress and tune into your body. Combining meditation with both running and yoga gives your mind and body a chance to reset and see what it needs to improve overall mindfulness," offers Kruse.
So, use the meditation (led by Tracee Stanley) to tap into the energy of other Wanderlust-goers around you and give your mind and body a break from the morning's activities.
Other Happenings and Things to Know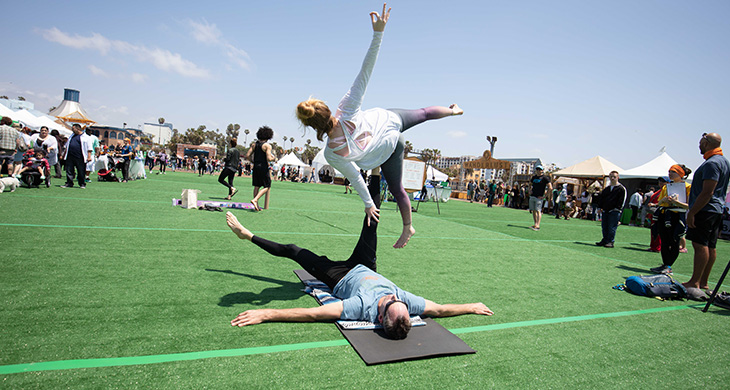 After you've completed the "triathlon," the event continues with wellness-oriented vendors and activities. Restore your muscles with bodywork by Alexandra Ellis, seek cosmic insight with a tarot reading from Helen Miamii Moon, or learn to fly with aerial yoga.
Wanderlust attendees also have the opportunity to AcroYoga with Koya Webb, yoga instructor and CEO of Get Loved Up. "[With AcroYoga], you learn to trust yourself and others as you support each other in creating shapes you never thought you could do," she explains. "Walk away feeling confident and amazed at your own strength… allow yourself to play and be free as if you were 5 years old again!"
Other important things to note: "There's limited shade, so be sure to bring sunscreen, water, and a reusable bag, because there are so many great vendors giving away awesome product samples," says Korus.
You might also consider keeping your phone stashed away. "You'll make the most of your time if you live in the moment and only pick up your phone to capture a moment or take down a number," adds Webb. With the array of wellness experiences scheduled throughout the day, there's not a second worth missing.
Less than a 20-minute walk from Wanderlust at the Santa Monica Pier, plan your wellness getaway this April at the Fairmont Miramar.
All Photos: Jesse DeYoung for Wanderlust