Wellness
Exhale Signature Treatments & Classes
Setting the Bar High for Wellness
January is Mental Health Wellness Month, and nothing nurtures wellness–mental, physical and emotional–better than self-care.
Mental wellness is about feeling balanced, connected, energized and ready to set goals for the New Year. Of course, you can't have mental wellness without physical health. That's why working out, sleeping well, embracing a healthy diet, and taking good care of yourself is so important.
At Exhale Spa at the Miramar, "incorporating well-being, healing and fitness for life," is the mantra, according to Glenny Legendre, FIT.SPA.LIFE Director, of Exhale at The Fairmont Miramar Hotel & Bungalows. "Exhale offers a unique balance of fitness classes and spa therapies, which together create the perfect combination for a true well-being experience," she continues.
Fitness
The stunning indoor/outdoor terrace gym at Miramar, with its ocean view, is hard to resist. It offers "treadmills, ellipticals, Peletons, and free weights," according to Chelsea Kruse, Fitness Lead, Exhale at Miramar. "Guests get fresh air and vitamin D while working out," she says.
Signature classes include Barre, Yoga, HITT, Cardio, and Recovery with Foam Rolling, which, according to Kruse, is essentially a deep tissue massage with foam rollers that stretch and rehab the muscles. Of course, individual sessions with personal trainers as well as small group sessions can be booked as well.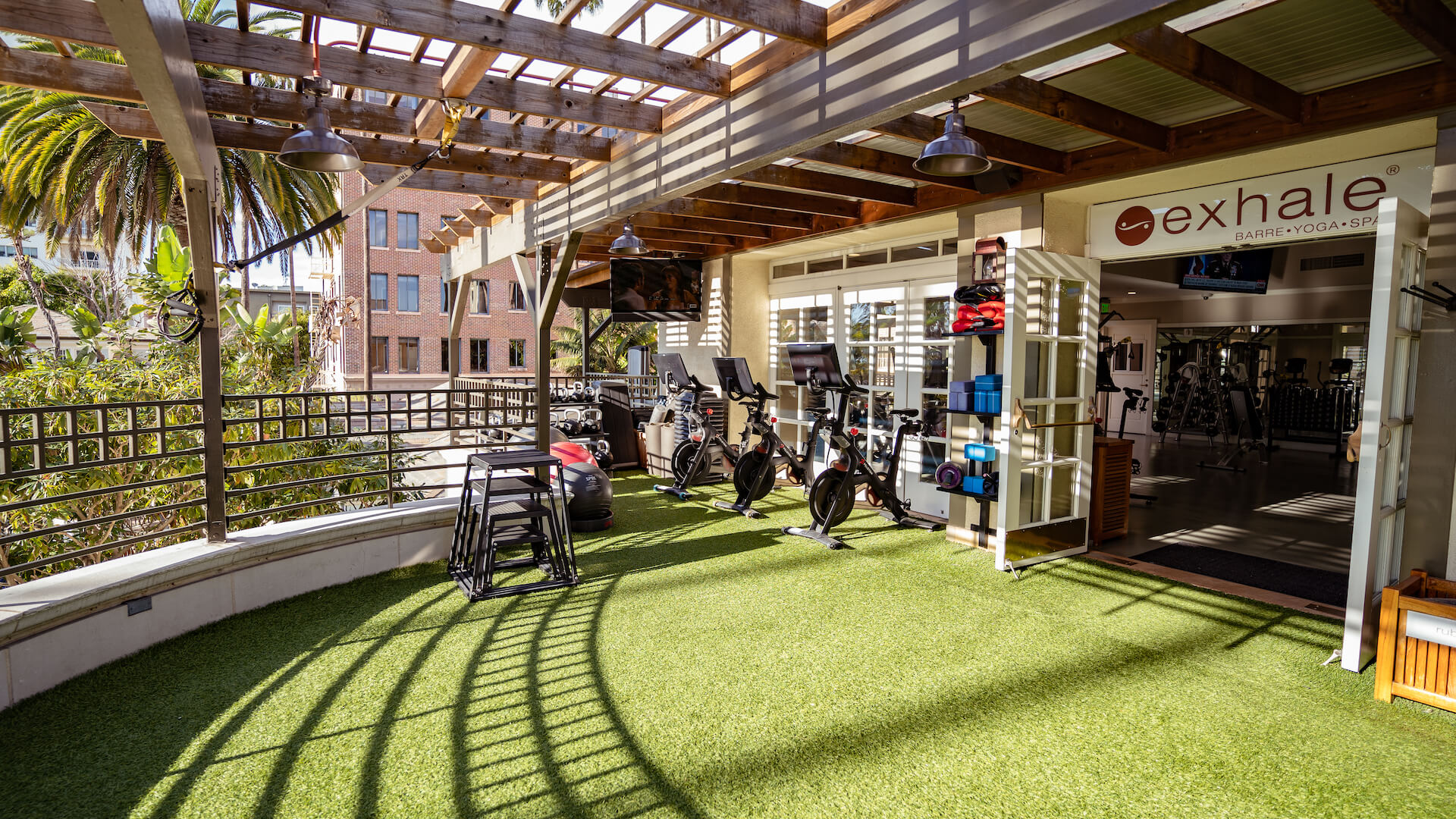 Spa
From a mind-body wellness perspective, the Massage Flow, a signature massage treatment at Exhale, is a standout. Designed to relieve muscle tension and stimulate the flow of energy (and circulation) throughout the body, the Massage Flow is a targeted deep-tissue massage that incorporates lymphatic drainage to help detox the body and boost the immune system.
There's also an option to enhance the anti-inflammatory benefits with an add-on: full-spectrum, organic CBD Muscle Therapy Oil from Prospect Farms, which can promote deep relaxation, sore muscle and joint relief, and other therapeutic benefits.
The Radiance Facial, a 90-minute signature treatment designed to address sun damage, irritation, fine lines, inflammation, dryness and dehydration, is exclusive to Exhale Spa at Miramar. It features a two-step exfoliation and masking process to deep cleanse the skin and finishes with CBD, botanical oils, plant stem cell cosmeceuticals to soothe, nourish, plump, soften and smooth tired skin, and restore a gorgeous glow.
When it comes to your own personal well-being, "Talk to yourself like you would to someone you love," says NY Times bestselling author and self-care guru Brene Brown. And take good care of yourself like you would take care of someone who is important to you. Now you're ready to face the world!