Wellness
Setting Sights on Sustainability
The world is inundated with plastic, especially in our oceans. Since we are so close to the beach, which is a constant reminder, we are always trying to up our game at Fairmont Miramar when it comes to sustainability.
World Ocean Day (June 8) is a good time to remember that oceans cover 70 percent of the earth's surface, and hold over 80 percent of the world's biodiversity. Fifty percent of the oxygen we breathe comes from the ocean.
For swimmers, snorkelers, divers and boaters, the ceaseless swaying of the sea–and its undulating underwater dance–brims with beauty. But at this very moment, 88 percent of the ocean's surface is polluted by plastic waste! According to the nonprofit, Oceana, the equivalent of a garbage truck filled with plastic ends up in the ocean every minute, totaling approximately 17.6 billion pounds every year. Plastic pollution has a tremendous impact on marine life and, ultimately, human life–as well as the life of the planet.
Here at Fairmont Miramar Hotel & Bungalows, we are committed to being 100 percent plastic-free by the end of 2022, and the reason is simple: We believe in leaving the world a better place than we found it. To that end, we seek out partners who share our values. Here is some breaking news about sustainability initiatives at Miramar and beyond, in Santa Monica.
Vilebrequin at the Fairmont Miramar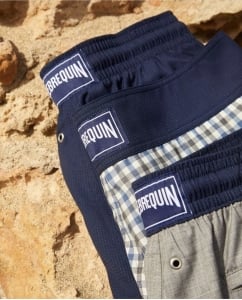 Starting this spring and into summer, the chic French swimwear line, with a shop located on our ground floor, is teaming up with The Woolmark Company to launch its first merino boardshort. Since the 1970s, Vilebrequin has been recognized as an innovator, not only for the quality of its designs, but also the use of unique textiles–African Wax fabric, sailcloth, even linen–that are not usually associated with swimwear. Merino wool is elegant and sustainable, and perfectly suited to kick off the company's target goal of creating 80 percent of its collection made with sustainable fabrics (organic or recycled) and processes by 2023.
Richards Rainwater
With droughts approaching historic levels in our corner of California, we chose to partner with Richards Rainwater and make it available at some of our retail outlets, because the model and mission is truly unique, and Richards is already making a major impact.
Most bottled water is packaged in plastic, which contributes to plastic pollution. Richards is sustainably packaged in glass and recyclable aluminum cans. And, by capturing rainwater fresh from the sky and bottling it at local collection sites, the company minimizes their carbon footprint. By tapping into a new source, the brand does not deplete already scarce water resources. And it tastes delicious!
Santa Monica Sustainability
We are proud to be in a like-minded city that is as committed to sustainability as we are. Here's some good news about climate change from Santa Monica:
Upcycling for Clean Water
After more than two years, the $95 million Sustainable Water Infrastructure Project (SWIP), will be ready in September. SWIP will convert millions of gallons of stormwater and sewage into purified water to be used for irrigation, pumped into dual-piped buildings and injected into the groundwater basin to prepare it for purification into potable water.
Recycling for Climate Change
California launched a new organics recycling mandate – Senate Bill 1383 – to divert organic materials like food and green waste from landfills to compost, mulch, and renewable energy.
On track toward achieving zero waste by 2030, Santa Monica adopted a new Mandatory Recycling Ordinance: businesses and individual must separate waste using a three-bin system: black for refuse, blue for non-organics recycling such as cardboards and bottles, and green for organics recycling (food waste, green waste, i.e., yard and landscape waste) beginning January 1, 2022.
Restoration to Bring Back Endangered Species
Beach cleanups are popular in Santa Monica, and we've organized our share at Fairmont Miramar. For the past five years, The Bay Foundation, working with the city of Santa Monica, has restored three acres of coastal habitat at Santa Monica Beach by seeding native plants and building dunes with fences, endangered species, such as the Western Snowy Plover, have been brought back and were seen on the beach for the first time in more than 70 years! The successful project will be implemented for another five years.