Wellness
The Air We Breathe
Not long ago, unless you suffered from allergies or asthma, air quality was something that was taken for granted–especially indoors. Now that we're all aware of how easy it is to breathe in particles, along with the damage they may cause, it's clear that a quality air purifier can be a game-changer.
A good air purifier can reduce allergens like pollen and mold spores, and protect from wildfire or second-hand smoke. According to the Environmental Protection Agency (EPA), "Air cleaners and HVAC filters are designed to filter pollutants or contaminants out of the air that passes through them. Air cleaning and filtration can help reduce airborne contaminants, including particles containing viruses."
At a luxury hotel like Fairmont Miramar Hotel & Bungalows, an air purifier can also have a psychological effect: it can make you feel safe and protected, especially when you occupy public and private spaces where others have passed before you.
"The comfort, safety and well-being of our guests and our team is of the utmost importance to us," says Sam Jagger, general manager, Fairmont Miramar. "That's why we sought out a partnership with Molekule, one of the most effective air purifiers out there. It offers an added layer of protection during the pandemic."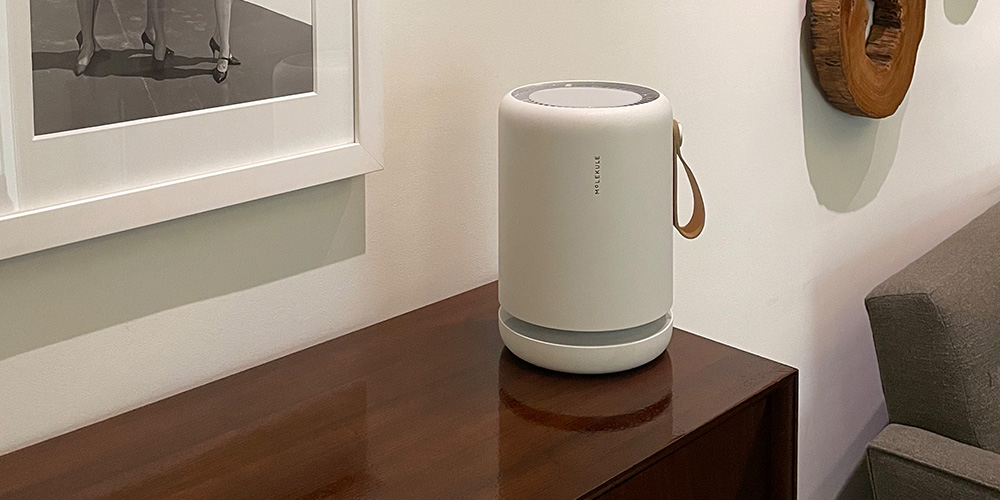 These days, many luxury hotels offer amenities to improve guests' quality of sleep, from specially designed sheets and pillows, to noise machines. Clean air is often the last thing they think about, even though it reduces stress and offers peace of mind, which is key to a great night's sleep. At the Miramar, we like to think we are ahead of the curve. Plus, the sleek Molekule design is quiet and dark enough not to disturb sleep.
The FDA-cleared Molekule Pro is a new addition to select bungalows, the Lobby Lounge, front desk, fitness center and spa at Miramar. While many air purifiers simply trap pollutants, with a patented light-activated technology known as PECO, the San Francisco-based Molekule destroys microscopic pollutants like viruses, bacteria, mold, VOCs, allergens and airborne chemicals that we risk breathing in on a daily basis. By taking those molecules out of the air, the air quality is improved in the short and long term.
PECO was developed by a solar scientist, and uses free radicals to break down impurities at a molecular level. Combined with high-efficiency filtration and air quality sensors, PECO can detect and destroy particles that are 1000 times smaller than the standard most filters must meet to qualify as HEPA, which is what most air purifiers rely on. New research at the University of Nebraska Medical Center showed that Molekule removed 99.98% of the SARS-CoV-2 virus from the air; it also destroys viruses, bacteria, mold, spores, dust and dander and ensures they cannot reproduce.
"At Miramar, our commitment to wellness holds to the highest standard," says Jagger. If there is a silver lining to the pandemic, it is this: We know there are airborne pollutants that we cannot see, and now that we have become aware of them, we can do something about it."
To purchase a Molekule air purifier for at-home use, visit the following website and use promo code Bungalow20 at checkout to receive 20% off your purchase.