Food & Spirits
Vegan Eats: A Plant-based Guide To Santa Monica
Whoever claims that vegans eat "rabbit food" has clearly never been to Santa Monica. A culinary hotspot in its own right, the city flourishes with vegan cuisine that's both inventive and delicious. From casual café fare to trend-setting dishes, there are ample opportunities to indulge your plant-based palate in the vicinity of the Fairmont Miramar.
Whether you're a die-hard vegan, flexitarian, or even a semi-curious omnivore, this foodie's guide will lead the way to the most unmissable plant-based eats during your next stay in Santa Monica.
Breakfast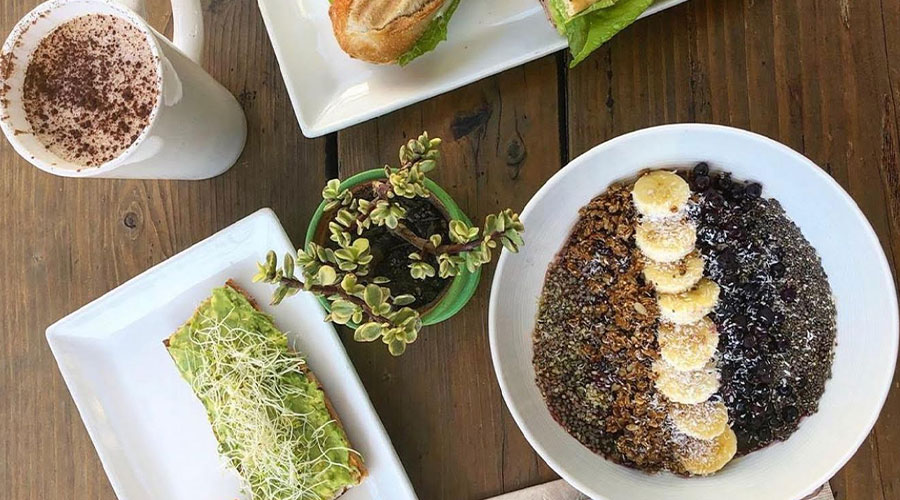 Contrary to conventional assumptions, healthy food and incredible taste can go hand-in-hand — this notion, in fact, is a foundational part of the AVO Café promise.
All unprocessed and all organic, the breakfast options here span from sweet to savory. The AVO Müesli, for instance, is a naturally sweetened blend of cashew or coconut yogurt with granola, blueberries, and raspberries, while the breakfast burrito is a beautiful assemblage of tofu scramble, tempeh bacon, spinach, avocado, salsa, and plant cheese. And you can bet that a place called AVO can whip up a mean avocado toast (their version comes on a baguette and is generously dressed with sprouts). If you find yourself here after 11am, AVO's culinary philosophy extends into lunchtime with salads, bowls, pizza, and paninis (brunch fanatics, don't worry — the breakfast menu remains available all day).
On Wilshire Boulevard, SuperFood Café bills itself as the area's first all-organic eatery, and it's especially known for its hearty breakfast spreads. Vegan options include an acai Brazilian bowl and a tofu scramble with plant-based sausage.
Baked Goods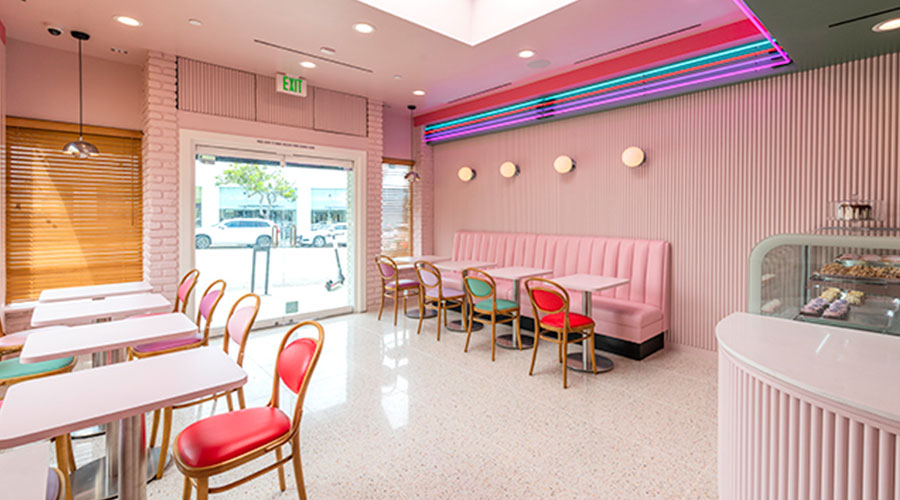 On Montana Avenue, the confections at Erin McKenna's Bakery will make you wonder how it's possible to concoct such perfect baked goods without gluten, dairy, eggs, soy, or refined sugar. Like McKenna's other locations, this shop charms with its soft pink and lavender décor, not to mention a centerpiece of shelves that are stacked with fresh-baked treats.
In addition to the bakery's decadent doughnuts and cupcakes, red velvet cake, and gooey cinnamon rolls, they also offer pancakes, French toast, waffles, avocado toast, and even lunch-leaning selections like pizza, mac and cheese, and salads.
Other honorable mentions in the Santa Monica vegan baking circuit include The Place to Be, which offers out-of-this-world brownies and famous vegan brioche, as well as DK's Doughnuts & Bakery for its glazed vegan doughnut.
Comfort Classics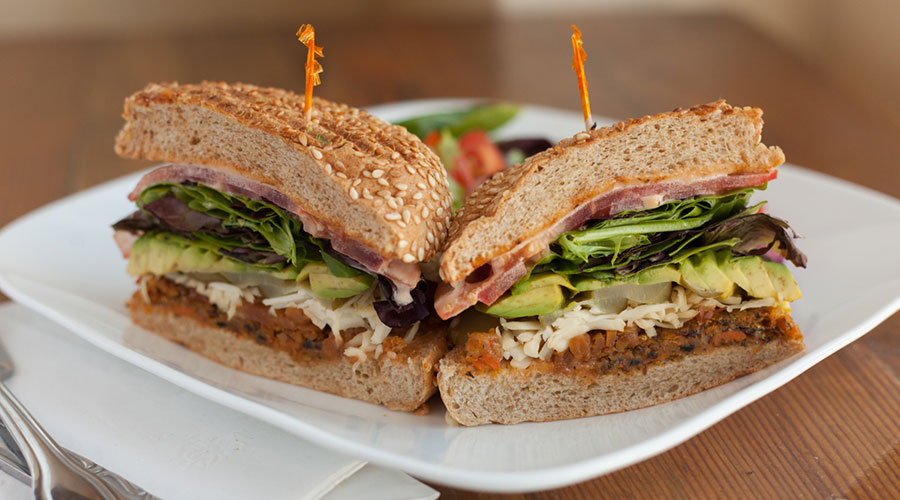 Formerly known as the Golden Mean Café, this Wilshire Boulevard mainstay has been serving up tasty plant-based renditions of American classics (with a side of positive vibes) since 2009. Save for a coat of splashy lime green paint and an Instagram-worthy succulent wall, little has changed after the café rebranded as Viva Vegan in early 2019. The upbeat atmosphere and celebrated menu remain intact, still offering favorites like the Chick'n Parm, mac and "cheese," and baked nachos, as well as a rotating selection of desserts crafted with gluten-free and raw diners in mind.
The undisputed showstopper of this establishment is its "Works Burger," a handheld masterpiece comprised of 27 ingredients, including a layer of smoky tempeh bacon and signature house sauce. Past its locally sourced, eco-conscious fare, Viva's environmentally minded mission shines through its reclaimed wood dining room and recycled take-out containers (which also happen to be compostable, if you feel like taking one of their superfood smoothies or shakes to-go).
Further down Wilshire, Veggie Grill's seasonal selections are just as notable as its extensive regular menu offerings (one reviewer raves that the dishes here range from "really good" to "unbelievably great"). Between burgers, sandwiches, bowls, tacos, and a selection of "comfort favorites," there's something to gratify every kind of craving.
Though they may not be solely dedicated to plant-based food, it's worth noting that many of Santa Monica's other dining establishments also offer at least one vegan option on their menus (aside from the expected salad entrées). For example, if you happen to be in the mood for pizza, 800 Degrees, Fresh Brothers, Urth Caffe, and Grey Block Pizza all offer pies with vegan sauce and cheese.
International Flavors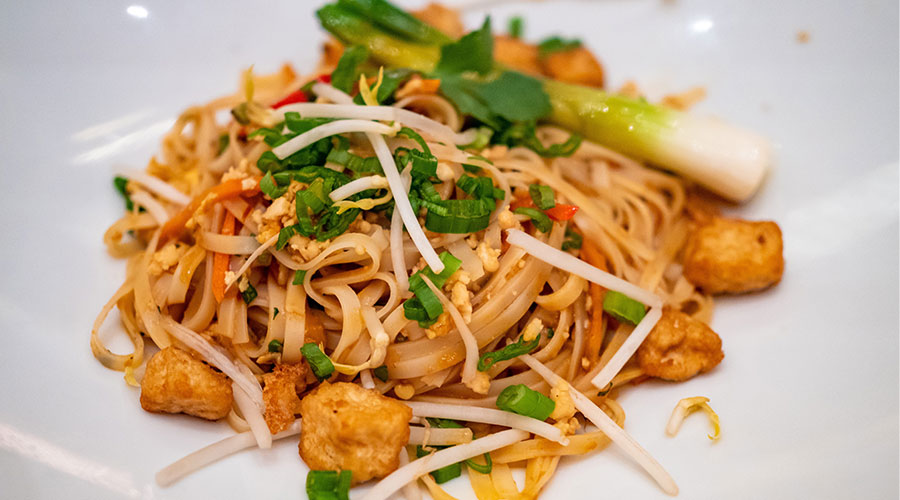 n a world of tired take-out joints, it's not often you find a place that has mastered the delicate balance of texture and taste. Satdha Plant-Based Thai Kitchen is Santa Monica's welcome exception, purveying dishes that are bright, clean, and delicious to boot. Better yet, it's the kind of meal you'll step away from feeling full and satisfied, yet refreshingly light. Complete with an enticing array of faux meats and seafoods, its menu offerings are so consistently top-notch that you can close your eyes, point to a random part of the page, and always make the right choice.
Calling Satdha's Kow Kuk Kapi "fried rice" wouldn't be doing its complex flavors justice, but infused with faux egg, that just may be its closest relative. Praise also abounds for the savory beet-dyed noodles, chili-lime endive cups, and a truly unparalleled Pad Thai. (Pro tip: kick things off with the fried avocado on the restaurant's "secret menu.")
For a quick, authentic fix of all things Thai, swing into Thai Vegan's humble hole in the wall, tucked into a strip mall on Main Street. What this family-owned kitchen lacks in size it makes up for in flavor, as countless customer reviews can attest. Order their popular green curry or pineapple fried rice (add soy chicken) and wash it down with a house brewed Thai ice tea, and don't dare leave without trying the sticky mango rice.
Fine Dining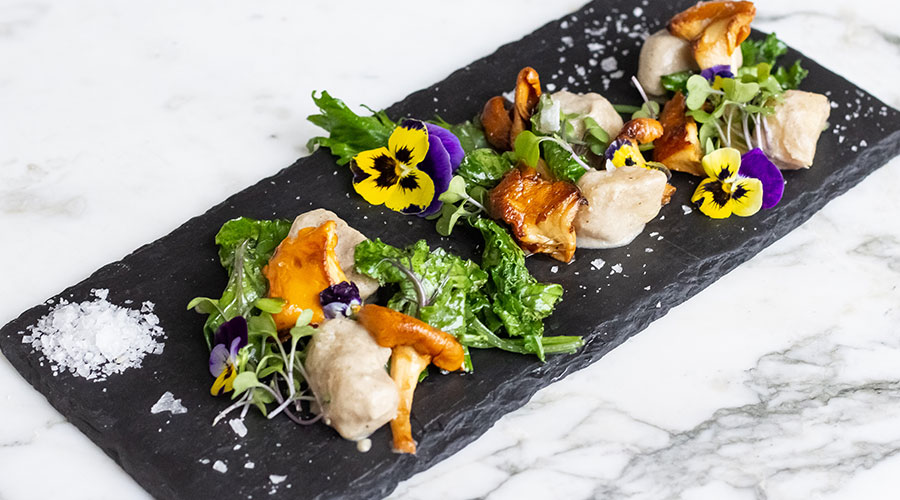 One of LA's most acclaimed upscale vegan dining experiences resides in Venice Beach, just a short distance from Santa Monica. At his Abbot Kinney Boulevard flagship, Plant Food + Wine, phenom chef Matthew Kenney makes it his business to set culinary precedents as he operates on the cutting edge of vegan gastronomy.
Be it brunch, lunch, or dinner, Chef Kenney's seemingly endless innovation is showcased through his line of artisanal faux cheeses and diverse array of locally sourced seasonal dishes. Prepare to be wowed as you try them one by one, or sample several of the chef's chosen creations with the six-course tasting menu.
Back in Santa Monica, Miramar's own FIG Restaurant is also happy to accommodate vegan diners with a selection of elevated plant-based meals. Apart from the Farmer's Market Salad, a colorfully fresh assemblage of chopped and shaved vegetables, chick peas, and red wine vinaigrette, try the green lentil soup with crispy garlic and chervil (make sure to hold the croutons), or the puntarelle with black garlic and Calabrian Chili peppers.
Featured Photo: Veggie Grill