Under The Fig Tree
The Top 5 Santa Monica-Inspired Wellness Practices to Stay Balanced in 2020
Between colorful juice and salad cafés, fitness fanatics jogging up and down the Santa Monica stairs, and restorative beach yoga classes set to the soundtrack of the Pacific, a stroll around Santa Monica makes one thing clear as a SoCal day: Wellness is woven into the very fabric of our oceanfront perch.
"The overall lifestyle in Santa Monica matches the weather and the environment — out here, you're forced to get outside for some vitamin D and move!" shares Chelsea Kruse, Mind Body Manager at Exhale Santa Monica in the Fairmont Miramar. And in 2020, we're feeling more grateful for this than ever. "When you live somewhere that people vacation to, you try not to take it for granted, and just really use it as your resource and backyard," she adds.
To share the love, we invite you to live like a local with us here at the Fairmont Miramar, where countless rejuvenating wellness experiences are right at your fingertips. And if you're not quite ready to travel yet? That's OK, too. Whether you're with us in person or in spirit, these simple and specific tips from our in-house wellness guru Kruse are sure to breathe new life into your wellness routine, wherever you are.
1. Set a goal to move every day — preferably in the fresh air.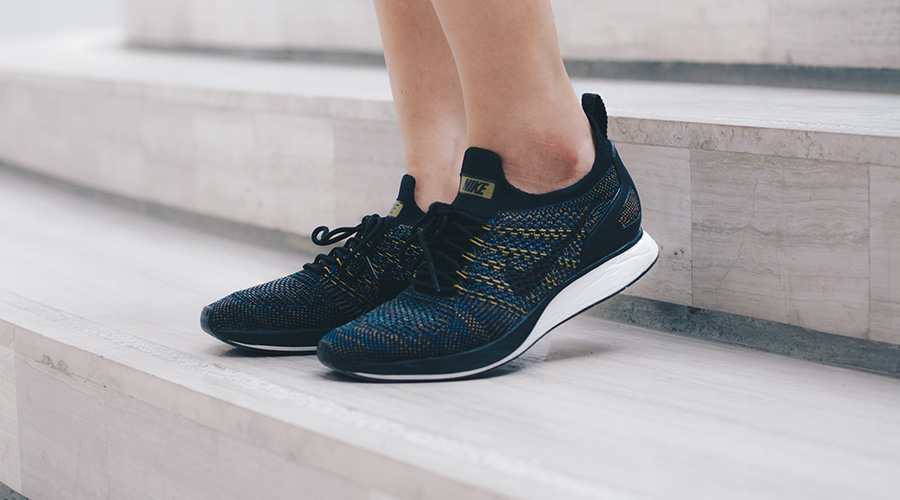 One of the best (and easiest!) ways to improve your mental and physical wellbeing is simply to stay active, in any way that works for you. "My main goal each day is just to find a way to get out and move. That can be a date with a friend to go on a walk, the Santa Monica stairs, or taking someone else's fitness class in the community," shares Kruse.
Whether it's a run with your dog, a hike near LA, or just a five-minute yoga flow timed to the sun setting out your home office window, staying active (particularly outside) has been shown to boost mood, increase energy, reduce stress, and more. It doesn't have to be hour-long, high-intensity sweat sessions every day (realistic goals are the name of the game, reminds Kruse) — if your philosophy is simply to stay in motion when you can, the foundations of good health will follow.
Pro tip to get started on this habit: Start one day this week with a morning walk with a friend, and stop by your favorite coffee shop or juice place to support your local businesses while you're on the go.
2. Sign up for virtual workouts a couple of times a week, and get creative with your fitness plan.
View this post on Instagram
If you're someone who thrives in a gym or studio environment (as Kruse is), adjusting to at-home workouts can be challenging. Add some accountability to your routine by signing up for virtual workouts, which you tune into at a specific time (camera on and all — consider it an exercise in courage, too).
"That's kind of a vulnerable space, but it allows you to be really humble," says Kruse. "It's making you pencil time into your day, you're still getting that community vibe, and you're still challenging yourself." Looking for a place to start? Exhale is offering virtual classes live from your living room (sign up here), and Kruse is also offering Zoom workouts ranging from Cardio Pilates to Bodyweight Barre (check out the schedule on her website).
If you're not into virtual workouts, Kruse encourages you to think outside the box and be flexible with your at-home workouts.
"In the beginning, everyone was like 'oh, I don't have the right equipment, I don't have those same things that I have in the studio,'" says Kruse. "So again, it's about spinning those creative wheels — what can you do at home?" Your own bodyweight alone can provide a fantastic workout, and a set of resistance bands can go a long way, too (without taking up any space in your home).
3. Start each day with a glass of water, and boost your fruit and veggie intake with a daily smoothie.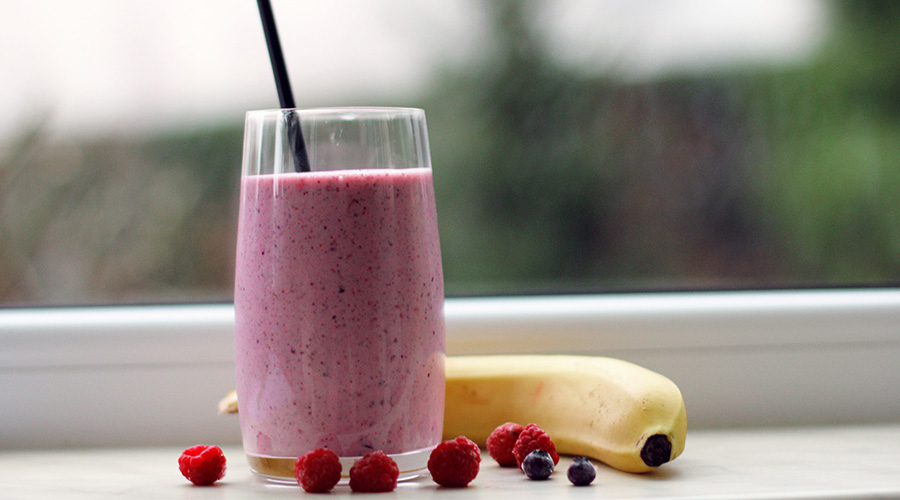 Whether it's a thoughtfully prepared warm water with lemon or just a plain tall glass of water, the Santa Monica way is to start your day with hydration — this simple step can make a major difference in your skin, digestion, energy, and more, shares Kruse.
Beyond good old-fashioned H20, every person's nutrition needs are different, but a common emphasis here is placed on eating a balanced diet of whole foods, locally sourced ingredients, and lots of fresh, vibrant fruits and veggies.
One of the easiest ways to sneak these in is through a daily smoothie, something Kruse swears by. "It holds you over, and it's a good way to get protein," she says. Here's her go-to recipe when she's at home (her own version of Kreation's Chocolate Lover Smoothie).
Frozen Banana
Large scoop of almond butter or peanut butter
1 tbsp cacao nibs
1 tsp flax seeds
1 tsp chia seeds
1 scoop plant-based chocolate protein powder
½ cup almond or oat milk (add more if needed)
Optional: A date, honey, or cinnamon for extra flavor
Add all ingredients to a blender, and blend until smooth.
If you're visiting us in Santa Monica, we suggest stopping by some of our beloved local businesses for your smoothie fix — Kruse particularly loves the smoothies offered at Dogtown Coffee, located right here in the Fairmont Miramar. Other local favorites include Nekter and Kreation, located just down the street.
While we're on the topic of local establishments, Kruse also loves Italian hotspot Uovo just around the corner, known for their fresh pastas — because, after all, treating yourself is a vital part of overall wellness.
4. Improve your zzz's by winding down an hour before bedtime, and avoid the snooze button in the morning.
View this post on Instagram
A revitalizing night of sleep is one of the most important elements of good health (with benefits including better immunity, stress management, and concentration, to name a few) — but that's often easier said than done. To set yourself up for 7–9 hours of high-quality slumber, start by focusing on your nighttime routine, says Kruse.
"I like to have a sleep mask to create natural melatonin, and finding something relaxing the last hour of your evening before bed [is helpful], whatever that is for you. Lighting is important as well for not being overstimulated, so make sure [device screens are] dimmed," she says. Of course, sinking into a supremely comfortable bed here at the Fairmont Miramar doesn't hurt, either.
Kruse's other trick for all-day energy requires some adjustment, but it's worth it. "I religiously set my alarm for when I should be actually awake, so it goes off and I'm up." Read: No snoozing (not even once). "When you're just laying there and keep snoozing, it puts you in a foggy state," she adds. Starting your day by getting up and at 'em is a major key to feeling refreshed first thing.
5. Stay ahead of stress by meditating, setting daily schedules, and finding time for joy.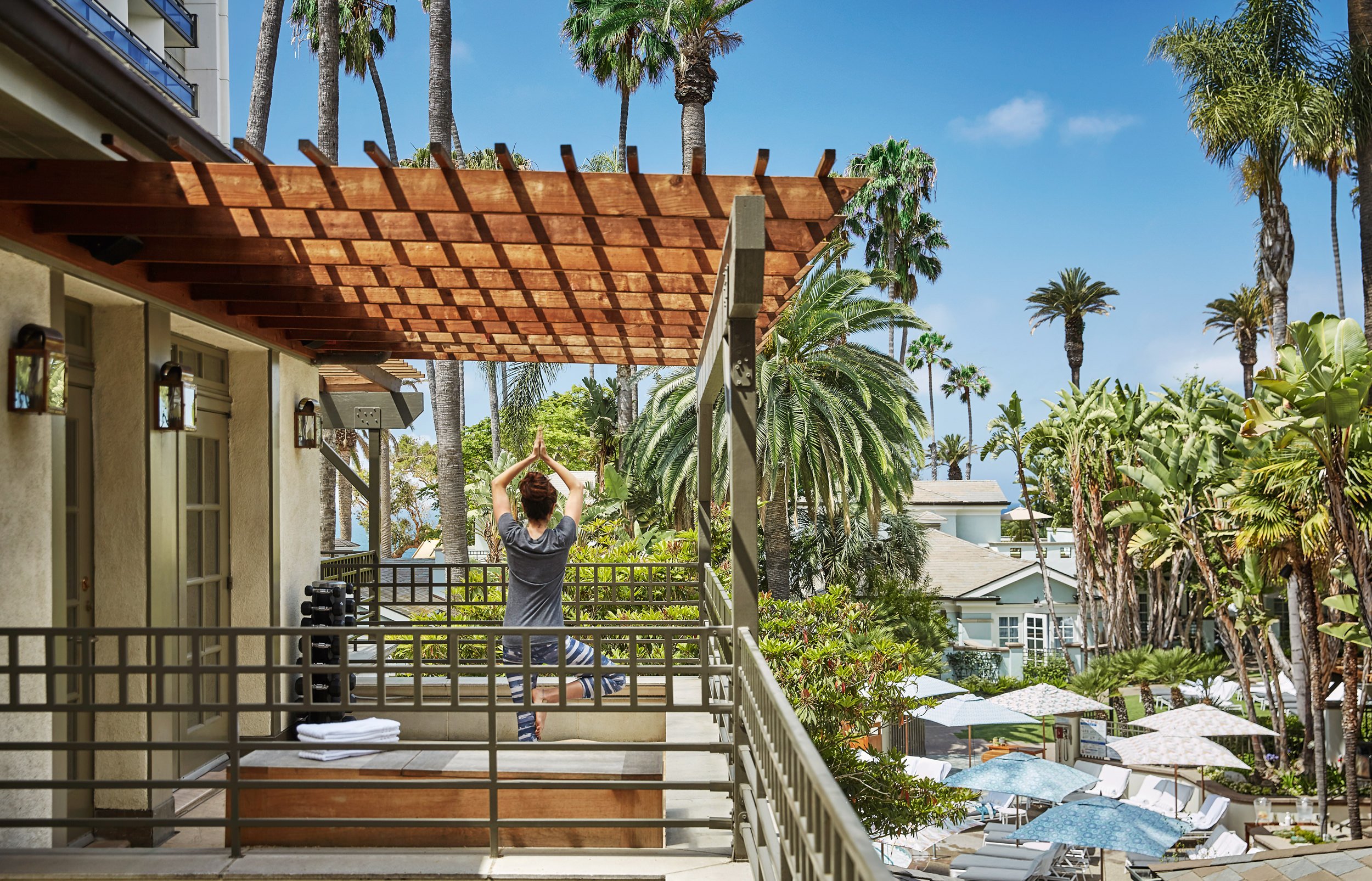 We're all in this together, so we'll be honest: We know that the world around us can contribute to increased fear and anxiety in many of our everyday lives. With this in mind, it's more important than ever to proactively combat both obvious and underlying stress.
While there's no one-size-fits-all approach, Kruse suggests several options for keeping the negative effects of stress at bay. Finding small moments of mindfulness is one of them, whether that's a short meditation (she recommends the Calm app), restorative yoga, or anything in between. "Even taking just a couple minutes for yourself [can help]. It doesn't have to be full-on meditation, but just taking a few minutes to calm yourself, reflect, and set intentions for the day," she says.
She's also a proponent of setting routines and daily schedules that prioritize health and work-life balance, even when the rhythms of our days are different than they used to be. For example, plan your workouts, groceries, and safe social plans for the week, and create daily checklists (even with just two or three tasks you can accomplish). "Even though everything is out of the norm, just creating that balance and normal-ness at home [was important for me]," says Kruse.
Finally, try and do something you enjoy every day — connect with friends and family (even virtually), get moving in the fresh air, read a good book, whatever it may be.
We hope to bring some of this joy into your life here at the Fairmont Miramar soon. With your health and wellness front of mind (in true Santa Monica fashion), we're ready when you are.
Featured Photo: Courtesy of Shayla Behringer