Under The Fig Tree
Pounding The La Pavement With Adidas Runners
By the end of the warmup at the adidas Runners workout at Santa Monica High School's track, I'm already sweating. A ten-minute jog followed by a series of exercises meant to loosen up muscles (including high-knees and skips) on an unseasonably warm evening has done its job and then some — I might already be preparing for the cool-down. Instead, it's followed by three 1000-meter runs, with 200-meter jogs/walks in between.
Thankfully, one of the program's "captains," Mark Hunter, had given me some reassurance earlier in the day. "The nice thing about the track is it's just a loop," he said. "So, where some people might be doing extra loops, you can do less of those. You won't feel left out, ever."
It wasn't just talk. When considering some of the world-class athletes that work with the shoe company, the name adidas Runners can sound intimidating, but to attend a workout is to see that it operates much more like a community for athletes of all ability levels and ages. It's a place where joggers and sprinters alike can get some fresh air, stretch their legs, and have fun in a group atmosphere.
Adidas has these free clubs in more than 60 cities worldwide, with Los Angeles being one of the most recently established. Participants sign up on the adidas Running app, where they get credit towards exclusive products, discounts, and other perks by showing up and sweating it out.
But it's not the perks that first drew Hunter to the program, after working with Adidas previously as a photographer for its campaigns. "What makes me so excited is to meet new people and just experience life together," he shares. "And especially in 2019, where everyone's on their phone all the time, getting together in a physical and social situation is what I really love."
Getting people together is a way of life for Hunter. He's better known to many as The Cobra Snake, an internationally famous photographer who documented the L.A. '00s party scene exhaustively, along with throwing his own events. But the city native is also an avid runner, who loves to marry his workouts with the outdoors.
"It was so much fun in the early 2000s, going to these clubs and smoke-filled rooms," says Hunter. "[But] you know, you can only do that for so long until you go a bit crazy. And so then, fitness changed my life. People see me now and they're like, 'dude, you have so much more energy.'"
The runs take on different personalities, depending on their location and coach. Hunter's run, for example, may end with a drink at a Main Street Santa Monica bar (like a recent Halloween run, done in costume, that ended at local-favorite bar Townhouse). On the other hand, the track workouts at Santa Monica High School can be of a higher intensity (no surprise considering that another captain, Bayano Kamani, ran the 400-meter hurdles in two separate Olympic Games).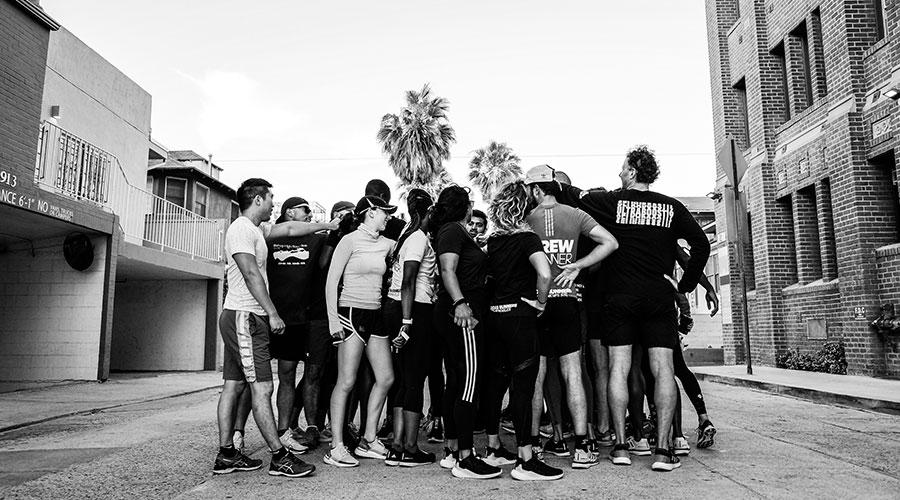 There are trail runs, jogs around the Venice canals, and even routes through Santa Monica — adidas Runners recently partnered with the Fairmont Miramar to create runs that begin and end at the iconic hotel.
"adidas Runners is really for everybody," Hunter says. "We want to be there to help you run literally one mile, or if you can't run a mile, then we'll help get you there. And if that's your goal, that's amazing. If you want to run the marathon, we also have programs for that."
But what may set adidas Runners apart from other similar programs is the camaraderie. As I ran around the track, there were many words of encouragement coming my way. After another runner finished her last run, spontaneous applause broke out. And even though everyone was seriously feeling the burpees that ended the workout, they still walked around saying "good job" to each other. As adidas Runners proved to me, it's hard to feel intimidated while getting a high-five.
All photos courtesy of adidas Runners