Activities
A Family-friendly Escape To Santa Monica
For families seeking a dose of sun, sand, and surf, there's a special place tucked along the California coast known for its broad beaches, stunning pink and gold sunsets, and endless array of activities. Offering a Southern California escape that seems an entire world away from the metropolitan bustle of Los Angeles, there's no question about it: Santa Monica is a total catch.
As family accommodations go, Santa Monica's Fairmont Miramar is not your average bear. Set on a palm-lined bluff overlooking the boundless Pacific, it's more than an elegant urban roost perfectly situated for exploring the city. It's an inviting hideaway that pays attention to the little details — the ones that make a vacation truly extraordinary for adults and kids alike.
When a family first steps into their accommodations, kids ages 4 to 12 years old can find their own Wild Republic plush animal, child-sized robe, and a courtesy hello platter filled with healthy snacks (or for a sweet treat, a sand bucket filled with candy, available as an additional amenity for purchase). And those ages 2 to 8 years old are personally welcomed with their names spelled out in colorful bath sponge letters.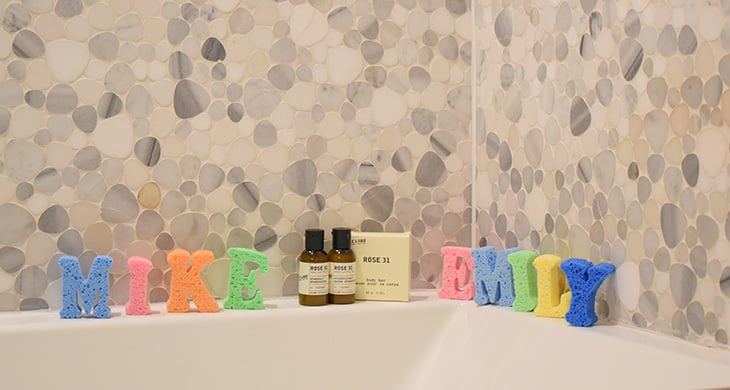 After everyone's settled in, there's little time to waste in diving into the city's sea of experiences. The ocean is the perfect place to start — averaging more than 300 days of sunshine per year, Santa Monica is a verified beach lover's paradise.
Fridays, Saturdays, and Sundays through Labor Day, the Miramar Beach Club's services are available for hotel guests to reserve from 10am to 6pm, creating memory-filled experiences of the famed beachfronts nearby. From the hotel, hop into the Miramar's BMW X3 SUV, which will usher your group directly to a dedicated oceanfront area complete with beach volleyball, boogie boarding, and plenty of lounging opportunities. While kids play in the sand with provided buckets and toys, parents and older siblings can order off a full beach menu from Perry's Café.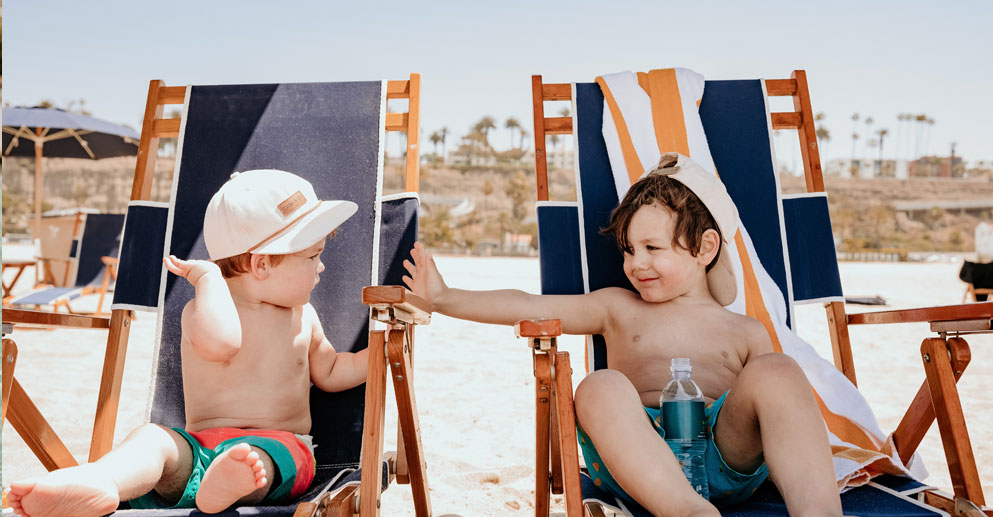 Alternatively, guests 13 and up can borrow a complimentary cruiser bike from the valet desk for a two-wheeled adventure along the beachside path and Ocean Drive. (After receiving your bike from the front of the hotel, pedal north one block and follow the green signs toward California Avenue, where you can cross the road and wind down an easy incline to the beach.)
A plethora of family-focused attractions are also within walking distance of the hotel. Only a few blocks from the Miramar, the iconic Santa Monica Pier juts out into the sprawling bay. On its storied wood-plank surface is a vibrant smorgasbord of knickknack shops, food stands, pubs, restaurants, and a video arcade packed with more than 200 games. Entertainers along the pier also showcase all types of music, magic, and bizarre abilities.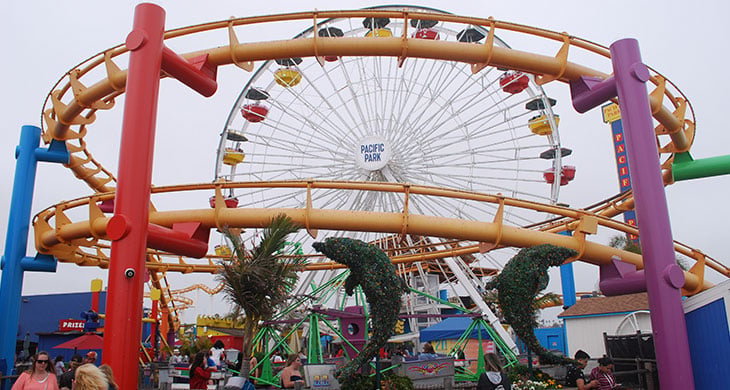 On the pier's left side is Pacific Park, a miniature amusement park boasting various rides for all ages, including the world's first solar-powered Ferris wheel, an ideal vantage to catch a Santa Monica sunset from 130 feet up. While you're there, take a ride on the West Coaster, a roller coaster winding along a 1,300-foot-long track that's raised 55 feet above the deck.
Nearby, the Trapeze School New York's elevated course offers visitors 6 and up the ability to try their hand at aerial artistry, just like real-life acrobats do in the circus. (Check their schedule for a listing of day- and week-long classes, complete with an on-site photographer to immortalize the action.) Steps away is the Looff Hippodrome, the oldest building on the pier and a national historic landmark. There, you'll find a carousel that's been turning since 1922 — to this day, kids can climb onto one of its 44 hand-carved wooden horses for an old-time merry-go-round experience.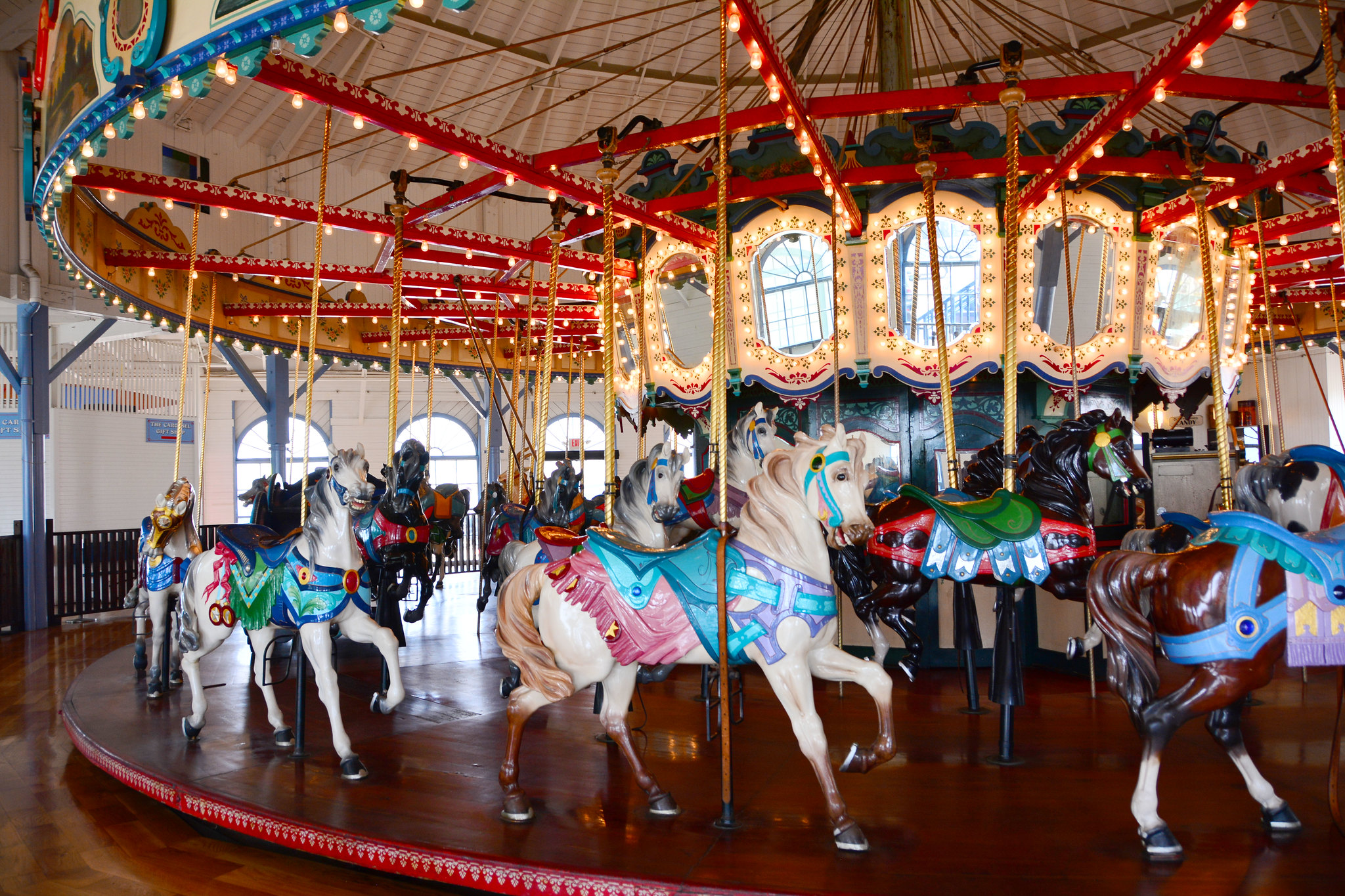 Photo: Mike McBey via Flickr / CC BY
Just outside, follow the splashy murals on the pier's east side and head down a staircase to find the Santa Monica Pier Aquarium, which is operated by environmental nonprofit Heal the Bay and provides plenty of fun and educational hands-on activities.
After you've had your day's fill of the action-packed pier, stroll up the ramped walkway toward the city, where plenty of other family-centric treasures await, such as Tongva Park. In a world where paradises are routinely paved to put up parking lots, this prized public oasis is a refreshing example of the polar opposite. In 2013, the city transformed 6 acres of asphalt into a verdant sanctuary speckled with metal sculptures, tranquil water features, sweeping lawns, and plentiful playground equipment.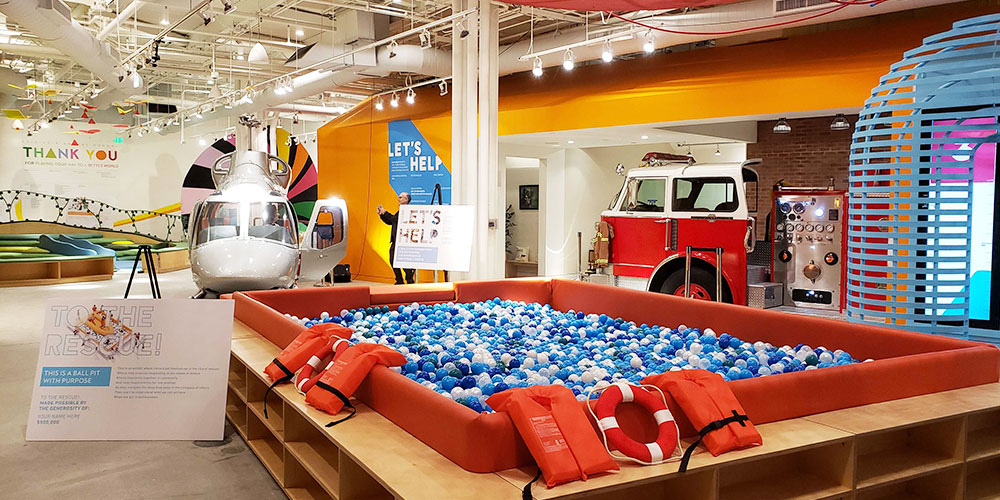 A few blocks further at a corner of downtown Santa Monica's Third Street Promenade is the Cayton Children's Museum, a truly singular interactive space brimming with dynamic and immersive activities that aim to inspire kids of all ages through teamwork, intuition, and explorative play. Spread across 20,000 square feet and open to all, its colorful and tactile exhibits offer endless creative ways for young stewards to discover the world around them, and to learn how they can make it a better place.
For other pastimes the whole clan will appreciate, stop into Beadahs (only a block south of the Miramar), which provides an array of make-your-own jewelry sessions, and on Main Street, Earthstone Pottery specializes in pottery-making classes for all ages and abilities. On nearby Pico Boulevard, reserve a lane at Bowlmor Santa Monica for a retro bowling experience. Accented with red leather seats, chandeliers, and wooden pins (which tinkle in a satisfying crescendo when they're struck with a bowling ball), the alley oozes of a bygone era.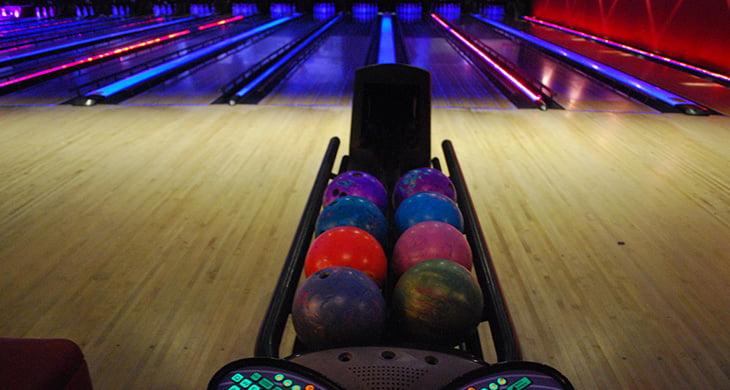 Back at the Miramar, indulge in a little pampering and relaxation after a jam-packed day. The seasoned barbers at Lloyd's can give an old-fashioned boy's haircut while dad savors a hot shave and complimentary pour of bourbon, cognac, or scotch. And right next door, Glam&Go offers blowouts as well as beach-ready braids and buns for girls of all ages from their seasonal style menu.
On Thursday evenings throughout the summer, check out the lively Night Market in the hotel's south courtyard near its beloved 80-foot-tall Moreton Bay Fig Tree. Along with DJ-spun tunes, cheery outdoor lighting, and a diverse selection of local food truck pop-up tents, attendees can enjoy a kids' play area, personalized face-painting, and a fresh-cut fruit stand by FIG, the Miramar's signature restaurant, which offers locally sourced, seasonal fare and an enticing kids' menu (guests under 5 eat for free).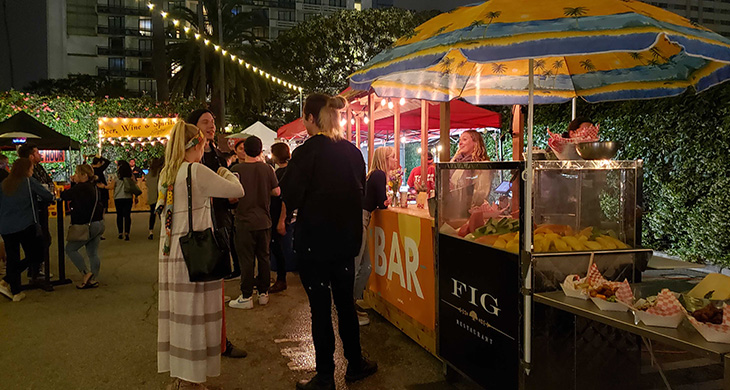 Sundays at dusk (July 7th through September 1st), head down to the hotel's lush gardens for Poolside Cinema night to catch a family-friendly flick while lounging with popcorn and a beverage. In addition to a full dinner menu from the Outdoor Kitchen, families can also indulge in shaved ice cones, topped with a generous drizzle of fruit-flavored syrup.
To bookend an exciting day and relaxing evening, tuck in with a good bedtime story. The Miramar's Bedside Reading program includes endearing children's tales like One by Kathryn Otoshi and Tater Tot at the Chase by Laura Holman Byrne to set the scene for a night of pleasant dreams and restful sleep in preparation for yet another unforgettable day in Santa Monica.
The Fairmont Miramar Hotel & Bungalows is happy to arrange additional accommodations upon request, including connecting rooms, cribs, roll-away beds, and childcare services (reserved at least 12 hours prior with the concierge). For more information about the hotel's summer activities, view their seasonal brochure.
Featured Photo: Pacific Park