Lifestyle
Book Recommendation? Check Your Bedside Table
When Jane Ubell-Meyer was in her 20s, she fell for an avid scuba diver. He asked her to join him on a dive trip to the Caribbean, and she enthusiastically said yes, signing up for scuba lessons back home in New York before jetting off with her new love. But when the couple arrived at their island hotel, he suddenly broke up with her.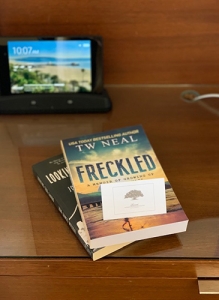 "I was devastated," she recounts. "But one thing that saved me for seven days was that my stepmother had given me a book, Cry to Heaven by Anne Rice. I devoured every single morsel of every word. It always stuck in the back of my mind: Take a book with you whenever you travel."
While Ubell-Meyer's overseas breakup wasn't particularly enjoyable at the time, decades later, it led her to launch Bedside Reading, a well-loved program that puts books in luxury hotel rooms around the country.
Each month, Bedside Reading selects multiple titles (both fiction and non-fiction) and ships hundreds of copies to its hotel partners, which, in turn, place a complimentary book in each of its rooms for guests to read during their stay and take home with them. In the age of smartphone overload, it's been a huge hit, including at the Fairmont Miramar in Santa Monica. "The Fairmont has been extraordinary," says Ubell-Meyer. "They've embraced the program and their guests are loving it."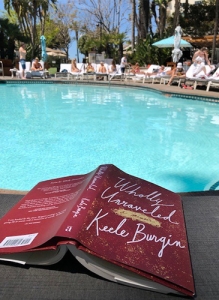 As always, this month's selections run the gamut when it comes to genres. Madame Fourcade's Secret War by Lynne Olson tells the little-known story of Marie-Madeleine Fourcade, a young mother who helped lead the French resistance and headed up the largest spy network in occupied France during World War II. Carol E. Weisman's Raising Charitable Children shares practical advice on introducing kids of all ages to the world of philanthropy and volunteering. Wholly Unraveled is a memoir by first-time author Keele Burgin about her journey of self-discovery — after growing up in a cult run by her abusive father, she makes her way to a rural Canadian community where she spends a year in nearly complete silence, finding empowerment and a new purpose.
Burgin, who is also an entrepreneur, says her past experiences as a business traveller were part of why she wanted to partner with the Bedside Reading program. "I really feel like when you are in a hotel by yourself, to have someone there with you, even if it's just a book, is really comforting," she explains. "There were many times when I would check in and say, 'oh no, I forgot my book.' And now, here's this book by your bed."
Burgin also shares the same sentiment as many fellow bookworms: An eReader just isn't the same. "I miss paper. I love the smell of a book," she says. "If I wake up in the middle of the night, I don't want to turn a screen on. I want to read a book."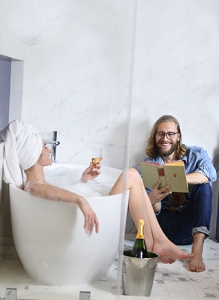 As part of the program, the Fairmont Miramar hosts quarterly book signings, giving guests and locals the chance to meet Bedside Reading authors and learn more about their works.
The hotel has also begun offering children's books for families visiting the property — this month's Tater Tot at the Chase: A Happy Helper uses an adorable bulldog to teach life lessons about the importance of following through on promises and commitments. This summer, the Fairmont Miramar will start storytime sessions for the hotel's littlest readers, who will no doubt reap the benefits of books.
"Scientists say that when you read a book, your brain actually regroups, your memory gets stronger, and you have better sleep," says Ubell-Meyer. "Overall, you really are healthier when you read a book."
We'll read to that.