Lifestyle
Hanging Out With Lloyd The Barber
Among bottles of hair products and other accoutrements, standing up on a shelf at Lloyd's Barber Shop is a book by Ronald Barlow: The Vanishing American Barber Shop.
It's not clear what Barlow would think of Lloyd's: The space itself does not share much aesthetically in common with the shops of old. There are only two chairs, guaranteeing that there's rarely a crowd. The soundtrack tends to alternate between chilled-out electronica and low-key R&B. Clients can enjoy a pour of cognac or bourbon while receiving a haircut. And Barlow would surely be mesmerized by the waste bucket-looking machine that sucks up hair clippings.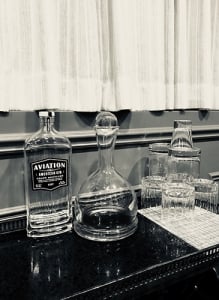 But Barlow would certainly recognize the spirit infused into Lloyd's DNA via its owner and barber, Lloyd Encarnacion. The establishment has a tradition of valued relationships — the people in the chairs are just as important as their haircuts.
"I like the community," he says while giving me a cut on one Monday morning. "In close quarters, you get to know your clients, and your clients become your friends, really. I've cut kids' [hair] who are now adults, and everything's just like family."
Encarnacion has spent more than 20 years in the trade but started cutting hair as a youth, earning the trust of his family quickly. "Anybody would let me cut their hair — my brothers, my cousins, my dad," he says. "I got better and better and figured it out that way."
Eventually, he would head to an apprenticeship program, followed by his first professional job in Inglewood. His chance to open his own shop at the Fairmont Miramar came in 2010; nine years on, he's added shops at the Brentwood Country Mart and in downtown L.A., allowing him a chance to work with people throughout the city. ("It's LA — if you're not within five miles, you probably won't go to that location, because traffic sucks," he says with a laugh).
Most of his Miramar clientele, accordingly, are local, drawing from Santa Monica as well as up the coast in Pacific Palisades and Malibu. For the most part, they're regulars as well, amplifying that feeling of community that means so much to Encarnacion.
"It's the environment," he says about what differentiates Lloyd's. "[In] other shops, some people feel awkward or uncomfortable, whereas our shops provide that intimate or relaxed vibe."
Encarnacion's two decades of experience in the industry means he's seen it change as well. To be a barber now is hip; like the bartender profession, barbers now are seen as tastemakers in some corners of young, artistic neighborhoods.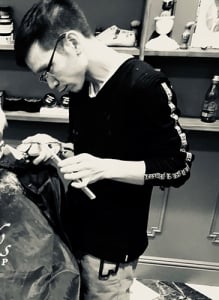 "I was in the barber game when it was not cool," he says. "It now seems to be the hipster-ish thing to do. I still like the classic shop, but now it's tattoos everywhere, which is fine, things progress. But I like it more old school. I want to cater to everybody, not just a certain type."
This is apparent as our interview ends, and the haircut continues. Questions turn into conversation – again, like a bartender, a good barber comes across as an inquisitive friend. We talk about home, about jobs, about kids (or not having them). By the time my cut is done, I feel like I know Encarnacion in a way that I don't know others in the service industry, even those I've seen regularly.
That may be what Lloyd's means to its devoted clientele, but what does Lloyd's mean to Lloyd himself?
"That I made it in barbering. I've always wanted to have my own shop, but I've wanted to have a nicer shop," he says. "Having this kind of space at the Fairmont — not a lot of barbers get to do that."