Lifestyle
How Style Meets Sustainability At The World's Most Luxurious Swimwear Company
Inside the Vilebrequin boutique at the Fairmont Miramar, stacks of brightly patterned swimsuits are colorful reminders of the beach, from the sands of Santa Monica to the shores of St. Tropez (where the company got its start with a charming love story). But Vilebrequin's relationship with the sea goes beyond their aquatically-inspired aesthetics: The company sees itself as a steward of the beach, and protecting the oceans is at the forefront of their corporate philosophy.
Vilebrequin is a rare company in that its sustainability initiatives aren't empty promises rooted in public optics and begrudged obligations—they're an authentic part of the fabric of the organization, and a top priority for CEO Roland Herlory.
"All of us are citizens [of the world], and we need to be aware that we are putting the planet in danger for the coming generations." he says. "[So I believe] it's my duty as a citizen to help the planet, and I have the power to change some things on a larger scale. It's not about a marketing tool."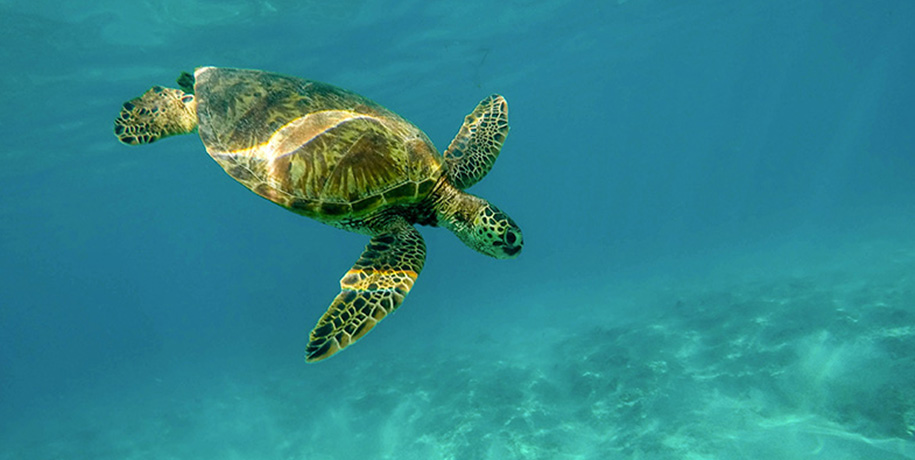 He adds, "when I joined the company, I tried to implement an awareness of [the need for sustainability], and then transform it into real decisions." This has included partnerships with various environmental organizations, including Te Mana O Te Moana, an association that aims to protect the marine environment and sea turtles in French Polynesia through conservation efforts and educational programs. "They do a lot of training with young people and the students to make them aware of how changing your daily behavior can really have impact on the preservation of nature," says Herlory.
Vilebrequin also aims to contribute to the planet by producing swimwear that's as sustainable as it is chic, requiring close analysis of every step in the process to make sure their impact is a positive one. "Sustainability is a way of thinking, and sometimes, what looks sustainable is not as sustainable as it may appear," says Herlory. For example, he explains that many recycled fabrics require more resources to produce than conventional fabrics — so their overall carbon footprint is higher.
That's why they've spent years experimenting with innovative new fabrics and materials to discover eco-friendly alternatives. Take, for example, a special-edition swim short they created for Te Mana O Te Moana. It's made with a biosourced polyamide, which comes from plants from subtropical regions that don't have other uses (so they aren't disruptive to remove). While the idea is ecologically inspired, Herlory says they may not continue this particular suit because of quality control issues. Yes, the fabric itself is sustainable—but Vilebrequin needs a perfect quality for proper printing, he says, and fabric that doesn't meet this standard ends up being wasted (counteracting its good intentions).
This is part of the natural trial-and-error process. "When you do sustainability, you try, [but] it's still an unknown world," says Herlory. "So you need to try, but to be very critical."
Other products, however, have been more successful in their eco-conscious objectives. There's the Ultra-Light Swim Trunks, made with yarn from 100 percent recycled plastic bottles from Torino, Italy. Or the UV-protection rashguard, crafted with fabric from Italy that's been made from recycled carpets, rugs, and fishing nets (which otherwise are discarded once a hole develops).
But the recent project he's most impressed by is the MAN collection, a shorter style of swimsuit that's been in the works for three years and is designed to help address the staggering problem of ocean pollution. "By 2025, for every five tons of fish, you will have one ton of plastic," warns Herlory. "And there are small particles [that harm sea life], so the whole chain is polluted by the plastic. It's a major problem."
The company came up with a creative solution: Craft a luxury swimsuit made out of, quite literally, garbage. They work with about 1,500 Spanish fishermen in the Mediterranean to purchase the garbage that gets caught in their fishing nets (so they're incentivized not to throw it back into the ocean). It's then sent back to a company in Spain to create a yarn from it, then to France to refine the yarn into a smooth, stretchy fabric. The swimsuit is available in an array of solid colors, and each pair represents 250 grams of garbage that has been extracted from the ocean (so, four swimsuits is a total of one kilogram), says Herlory.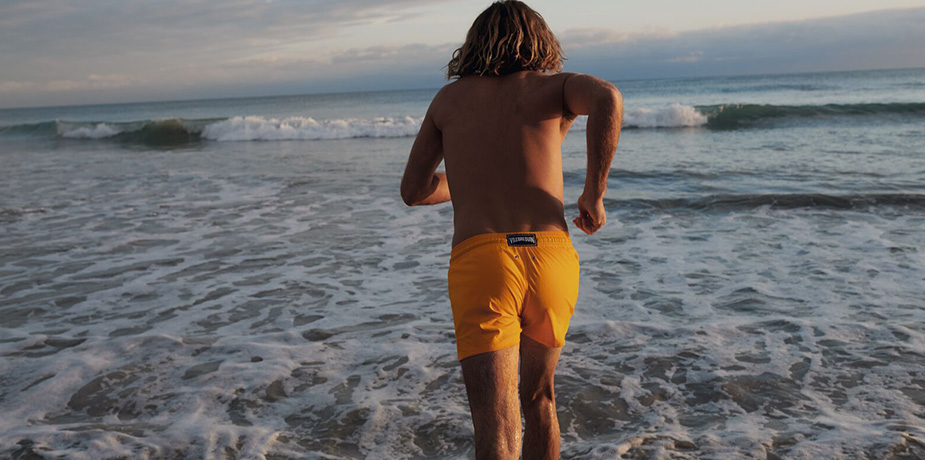 Across every sustainable style, though, there's one common thread: Durability. "If you buy something that you're going to keep for years and years, that's really sustainability," says Herlory, given the looming issue of textile waste that's been accelerated by fast fashion. "For me, the most sustainable asset of the company is the quality of what we do and the durability. You can keep our bathing suits for 20 or 30 years and if it's damaged, you bring it back to the store and we'll repair it." (And, he reminds that for products with a long shelf life, "quality is never expensive.")
Vilebrequin's sustainability efforts extend into its office environment, too. Plastic cups are banned, each employee has a steel water bottle they're encouraged to use, recycled paper is used in printers, and more. This is at the heart of Vilebrequin's philosophy: If everyone makes small changes on both individual and corporate levels, the collective impact can be significant.
"I do not pretend that we're a [fully] sustainable company—we do use synthetic fabrics, and we print so we use inks. But each time we do something, we ask, can we do it in a more sustainable way? And when it's economically possible, we choose the sustainable solution," says Herlory.
It's certainly not the easiest route. "[But] the reality is that if you really put energy into changing things, you can find sustainable solutions that are completely in accordance with the interests of the company," says Herlory. "So that's what I try to do. I would feel guilty of not having taken the chance of doing something at this moment of our history."
Visit the Vilebrequin boutique in the Fairmont Miramar to explore their range of sustainably made luxury swimwear, and stop in on Saturday, August 31st for free monogramming on all Vilebrequin purchases.
Featured Photo: Vilebrequin