Activities
A Biker's Day In Santa Monica
With its shimmering coastal splendor, pleasant ocean breezes, and near-perfect temperatures year-round, Santa Monica is an outdoor lover's paradise. Add to that a bustling network of bicycle infrastructure and a rider culture that encourages two-wheeled transit, and the city offers a perfect setting to stage a day's exploration by bike. Whether you're seeking a leisurely seaside ride or a sightseeing adventure, grab a bicycle and head out on a tour of Santa Monica's best attractions.
In the Fairmont Miramar's front drive, visit the valet desk to pick up a beach cruiser (complimentary to hotel guests), outfitted with a combination lock, a bell, and a generously-sized basket (perfect for stashing beach towels or a grab-n-go lunch from Dogtown Coffee). Alternatively, if guests prefer to zip around with some battery-powered assistance, they can rent an electric bike from Bike Attack Electric or Pedal or Not, which offers guided excursions covering the city's most compelling draws.
From the hotel's Pacific-facing doors on Ocean Avenue, follow the sidewalk north, using the green "Beach Path" signs as your guide. One block away at California Avenue, cross the road toward the coast and descend the cement ramp as it arcs over the PCH and spills out on the edge of Santa Monica State Beach.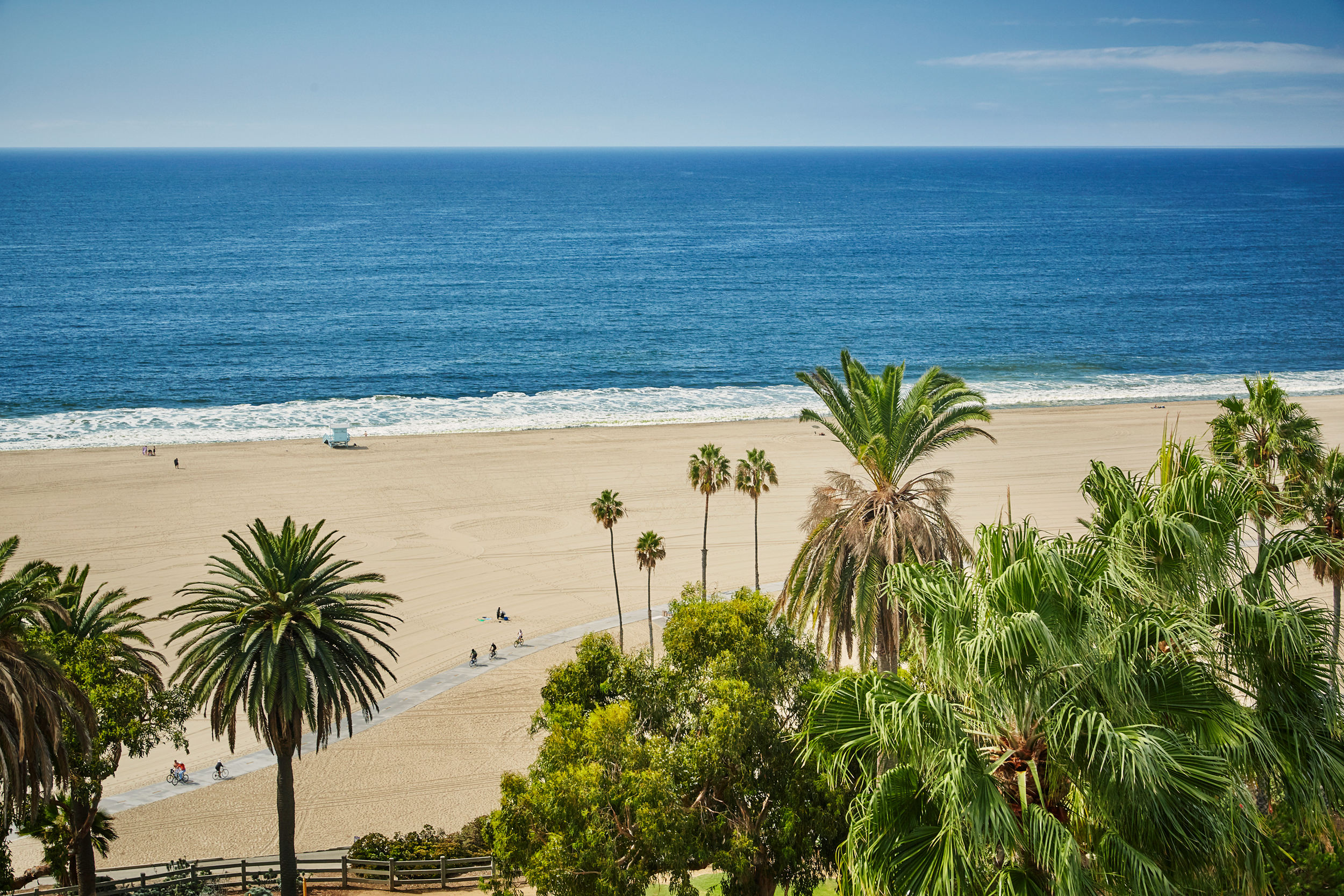 Here, bikers will encounter the famous Marvin Braude Bike Trail, a mixed-use throughway running parallel to the city's broad swath of white sand beaches. Affectionately dubbed by locals as The Strand, this smooth paved path meanders through some of Santa Monica's most celebrated landmarks, carrying a current of bikers, roller bladers, skateboarders, and joggers along its serpentine stretch. As a spectacular bonus, the Pacific Ocean's blue expanse sprawls in the background as far as the eye can see.
Take the path south toward the nearby Santa Monica Pier, the city's historically charged beacon and arguably its most noteworthy gem. While the route passes right underneath the pier's wood walkway, there are ample bike racks on either side to lock up and experience the many attractions in the area.
On the adjacent beach, plenty of volleyball nets host friendly pick-up games as flocks of beachgoers settle in the surrounding sand for a few hours of tanning under the California sun. After exploring the beach, climb the pier's stairs to a colorfully eclectic scene of shops, games, and performers on its surface. Then stroll down the storied planks to grab a refreshment, people-watch, or pay homage to the official end of Route 66 — which is commemorated at the end of the pier in a series of monuments, souvenir stands, and photo opportunities. While you're there, pay a visit to Pacific Park, the pier's self-contained amusement park for all ages.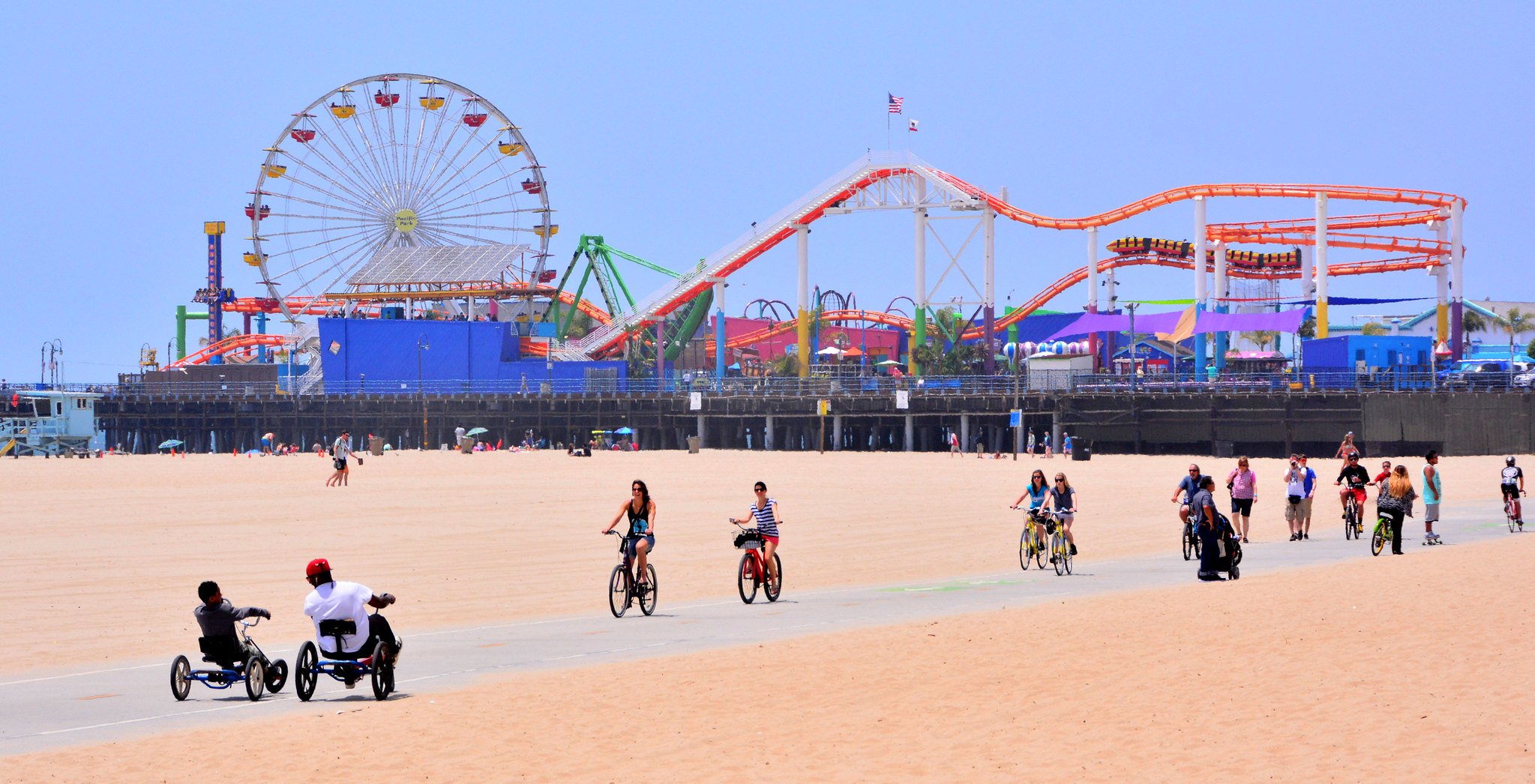 Photo: Mike McBey via Flickr / CC BY
Just down the pier's southeast steps, you'll find Chess Park, a collection of 67 outdoor chess boards (including one that's human-sized), which is open from sunrise to sunset for public enjoyment. And while you're there, grab a bite at the original Hot Dog on a Stick stand, still in its iconic beachside location.
When it's time to hop back on the bicycle, stay on the path southward but keep your eyes peeled toward the left, where the outdoor gymnastics equipment marks the start of Santa Monica's original Muscle Beach. Replete with various structures for swinging, rope-climbing, and acrobatic performing, it's been a haven for athletes and aspirational amateurs alike since the 1930s.
From this teeming hub of activity, continue pedaling down the Strand's palm-lined path, which winds gently away from the pier and takes you further down the coastline. Soon, you'll come upon the colorful bustle of Venice Beach, a whimsical neighborhood brimming with brilliant street art and eccentric characters. On the left stretches an interesting collection of eye-catching storefronts purveying tattoos, coffee, souvenirs, art, and psychic services, while the right side features the acclaimed Venice Skatepark. Offering 16,000 square feet of skate-worthy cement, it's one of the few skateparks in the world that's sunken into the beach.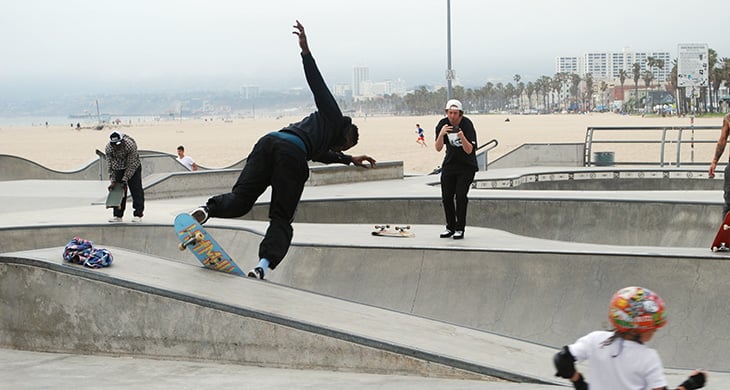 When you reach Venice Pier at Washington Boulevard, lock up for a cocktail at The Venice Whaler, a local's favorite since 1944. Scan your surroundings, and immediately to the north of the path you'll spot the district's own famous rendition of Muscle Beach, a go-to for bodybuilders who like to pump iron al fresco. To its south lies one of SoCal's widest beaches, Venice Beach itself, a magnet for surfers, sand sport enthusiasts, and beachgoers. While Venice Pier and Washington Boulevard mark the end of the Santa Monica portion of the Strand, the path actually continues for another 13 miles down the coast to its official end point at Torrance County Beach.
Remount your beach cruiser and make your way back up the coastline, using the Santa Monica Pier as a point of reference back to California Avenue, or head north into the city to pedal through its most bike-friendly streets. Equipped with bright green bike lanes, Ocean Park Boulevard, Broadway, and Second Street are all major throughways that welcome casual riders. Make sure to stop by Main Street, one of the city's most celebrated stretches of restaurants and shops (featuring several locking corrals and a free bike valet), before making your way back to the Fairmont Miramar after a day of discovery.