Food & Spirits
New At The Fairmont Miramar, Dogtown Coffee Honors The Z-boys' Skateboard And Surf Culture
The spirit of Southern California's surfing and skating culture can be seen across every inch of Dogtown Coffee, from photos and murals that line the walls to the surfboards suspended from the ceiling and skateboards preserved at the entrance.
But the best example of the coffee shop's essence may be found on the exterior of its back wall: A full, shop-wide mural that pays respects to Jay Adams. Adams was one of the neighborhood's famed Z-Boys, the 1970s crew that would ride waves in the morning and reinvent the art of skateboarding in the afternoon. They would become the subject of the acclaimed 2001 documentary Dogtown and Z-Boys — and later, part of the inspiration for Dogtown Coffee.
"He chose us, in a sense," Dogtown Coffee co-founder and co-owner Assaf Raz says of the mural. "He passed away, and then a guy who does a lot of murals around spoke to the family, and they said the best place ever to put one would be behind Dogtown Coffee. … The only credit that we can take is that we were here."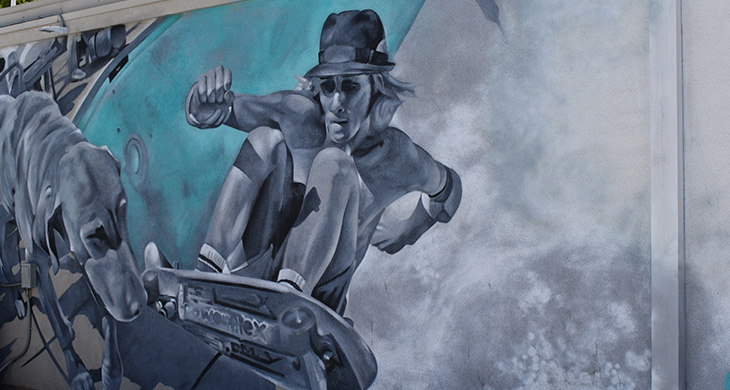 Being "here" means being at the same site as the original Jeff Ho's Surfboards and Zephyr Productions, the Z-Boys' original stomping grounds. In a metropolitan area that sometimes fails to properly evaluate and remember its history, Dogtown Coffee is keeping the soul alive of that early crew of misfits who did so much to define youth culture, surfing, and skateboarding both during the '70s and, through their disciples, today.
To understand Dogtown Coffee, one must first understand the Dogtown of the '70s. Stuck between Santa Monica and Venice jurisdictions, this stretch of Main Street was run down, with gang and drug problems making it difficult for local businesses to stay open. Ho's Surfboards was a meeting place for the Zephyr surf team, including its junior division. Many of these kids were neglected, coming from broken homes, and surfing and skating were much better options than those offered on the streets.
Over time, the Z-Boys, as they were known, revolutionized skateboarding. They took what was essentially ice skating on wheels and added aggression, speed, and an attitude that would eventually bleed over into Southern California's punk-rock scene. Some of them became the biggest names in skating, while superstars like Tony Hawk cite them as role models and influences.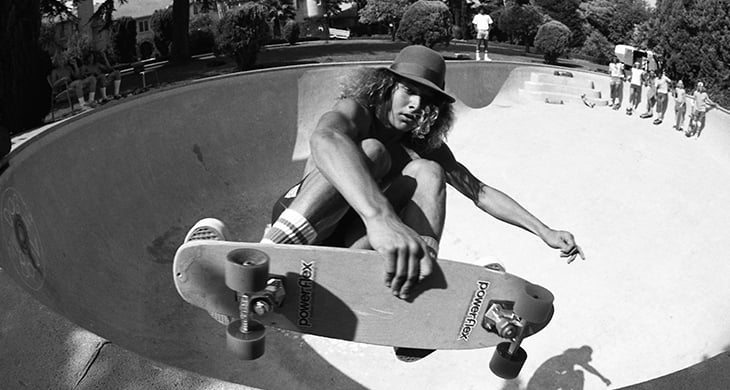 It is this history that Dogtown Coffee seeks to preserve. Founded in 2012 by Assaf and Itay Raz and Itai Klein, all of whom lived nearby, the store itself is not a part of the "Dogtown" era. Instead, the shop is a place to house the voices of that era, which is why so many of the still-living Z-Boys have made their way here at one point or another over the course of seven years.
"We're not Dogtown," Raz says. "We were not here. We were not the ones creating the history. And we don't pretend to be Dogtown. We are custodians, and we feel blessed to be that."
That custodial work includes obtaining memorabilia, as the walls of Dogtown Coffee suggest. It means holding signings with some of the Z-Boys and promoting the works of artists who, through photographs or other disciplines, preserve the memories of that time.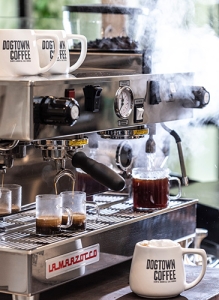 Dogtown Coffee has a new connection with the Z-Boys' history through their much-anticipated second location at the Fairmont Miramar, in the heart of Santa Monica. Back in 1978, the young men and women who reinvented the art of skateboarding came into this very neighborhood for what would become known as the Dog Bowl sessions. They were a little older and a lot more famous, but still Z-Boys in spirit. A teenager sick with cancer asked his family to empty out the swimming pool so his heroes could come skate, and so the story goes, the Z-Boys crossed the line from rundown Dogtown to upscale Santa Monica.
The Fairmont Miramar in Santa Monica is also fitting place for Dogtown's exclusive new outpost thanks to its location. Just like the original Dogtown Coffee, the beach is just a short distance away, and this influence can be seen on Dogtown's menu. Hand-held wraps, sandwiches, and breakfast burritos are the stars here, all foods that can be taken down to and eaten at the beach. "You need to make the kind of food that if a surfer comes out of the water with a hole in the stomach and dripping water from his wetsuit, [it's] the kind of food that they will buy and feel at home," Raz says.
"That was the driving force," Klein adds. "It comes along with that idea to create a fun, health conscious type of menu that's not too fussy but it's fresh."
But perhaps more than any other reason, what does a coffee shop honoring a neighborhood's punk-rock past have to do with a five-star, over 100-year-old resort?
"Matthew [Lehman, the hotel's General Manager] told me in our first conversation, 'I could have gone to Stumptown, I could have gone to all those [places]," Raz says, "[but] this is history meets history."
Featured photo courtesy of Dogtown Coffee; third photo & homepage photo courtesy of Lisa Romerein.