Activities
9 Things To Do This Summer In Santa Monica
Between the expansive, sparkling sands of Santa Monica beach, our iconic pier over the Pacific, and an abundance of al fresco promenades and dining venues, our coastal destination is nothing short of a summer paradise — especially during these unconventional times.
Locals and visitors alike have always been lucky to enjoy seamless access to outdoor experiences throughout our corner of Southern California, and this summer is the perfect time to truly take advantage of our oceanfront perch.
Whether you're a self-proclaimed beach person, crave scenic mountain terrain, or simply want to enjoy Pacific views paired with a glass of local wine, here are nine safe, socially distanced things to do in and around Santa Monica in summer 2020.
1. Soak up the sun on Santa Monica Beach.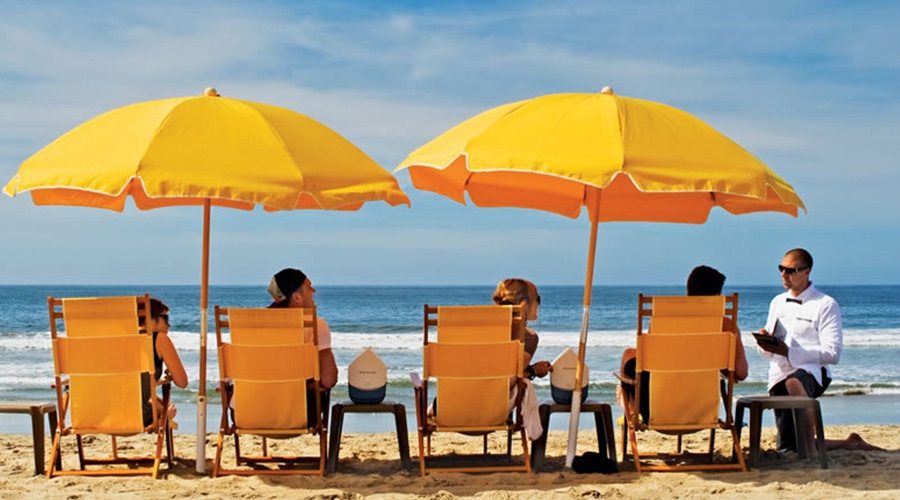 Located just across from the Fairmont Miramar, Santa Monica Beach beckons with surf, sand, and sun. Your one-stop shop? Perry's Beach Café (who we partner with for our Miramar Beach Club, exclusive to guests). Enduring for 44 years, Perry's has 10 locations along the beaches of Southern California, including four on Santa Monica Beach.
"[Originally], we were just a simple concession stand as we all think of concession stands," explains Richard Chacker, president and owner of Perry's. "And then over the years we hired a chef and customized our menu, [and since then] we've won countless food awards [for being] sustainable and organic." In addition to fantastic beach bites, "we have one of the largest rental fleets in California — bikes, skates, umbrellas, chairs, boogie boards, paddle boards, [you name it]," says Chacker. There are also retail offerings including hats, sunblock, bathing suits, and other beach essentials.
One of their most popular services these days is their beach butler service, offering a true vacation experience. Your beach butler takes all your things down to the beach for you, where you'll have an umbrella, two lounge chairs, two tables, a cooler with water, and any requested privacy screens or windblocks. Your butler will also deliver you drinks and lunch. Like Old Hollywood elite, Chacker says, "you let the butler do the work!"
No matter which Perry's experience you opt for, you're in for their signature good vibes (elevated by the sounds of Frank Sinatra in the morning, followed by contemporary beach tunes till close). Chacker says, "there's a charm to it, it's very beachy — it's our oasis." (And it can be yours, too.)
2. Go for a bike ride.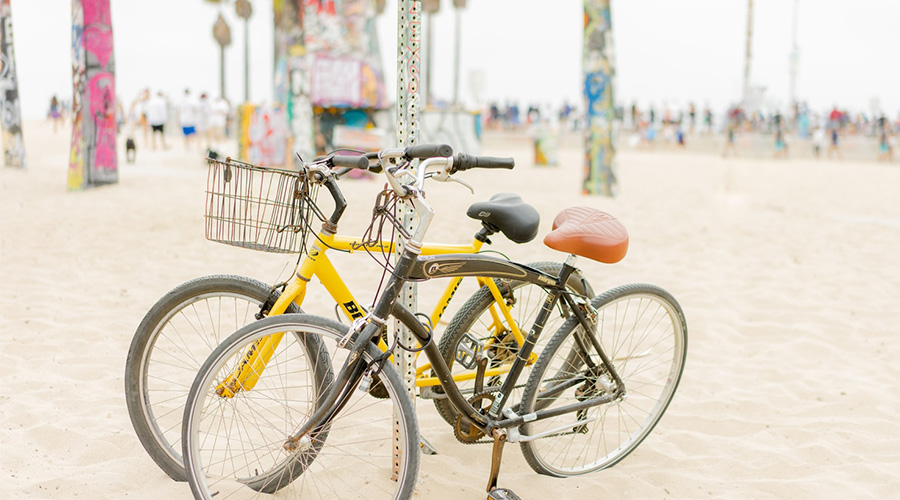 Winding along Santa Monica Beach is the Marvin Braude Bike Trail, which you can follow all the way down to Venice for a few hours of scenic sightseeing. (Learn more about our suggested route and stops here.)
Guests of the Fairmont Miramar can rent a complimentary beach cruiser from our Valet Desk, or you can stop by Perry's to select from their array of bikes and e-bikes. "Our locations are at both ends of the bike path — [Santa Monica] and Torrance Beach," says Chacker. If you're a seasoned biker, you can ride down and back for a 24-mile round trip, or you can choose to drop your bike off at the other end and enjoy a relaxed beachfront lunch.
Alternatively, visitors can also rent a bike or e-bike from the Santa Monica Bike Center, which is also a hotspot for locals looking to buy or repair their two-wheeled companion. "Experience Santa Monica like the locals do, without traffic and parking worries," says owner and managing partner Ron Durgin. "Beautiful neighborhoods north of Montana offer shade and mighty trees, and the beach bike path offers muscles, skating and a striking beach that stretches to the ocean. Not to be missed, check out local restaurants and boutique shops on Montana Ave and Main Street before catching a sunset from Palisades Park." On two wheels, there's something for everyone.
3. Try a surfing lesson.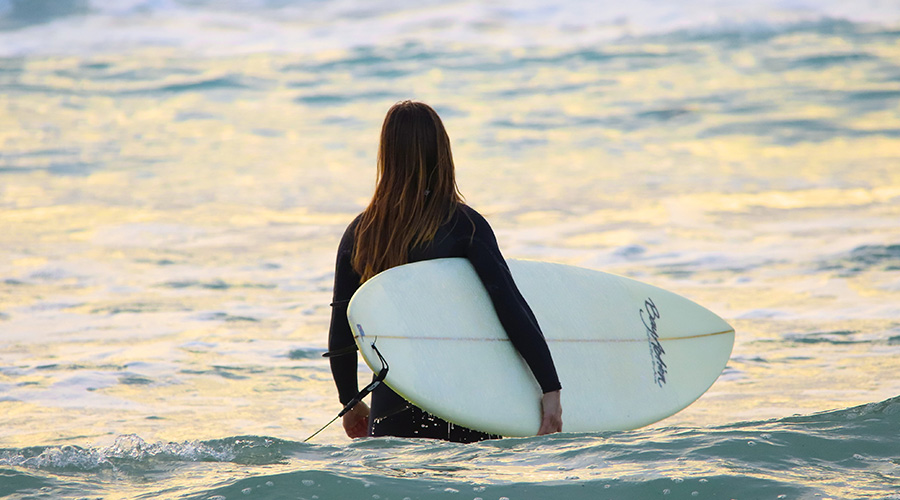 If you're ready to get out on the water, ride a Santa Monica wave with Aqua Surf. Offering private lessons in 1.5 or two-hour intervals, they'll customize your outing based on your experience, whether you're a seasoned pro looking to fine-tune your skills or a total beginner hoping to stand up on your board by the end of your lesson (spoiler: you will). With blue skies above you and cool Pacific waters below you, it's an unforgettable way to experience Santa Monica by sea.
4. Explore Santa Monica by Segway.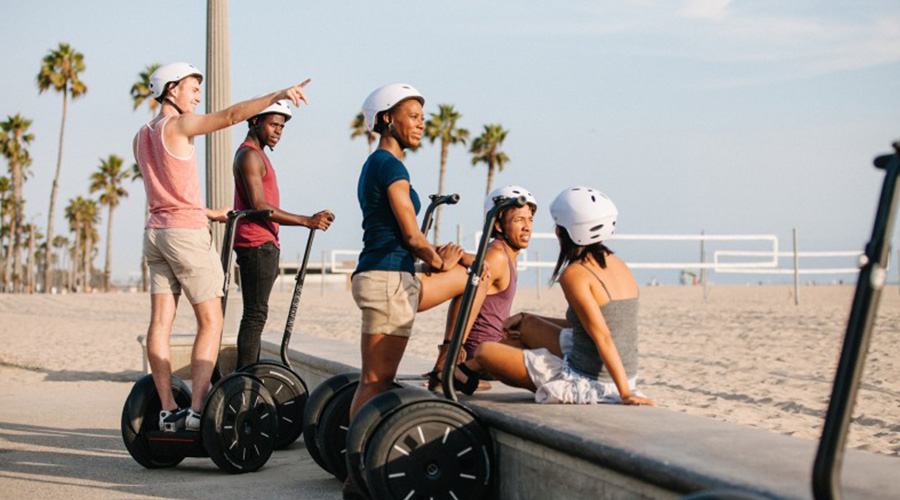 Zoom around our singular destination with Segway LA's Santa Monica & Venice Beach Segway Tour. Beginning several times throughout the day and lasting about two hours (including a safety training), "you see everything from the Santa Monica Pier to several landmarks in Venice such as the boardwalk, graffiti walls, muscle beach, and the skate park, where we usually take a break to check out the amazing talent," says Jason Stemmler, president of Segway LA.
Sure, you could see these landmarks in other ways, but half the fun is riding the Segway itself. "People always seem to smile after first stepping on," says Stemmler. "It's nice to be able to combine a new and fun activity with seeing and learning about the area. Not to mention we also cover a lot more ground than we could on foot!"
5. Discover a hidden-gem jewelry shop to the stars.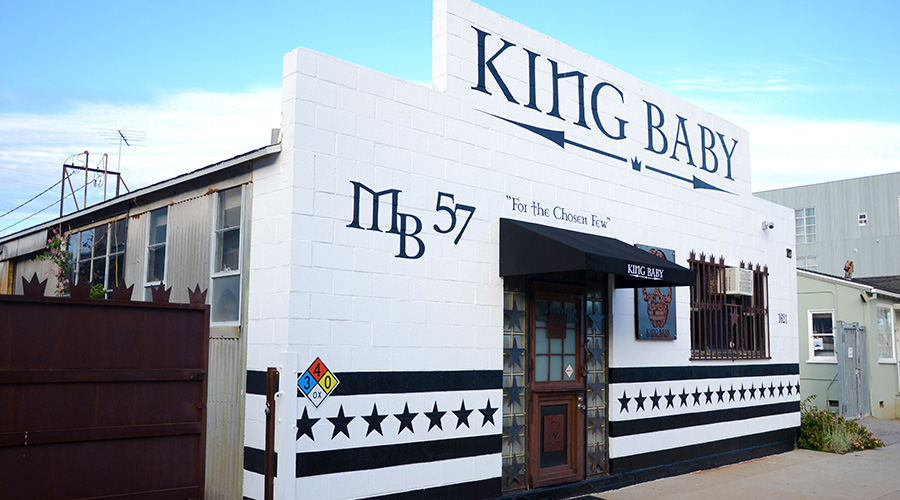 There are endless shopping opportunities in Santa Monica, but perhaps none quite as unique as King Baby Studio, founded by celebrity jeweler Mitchell Binder. "King Baby Studio is rooted in the freedom of the open road and in the spirit of rock n' roll," says retail manager Patrick Presley. This aesthetic is fabulously reflected in the brand's signature handcrafted pieces (which combine silver with precious stones, 18k gold, and a variety of natural beads and leather), as well as the home accessories, candles, and bags found in their historic Engle Cams building flagship.
"Our Santa Monica shop is a true hidden gem known mostly to locals and dedicated fans to the brand — a true insider shopping destination," says Presley. "Our boutique is a fully immersive shopping experience that allows visitors to leisurely browse our current and limited-edition range of luxury Santa Monica-made products." Guests can also participate in socially distanced factory tours, held Monday through Friday from 10am-2:30pm.
Plus, customers at King Baby Studio are in good company. Notable celebrities who've been spotted wearing the brand include Johnny Depp, Jennifer Lopez, Cam Newton, Drew Barrymore, and Steven Tyler — they even worked with fan Jason Momoa on his jewelry for Aquaman.
6. Soar through the sky on the flying trapeze.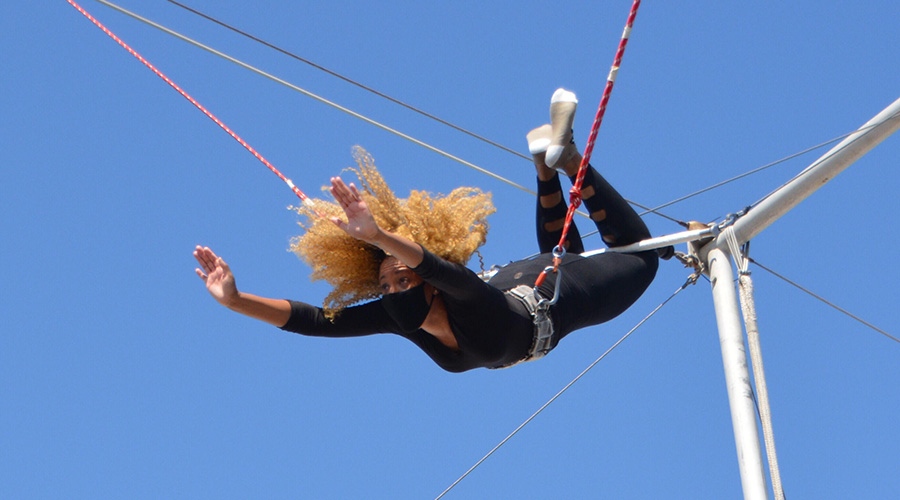 Located on the Santa Monica Pier, Trapeze School New York's LA location offers a thrilling opportunity to join the circus for a day while enjoying panoramic SoCal views from the pedestal. Classes are available to anyone aged 9 and up (first-timers welcome), and it's not just an exhilarating and fun way to spend a couple of hours, it's also a one-of-a-kind wellness experience.
"Conditioning, body awareness, timing, trust, relaxation, and a belief in one's ability to do more than one imagined are just a few of the benefits of flying," shares manager Kenna Stevens. "Static trapeze, Spanish web, trampoline, acrobatics and silks are great for building overall strength and coordination."
And, yes, you'll experience many of these benefits during your first class. Sessions start with a safety lesson, and after mastering new skills, you'll find yourself flying through the air in no time. "Whether you are athletic or not, afraid or not, ready or not, we are committed to creating a fun and safe environment," says Stevens.
7. Go for a sunrise hike.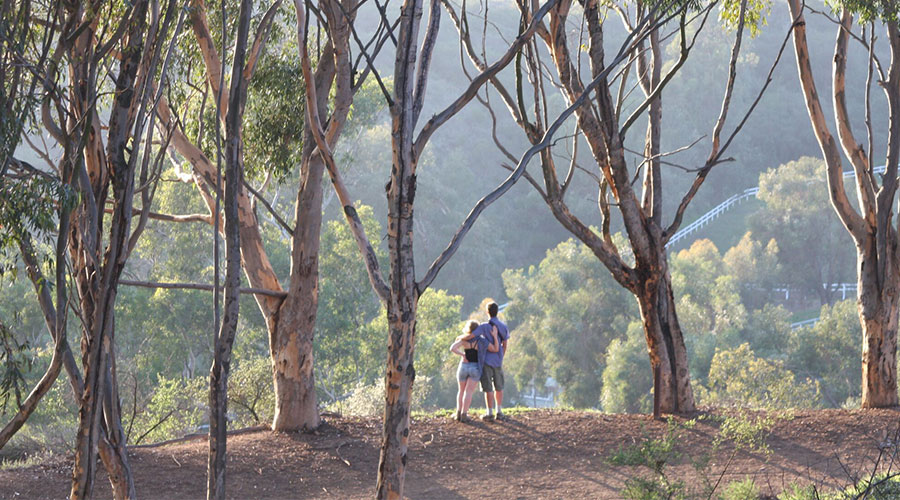 If you're looking for a heart-pumping challenge, Santa Monica is nestled in close proximity to the best hiking trails in LA. Trek one of these four LA hikes on your own, or set out on a guided sunrise hike with Malibu Discovery. It's well worth the early wake-up call: the three-mile hike through Will Rogers Historic Park offers views of city and sea, celebrity homes, and lots of nature (you may even spot a deer). The ending place is Inspiration Point, where you'll see the sun rise over the entire LA Basin, from 120 miles inland all the way out to Catalina.
"Especially now, our guests love the fact that we can provide a wonderful day in the midst of all the virus chaos," shares Ken Fasola, president of Malibu Discovery. "Everyone is very understanding of [our safety] conditions, yet we truly have beautiful days going out on our journeys. Plus, all our tours are private tours, so guests don't have to worry about mixing with people they don't know."
8. Embark on a day of Malibu wine tasting.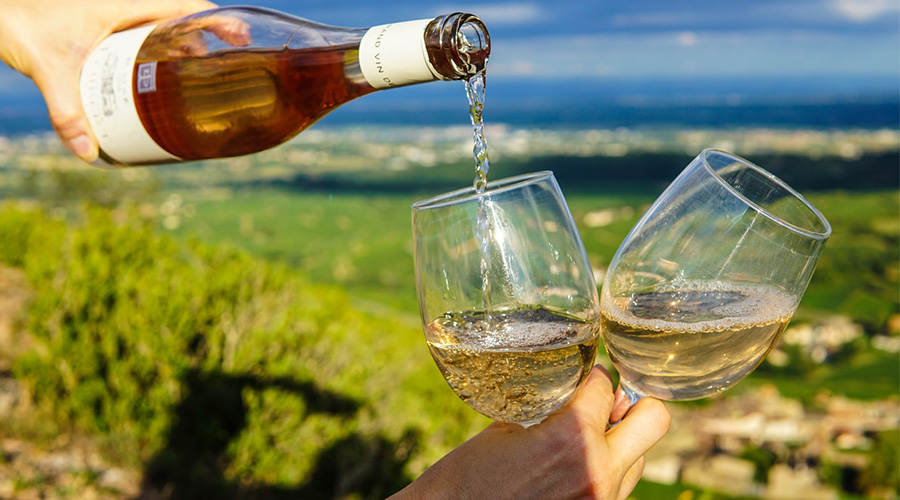 Malibu Discovery also offers several fabulous wine tasting tours, including the Malibu Brunch & Wine Tour, the Twilight Wine & Dine Tour, the Santa Barbara Wine Tour, and one of their most popular, their signature Malibu Wine Trail Tour. Your guide will pick you up from the Fairmont Miramar in a Mercedes Sprinter van and take you on a journey through Malibu wine country, featuring stops at three wineries for a glass of vino paired with breathtaking views of the surrounding landscape at each tasting room. Your tour also includes an al fresco lunch with wine at either The Sunset or Kristy's Village Café.
9. Unwind at the Fairmont Miramar.
Of course, for our guests, you don't even need to leave the hotel to enjoy a rejuvenating outdoor getaway. From al fresco dining at FIG to days spent lounging by our crystal blue pool, the perfect summer awaits at the Fairmont Miramar.