Activities
The Insider's Guide To Abbot Kinney Boulevard, "the Coolest Block In America"
Venice Beach's Abbot Kinney Boulevard, just a short drive from the Fairmont Miramar, has long been one of the Westside's most iconic, eclectic, and eye-catching streets. Named for the developer, conservationist, and tobacco magnate who founded Venice back in the early 1900s, the mile-long commercial stretch has undergone lots of changes over the years. Once a semi-gritty artists' enclave, the street saw a handful of locally-owned restaurants, boutiques, and galleries pop up in the late '80s and early '90s, which slowly brought in an expanded clientele from outside the neighborhood.
The 2007 arrival of frozen yogurt franchise Pinkberry is often cited as the catalyst that — for better or worse — began the gentrification of Abbot Kinney, and once GQ magazine named it "The Coolest Block in America" five years later, the street shot to international fame as high-end, big-name brands clamored to move in.
Today, Abbot Kinney Boulevard is still one of the hippest streets in all of Los Angeles. A slew of bustling restaurants helmed by top chefs has made the block one of the city's top dining destinations, and with its charming boutiques, Instagrammable street art, events, and people-watching, Abbot Kinney Boulevard is a can't-miss stop for any visitor to LA. Here are our top picks for shopping, sipping, and dining on this unforgettable street.
Top-Notch Eats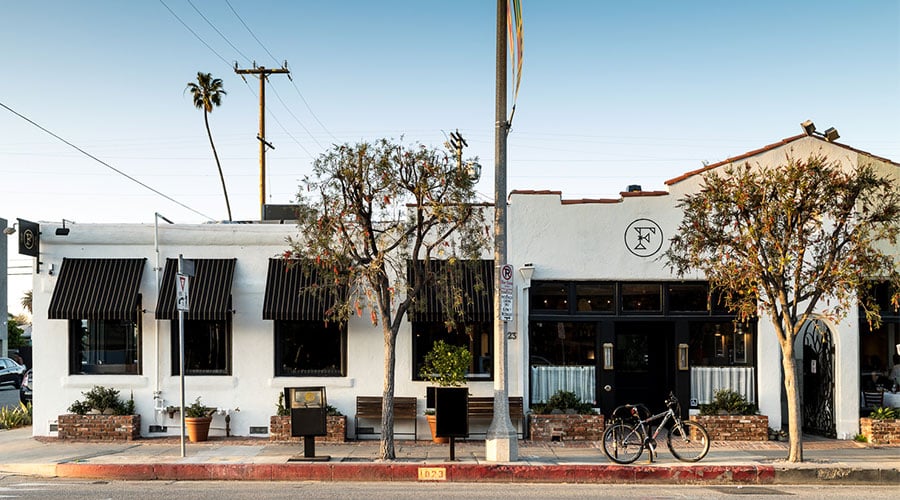 If you've got time for just one meal on the block, make it at the quintessential Venice restaurant Gjelina, with its rustic-sexy dining room and adjacent patio that's been packed from morning till midnight for more than a decade. It's here where chef Travis Lett churns out unique wood-roasted vegetable plates and perfectly puffy pizzas decked out with toppings of tomato confit, stinging nettles, and squash blossoms, depending on the season. For a quick fix, Gjelina Take Away offers counter-service pizzas, salads, and sandwiches along with breakfast fare.
Or, on the south end of the street, pasta master Evan Funke crafts next-level noodles in his climate-controlled, glass encased "pasta lab" within Felix Trattoria. (It's the same space that once housed the late Joe Miller's seasonal eatery Joe's, often credited with launching Venice's dining scene and spearheading the city's farm-to-table movement.) Felix Trattoria has officially become one of the city's toughest reservations, thanks to Funke's acclaimed regional specialties like spaghetti with bottarga and his signature pappardelle tossed in a chunky lamb Bolognese.
If you don't manage to snag a reservation, try Yours Truly, a newly revamped neighborhood eatery where chef Vartan Abgaryan gets innovative with seasonal veggies and seafood layered with international influences, including Delicata squash laced with harissa, octopus chicarron, and Nashville hot shrimp paired with Japanese milk bread.
And whether you're a dedicated vegan or not, you'll likely find yourself wowed by the offerings at Matthew Kenney's minimalist Plant Food + Wine, where the superstar chef has created his own lineup of faux cheeses along with inventive plates of kelp noodle cacio e pepe, mushroom pate, and rice-based bacon at brunch. Speaking of brunch, there's perhaps no better venue on the street for daytime noshing than The Butcher's Daughter, a white-washed space with soaring ceilings, copper accents, a wood-topped bar, and plenty of hanging plants. Dubbed a "vegetable slaughterhouse," the Venice offshoot of the NYC original offers up stone oven-baked pizzas, veggie-packed salads and bowls, a killer housemade buckwheat-and-bean burger, plus smoothies and fresh-pressed juices.
And while AK may have changed plenty over the years, 25-year-old slice spot Abbot's Pizza, hasn't. The small-but-mighty storefront is still doling out real-die pies with both classic toppings and wilder combos (think chicken curry pizza with pineapple and more).
Coffee and Cocktails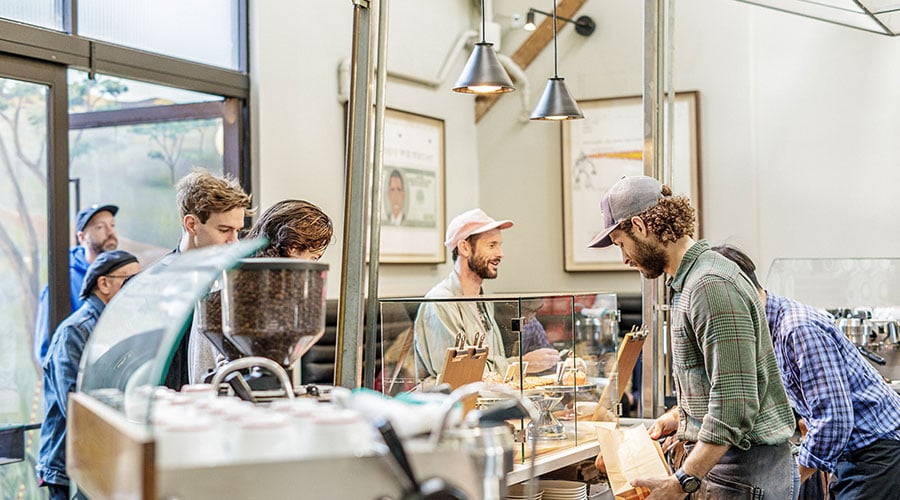 For a pick-me-up, head to the airy, loft-like Intellgentsia. Its bleacher-style seating is perfect for watching the baristas whip up a matcha latte or grind single-origin beans that might be sourced from Rwanda or El Salvador.
Down the street, the Bay Area-based Blue Bottle outpost draws in coffee lovers with its gleaming Kees van der Westen Spirit espresso machine beneath a slowly-shifting LED display, meant to mimic the blue Venice sky. And for a not-so-average coffee shop experience, pop over to the coffee counter inside TOMS' flagship shoe store.
Need something stronger? There are a handful of bars on the block, including Roosterfish, which closed several years back after holding its status as one of the Westside's only gay bars for decades. It was more recently reborn as a dark and sexy cocktail den serving up unique libations along with classics. And with its famous neon sign of a shirtless, gloved boxer serving as an easy-to-spot beacon, longstanding staple The Brig houses a big bar, a few pool tables, and weekly live music.
Savvy Shopping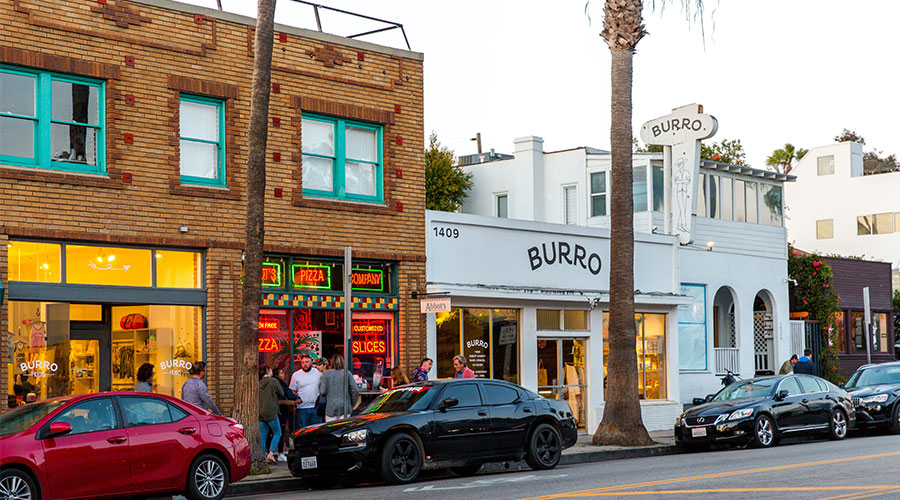 Abbot Kinney is overflowing with well-known fashion brands — from Vince to Velvet, Sweaty Betty to Scotch & Soda, and Allbirds to Adidas, they all occupy shiny shopping spaces along the boulevard. But you'll also find a contingent of more unique retailers here. Nearly 20 years in, bohemian boutique Ananda is the place for whimsical wardrobe staples, gemstone jewelry, and artsy accessories. And you can build your hipster wardrobe at the flagship shop of The Stronghold, an LA-based clothing brand dating back to 1895.
Scandinavian design shop Huset sells sleek furniture, dishware, and accessories in addition to bins of Willy Wonka-worthy, all-natural Swedish gummy candy, while California-influenced housewares, stationery, and jewelry fill neighborhood boutique Burro. New kid on the block OWL Venice focuses mainly on its signature jars of homemade, medicinal herb-infused bone broths and vegan "mylkshakes," but it's also a worthwhile stop for picking up handmade homegoods including macramé, ceramics, and candles.
Festivals and Flea Markets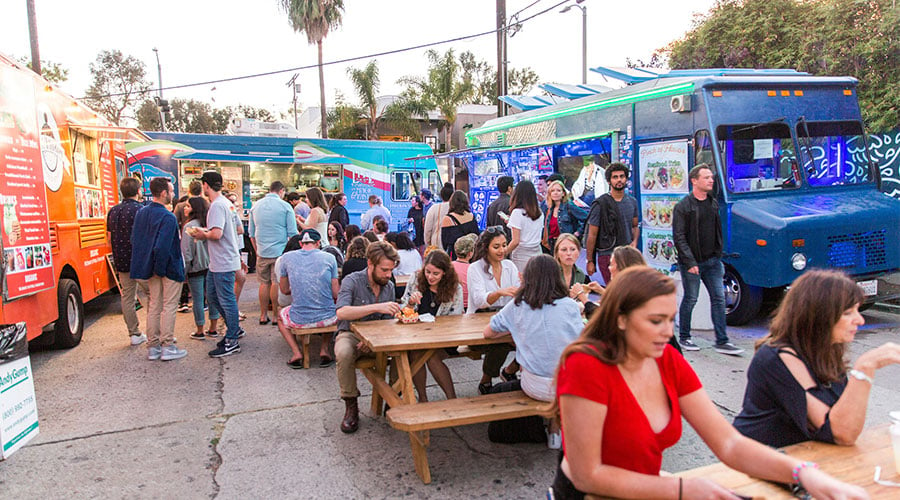 The fun and festive First Friday is a good way to check out many of the city's best food trucks, which cram the street during the event (many merchants stay open late and offer sales, specials, live music and more). And every Saturday afternoon, the Brooklyn outpost of artisan market Artist and Fleas (located in the parking lot of Westminster Avenue Elementary School) sets up shop for dozens of local makers to purvey everything from candles to vintage records to wispy gold necklaces. There's usually a DJ and a few food trucks sprinkled in, too.
If you happen to be coming to town in late September, you'll also get to experience one of Venice's biggest events of the year, the annual Abbot Kinney Festival, a block party that draws 100,000 people for food, vendors, live music, and more.
No matter what time of year you visit, though, a stop at Abbot Kinney Boulevard is a worthwhile excursion during your stay at the Fairmont Miramar — after all, it didn't earn the "Coolest Block in America" title for nothing.
Featured Photo: Abbot Kinney Blvd / Photographer: Marissa Vitale