Food & Spirits
Soko, A New Sushi Pop-up Experience
With the Fairmont Miramar Hotel & Bungalows celebrating its centennial year, guests can be sure to anticipate a few surprises – including the brand-new launch of a high-end eight-seat, sushi pop-up bar called, Soko.
Everyone loves sushi, but few know the culinary delight dates back almost 2000 years. Well before refrigeration, Japanese fisherfolk preserved fish by wrapping it in fermented rice and salt, calling it "Narezushi." Kept in darkened storerooms, Narezushi was perfected over the centuries until now, when modern sushi has been elevated to an art form. Soko, is a literal tribute to the origins of sushi, the name means "storeroom," and Soko is, in fact, set in a simple storeroom on our main-floor lobby.
The playful paintings on Soko's walls portray two brothers, both fishermen, dating back to the days of Narezushi. Our Soko logo, with its infinity symbol, pays homage to the timeless art of making and enjoying sushi. Eater Los Angeles describes the space as a "whimsical, casual vibe with a paper menu allowing diners to make a custom sushi meal with nigiri priced per piece."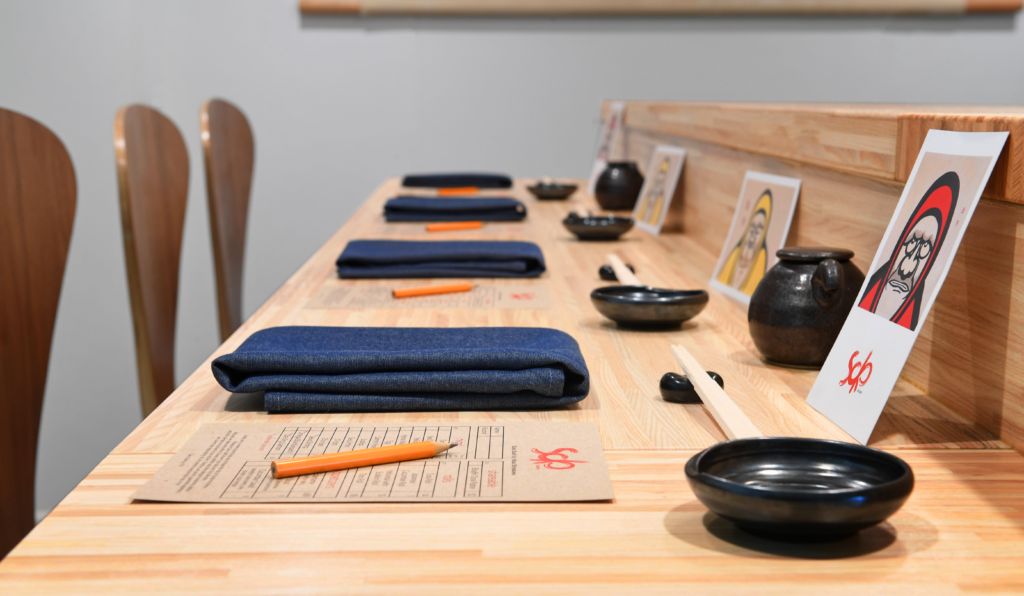 The intimate new dining experience is steered by sushi Chef Masa Shimakawa. Born and raised in Hakodate, Hokkaido Japan, Chef Masa is a sushi veteran, having worked around the world in acclaimed hotel restaurants across the globe including NOMI Restaurant at the Park Hyatt Chicago before making his way to the West Coast where he helmed the kitchen at the Four Seasons Westlake Village's Japanese restaurant, ONYX. Sushi is a lifelong passion for Chef Masa who notes that, "Soko is especially personal for me because it gives me the opportunity continue to perfect my craft by curating deeply personal and memorable experiences for our guests in a one-on-one type of atmosphere." Chef Masa delivers a Master Class in refined technique, presentation, and quality.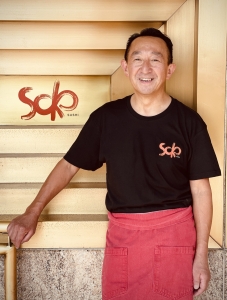 Soko has already received notable recognition from Forbes, Los Angeles Times, LAist, The Infatuation L.A, and much more. Eater Los Angeles notes, "the actual bar has a whimsical, casual vibe with a paper menu allowing diners to make a custom sushi meal with nigiri priced per piece, miso soup, edamame, and cucumber salad as starters. Options include horse mackerel, scallop, ora king salmon, red snapper, and sustainable kanpachi."
Soko is available Wednesday – Sunday from 5pm – 10pm and is not accepting reservations at this time, it is first come, first served. We hope to see you at Soko soon!