Food & Spirits
Santa Monica's Canary Cocktail Lounge Takes Flight With Tropical Drinks And Cool Jazz
Step through the grass-covered front entrance of Canary, a glam new cocktail lounge just a half-mile from the Fairmont Miramar in Santa Monica, and you're immediately hit with a sultry, lush vibe that feels more tropical island than urban LA. Inspired by Spain's sunny Canary Islands, the space boasts glass-enclosed greenery, trailing plants dangling above the backlit bar, a stage stamped with palm prints, and vibrant, emerald-colored walls.
But the most memorable – and Instagrammable – aspect is likely the life-size swing that looks like it came straight out of a giant canary's birdcage. With a wall covered in street-art style leaves and a neon sign spelling out Canary behind it, dozens of patrons take turns nightly to get a swinging seat – and a selfie.
View this post on Instagram
Taking center stage at this hotspot, however, are the cocktails. Ahead of its November 2019 opening, Pacific Hospitality Group, the crew behind Canary the crew behind Canary recruited mixology mastermind Devon Espinosa to invent a drink menu that infused tropical flavors with small-batch liquors and fresh fruit-heavy ingredients, all with the goal of offering up sophisticated, one-of-a-kind creations.
"I definitely wanted to make sure the origins of the Canary Islands still shined through, but I didn't want to limit the cocktail program to only being Spanish-driven," says Espinosa. "To provide a bigger spectrum of flavors, I designed the program as tropical."
To do that, he's created bold, flavor-infused variations on Spanish cocktails, including the Cafe "Fria," a blend of cane juice rum, banana liqueur, cold brew coffee, lime, fresh pineapple, and a stout syrup that he fashioned as a play on a Barraquito, a coffee cocktail unique to the Canary Islands. And then there's the "Sherry Baby," modeled after a classic Polynesian Mai Tai with two types of rum, lime, almond-based orgeat syrup, and the unlikely addition of Spanish sherry.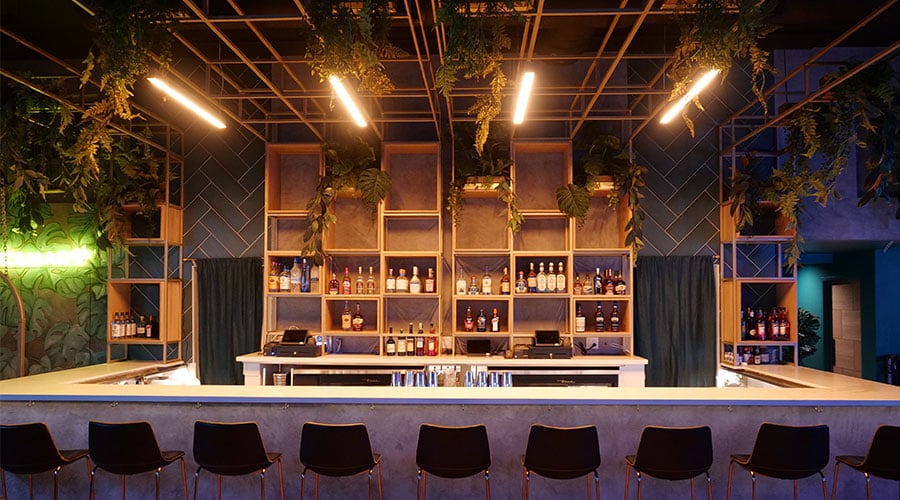 The pretty and pinkish gin-based "Desert Rose" is done with French Lillet blanc, two types of bitters, lemon, St. Germain, rosewater, and frothy egg white in a classic coupe, while the zippy mezcal drink "Angry Bird" is made with lime, ancho reyes chile liqueur, mango, and a Tajin Mexican seasoning rim. Thanks to a well-curated bar, there isn't a particular spirit that steals the show: "Vodka, gin, rum, rhum agricole, tequila, mezcal, bourbon, and a variety of fortified wines all make an appearance on our menu," according to Espinosa.
And if you're looking to sip something you've likely never had before, the "Gran Canaria" is a must-order with a flavor profile that's pure tropics with rum, fresh passionfruit, floral yellow Chatreuse, and mint. "When I think of tropical flavors, passionfruit does stand out for me, and Chartreuse is a great way to add a level of herbaceousness to a cocktail," he adds.
But beyond what's in the drink, it's what the drink is served in — an enclosed, clear-stemmed glass shaped like a bird — that makes it especially unusual. Bartenders pour the liquid into a tiny opening via a funnel and guests sip the cocktail through a (paper) straw. "When researching glassware, the stemmed bird glass immediately caught my attention. Glassware and garnishes play a very important role in the whole experience of drinking at any bar, especially in our social media-driven society," says Espinosa. "Garnishes should enhance or mirror the ingredients already in the cocktail, and a clever vessel helps to set the vibe." For now, "Gran Canaria" is tied with the "Off White," made with fragrant Pandan-infused rum, coconut, pineapple, and Thai basil as the most popular drink on the bar's seasonally changing menu.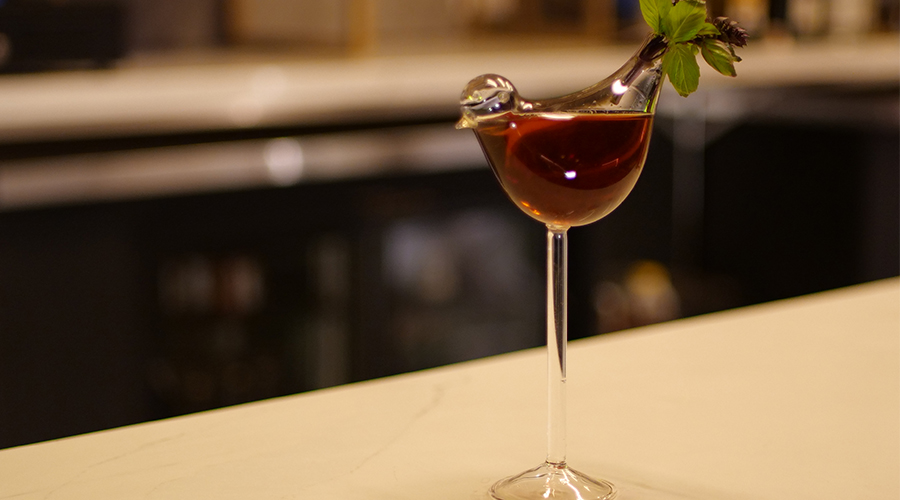 Another major element of Canary's spirit are its entertainment offerings. The venue will soon start bringing in rock cover bands a couple nights a week and offer a DJ-led Latin night every Thursday.
Currently, though, Canary's biggest music offering comes on Sundays. That's when the venue hosts a live jazz night headlined by soulful songwriter and Grammy award-wining pianist Dave Yaden, a killer on the keys who's opened for the likes of Sheryl Crow and Willie Nelson over the years. The musician shows up with equally talented members of his touring band and rotating vocalists. Bonus: You might just catch an appearance by a visiting burlesque dancer, depending on the night.
Life-size cage swings, bird-shaped cocktails, and on-stage talent? Canary acts as further proof that a night on the town in Santa Monica is always full of surprises.
Featured Photo: Robbie Snader / Canary