Food & Spirits
Over the Rainbow
June is Pride Month, a time to embrace love, joy, acceptance and pride in being true to who we are! It's been more than five decades since Stonewall, a pivotal event that ushered in a time of greater unity in the fight for LGBTQ+ rights. Pride Month marks the occasion for the LGBTQ+ community and friends to stand together and celebrate the achievements that have been made.
Those of us at The Miramar–and the Santa Monica community at large–plan to gather together to celebrate Pride Month, and all the strides that have been made on behalf of what it stands for. Here is a lineup of special events and imbibements that we are featuring for Pride Month.
At The Miramar
In honor of Pride, we're putting a colorful twist on the official cocktail of LGBT Pride Month with our special Glitter Fizz Vodka Soda cocktail, infused with vibrant colors that are sure to catch your eye! Glitter Fizz is available in a veritable rainbow of colors, starting with rose, tilden, and violet. With every sip you take, we will be donating 20 percent of the proceeds from each cocktail to the LA LGBT Center, an organization dedicated to providing essential services and support to the LGBTQ+ community in Los Angeles. Join us in the Lobby Lounge, FIG, and by the pool all month long for a taste of Glitter Fizz!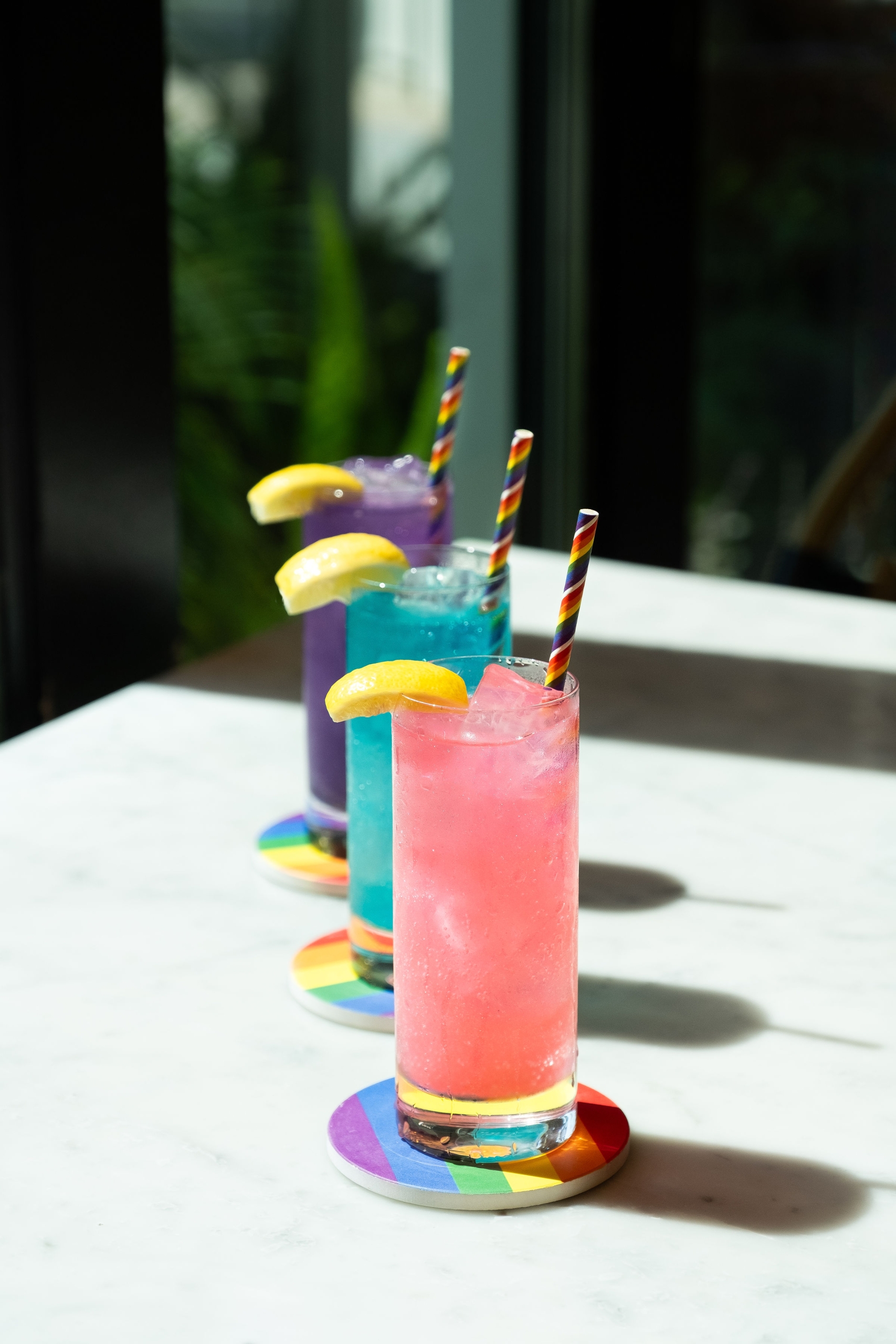 Ingredients: 
— 1.5 oz vodka
— .5 oz st-germain
— club soda
— splash of citrus
— Brew Glitter
— lemon garnish
Raise a glass to Pride!
At The Bungalow
Throughout June, The Bungalow will be serving up the Pink Flamingo cocktail. The Pink Flamingo is a mix of Jack Daniel's, agave, Pizzolato Moscato, grenadine, and a garnish of a Pride edible gummy flag. Proceeds for the Pink Flamingo will go to LA LGBT Center!
The City of Santa Monica
"Coming Out West: LGBTQ+ Elders Share Their Stories" Art Exhibition 
The Santa Monica History Museum is launching "Coming Out West: LGBTQ+ Elders Share Their Stories," from June 1- December 17, 2023. The exhibition is a compilation of images, art, oral histories and objects that tell the history of the LGBTQ+ community through the eyes of those who lived through it and shaped it. Santa Monica holds a diverse history of LGBTQ+ culture, activism and community, and the exhibit will share some of those local stories.
SaMo Pride Festival
On June 3, from 11 am – 4 pm, downtown Santa Monica will be transformed into a PRIDE Zone, with live musical performances, games, giveaways and PRIDE-related treats. The day's events are free.
Made with Pride Marketplace
The Made with Pride Marketplace is happening every Friday – Sunday at 395 Santa Monica Place. Throughout the month of June, in partnership with Streetlet, a growth engine for small business owners and artisans, Made with Pride will feature more than 15 LGBTQIA+ local business owners, with unique products, services–and stories!
& Many More!
It's a perfect month to visit us in Santa Monica,  here in sunny California. Check out the SAMO Pride website for all things Pride this month!