Lifestyle
Inside Edward Avedis Fine Jewelry's Bespoke Collection For Lady Gaga
Atelier by Edward Avedis, located in the Fairmont Miramar, is known and loved for its custom fine jewelry and celebrity clients, ranging from Laura Dern to Arnold Schwarzenegger. And now, our resident jeweler's fan club includes none other than one of pop music's most iconic personalities, Lady Gaga.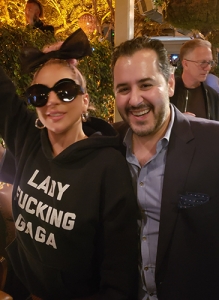 It all began last year when Avedis Guerboian was invited to play at Lady Gaga's charity poker tournament, and he donated a pair of signature Edward Avedis earrings as one of the prizes. "Lady Gaga was a huge fan of the design and we sat together on the same table all night," shares Guerboian.
"Her close friend reached out after we met the same night, to commission me for a gift she wanted to commemorate Lady Gaga's new album launch," he continues. "She shared with me the album cover 'Chromatica Sine' logo, which is the mathematical symbol for sound. I was asked if there was a way to create it as a pendant for Lady Gaga to wear. The challenge was, I had 10 days to design and create in time for her album launch on May 29!"
Guerboian got to work right away. "I sketched the design, and then created in 3D for her approval before it was made in solid 14kt rose gold. She was spotted wearing it all over town! Lady Gaga and her team loved the design so much they asked me if I could come up with other variations. Her manager and team all adorn a mix of earring studs, pendants, and bracelets of the sine symbol. Most recently, I created a petite diamond version for Lady Gaga, and she just shared a picture wearing it while thanking her Chromatica fans ahead of her VMA performance!"
It's a well-deserved partnership six generations in the making. "Avo," as he's fondly known, is the inheritor of the Guerboian family's pedigree of fine jewelry making, and his own eponymous line pays homage to his father Edward — a fitting way to combine his family's heritage craft with his own talents for custom creations.
View this post on Instagram

See more photos of Avo's custom collection for Lady Gaga below (including her wearing the diamond pendant at the 2020 VMAs), and view Avo's other fine jewelry on his website or at Atelier by Edward Avedis in the Fairmont Miramar.
View this post on Instagram