Food & Spirits
How To Craft The Perfect Cheese Plate, According To Eric The Cheese Guy
Sidle up to the pewter bar inside the bustling FIG Restaurant at the Fairmont Miramar, and you'll find more than just a creative selection of cocktails and wine being served. Wedged between the bottles lies an unassuming glass case filled with something perhaps even more tempting: a mouthwatering selection of artisan cheeses.
There's a silky double crème from France, a blue-veined mixed-milk wedge from Spain, and an Italian Gorgonzola so soft it almost resembles ice cream — and it rotates regularly.
The man behind the ever-changing curation is Eric Brazel, better known as Eric the Cheese Guy. After completing a course at the Cheese School of San Francisco (yes, that's s a real place), the former cook became, well, the big cheese at FIG when it opened a decade ago.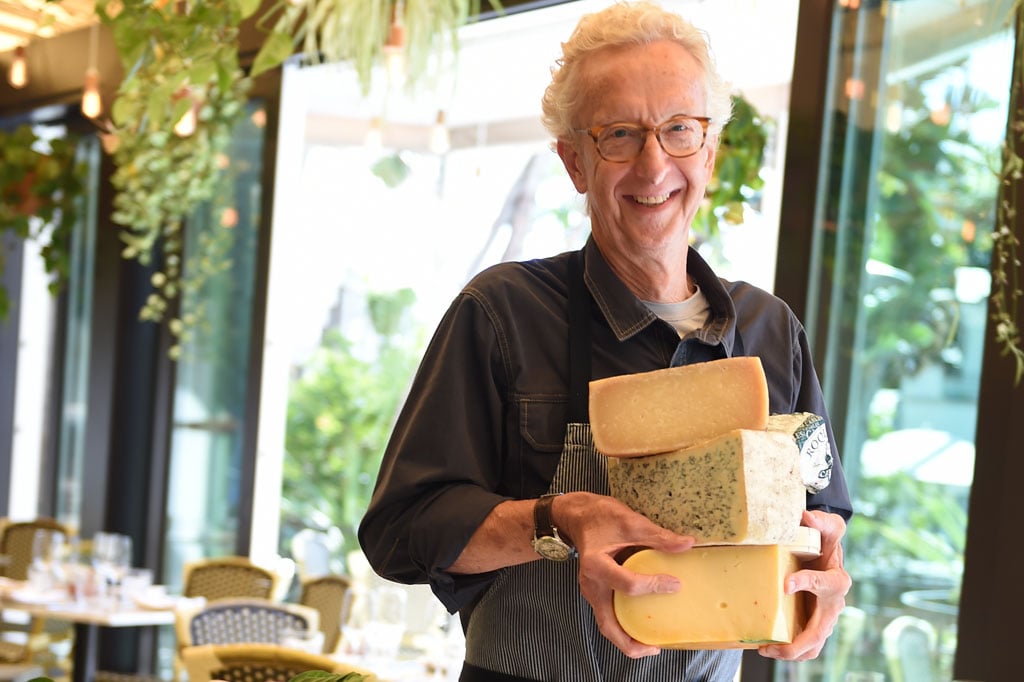 "I originally took an interest [in cheese] because of the culinary aspect, and then I just started learning more and more," he shares. And there's a lot to learn about the dizzying array of cheeses out there, from the aging process to what the rind is washed with to the various textures and flavor notes.
That might mean a Wisconsin goat cheddar aged underground in Brooklyn in cheesecloth "bandages," a custardy Casatica derived from the milk of Italian water buffalo, or one of Brazel's current favorites, the Gruyere D'Alpage from Switzerland. Only available certain times of the year, this cheese comes from cows that live in the Alps and only graze after the snow melts, beginning in May and ending in October. "The best milk comes from cows grazing in the meadows, which have different plants, flowers, and herbs," explains Brazel, "[so] you can end up getting a lot of those notes in the cheese."
Guests at FIG can put together their own cheese platters or choose "Eric's Stash," a mix of four of his top picks of the day. "I think of it like a wine flight: You're going from less intensity to more complex," he says. Cheese plates also come with a bevy of accoutrements including a house-baked fruit and nut bread, quince paste imported from Spain, a knob of honeycomb, a dollop of olallieberry jam sourced from the farmers market around the corner, and more.
Ultimately, cheese is a choose-your-own-adventure experience at FIG. "We make everything very approachable — we just want people to enjoy," says Brazel.
Ready to create your own perfect plate? Here are Eric the Cheese Guy's top tips.
Take It Down to Room Temperature
Other than super-soft and runny varietals, Brazel takes most of the cheeses out at the beginning of the night and displays them on a marble board for guests to gawk at. Bringing cheeses to room temperature allows flavor notes and subtleties to shine, so make sure to take them out of the fridge an hour or two before you plan to serve.
Mix Up Your Milks
Cow, sheep, goat… water buffalo? Try them all, and make sure to add one that's a blend of multiple milks, like a hearty Spanish cow-goat milk combo or a sheep-cow blend from France with a nutty finish. Also include hard, soft, and runny cheeses to vary the texture offerings even more.
How To Craft The Perfect Cheese Plate | Fairmont Miramar Santa Monica Blog
Serve Some Sweet and Savory Stuff on the Side
Finish your platter with nuts, dried and fresh fruit, sliced bread, and honey. And make sure to invest in a container of that quince paste, known as membrillo. "You need a little sweet, but it's not terribly sweet and it's got a great texture," says Brazel. "In Spain, it's everywhere."
Don't Shy Away from Stinky
While people tend to assume that stinky cheeses have a pungent taste, the cheese itself actually doesn't have much to do with the smell, Brazel explains. Known as "washed rind cheeses," it's the rind that attracts microflora, or bacteria, to grow. "And that's what makes them stinky, but it doesn't necessarily make them strong," he says. "Usually they're very complex, and they end up being favorites for a lot of people."
About the Contributor
Lizbeth Scordo covers food, lifestyle, and travel for outlets including Eater, Thrillist, The Red Bulletin, Bravo TV's The Feast, Epicurious, Good, and Palm Springs Life. She spent several years in editorial positions at Yahoo, serving as senior editor of its women's lifestyle vertical Shine and as deputy editor of entertainment news site Yahoo Celebrity. Earlier in her career, she spent four years as a staff reporter with Dow Jones in New York, covering tech startups and venture capital firms. Her work has also appeared in Alaska Airlines Magazine, Angeleno, Budget Travel, Fit Pregnancy, Los Angeles Times Magazine, Muscle & Fitness, TV Guide, and Us Weekly.