Activities
A Deserving Spotlight On La's Small Theatre Scene
Last year, the Los Angeles Music Center downtown reopened the plaza that links the Ahmanson and Mark Taper Theatres to the Dorothy Chandler Pavilion. It features a coffee shop, a restaurant, and a wine bar to go along with its massive central fountain, at a renovation cost of $41 million.
Santa Monica Playhouse does not have a plaza. It has an awning. Just off the intersection of 4th Street and Wilshire Boulevard, the Playhouse's largest theater taps out at 88 seats. But when co-artistic director Chris DeCarlo saw a production of "No Exit" here in 1962 as a teenager, that intimacy that can only be created in a small space inspired him in a life-altering way.
"To this day, it's probably the most impactful piece of theatre I ever saw," he says. "I mean, the play is fantastic and all that, but the chemistry that occurred on that stage in front of my eyes blew my mind. And I said, 'that's what I want to do.'"
Despite not having a reputation as a theater town, Los Angeles is home to hundreds of productions each year. Sure, there are traveling Broadway shows and big-name productions downtown. But to truly hear the heartbeat of the city's creative stage artists, visitors should seek out smaller stages, where actors, directors, and writers ply their trades unconcerned with Hollywood. Even with small budgets, legislative obstacles, and even conflicts with an actors' union, intimate theater has survived.
"It's not a job," DeCarlo says. "It's a calling."
In Los Angeles, small theater comes in many forms. Sometimes, it's a writer debuting new material, offering the opportunity to see a play up on its feet for the first time. Other times, it's a chance for famous actors to "stretch their legs" and do something meatier than a television episode. (As an example of both, famed playwright David Mamet's newest work, "The Christopher Boy's Communion," is on stage at the Odyssey Theatre in nearby West Los Angeles, starring William H. Macy and Clark Gregg.)
View this post on Instagram
But it's more likely that you'll see members of the Hollywood "working class." These are actors, directors, producers, and designers with day jobs. Actors often have faces you may recognize as a waiter in the occasional TV show, or from a bit part in a movie.
Christine Jöelle is one of that class. She's done independent film work and commercials, but her biggest commitment since moving to Los Angeles almost 20 years ago has been to the stage, with roles in plays at dozens of L.A.'s small theaters. She's currently in the Playhouse's production of "Mistakes Were Made (Coulda-Woulda-Shoulda)," which is currently set to run through early April.
"It's a creative outlet," she says. "And the theater community as a whole is really special here in Los Angeles. It's not closed off. It's not 'me, me, me, I, I, I'—it's a team, because if you're not on stage, you're doing something off stage for [the show]. … That's special, and it's always close to my heart."
Working at this level of theater here has its own difficulties, thanks to small budgets, tough-to-find audiences, and the occasional double booking; if an actor gets a paid television or film role, for instance, it either means calling on an understudy or canceling performances. And in the past five years, the community has seen that fragile business model under fire, too.
View this post on Instagram
Five years ago, Actors Equity, which is the stage union for actors in the United States, mandated pay for performers and other changes to its agreement between Equity and producers. Many actors had participated in Los Angeles productions on a volunteer basis, figuring that being on stage was better than paying for a class (or, worse, watching television at home). It forced some theater companies to go non-union, while others had the organizational strength to match the new pay requirements. The Los Angeles membership of Actors Equity voted two to one against the changes, only to have the national, New York-based board essentially ignore the local actors (though there were modifications made to mollify L.A.'s acting population).
Early in 2020, a new challenge emerged. California's AB5, a law impacting "gig economy" workers, went into effect on January 1st and, while interpretations differ, it appears that non-union theaters will now have to make actors and other artists part-time employees, rather than independent contractors.
"It's probably going to affect our cash flow," says DeCarlo. "In terms of compensation it's probably going to increase it by probably 25% across the board."
It's a new strain on the budgets of the already underfunded theater world. But it's not the first time that small theater in Los Angeles has faced a challenge to its well-being, and with a city full of artists looking for that creative outlet, it's unlikely that the stage lights at the Playhouse, or other small Santa Monica theaters, will go dark anytime soon.
"When you sit in that seat, you're giving yourself the time and the space," DeCarlo says. "And you're being impacted by an experience. And that now allows you to become a little more tolerant, a little more accepting, a little more patient. …That's a gift you give yourself, your friends, your family, and to the artists on the stage. And [that], to me, [is] intimate theater."
Where to Go, What to See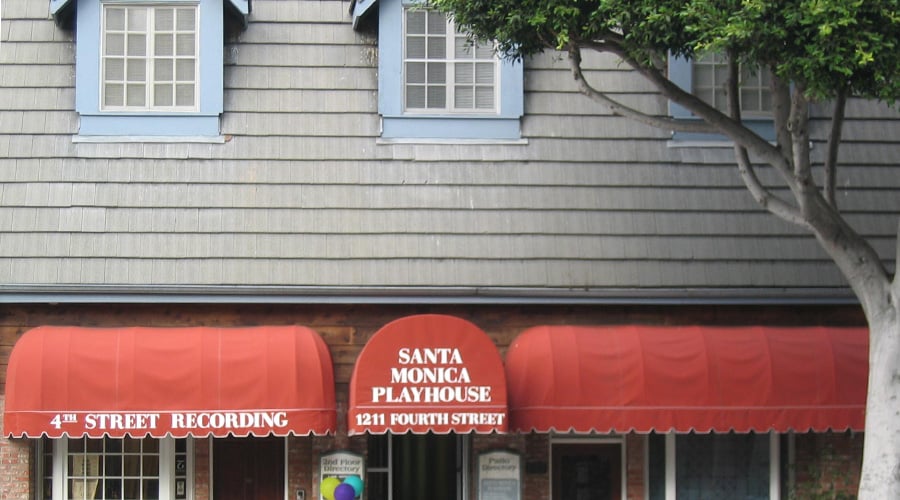 Looking to catch a play while in town? The Santa Monica Playhouse currently has "Mistakes Were Made (Coulda-Woulda-Shoulda)," "In the Mood," and "Love in Bloom" playing in repertory, along with other acts. At the Promenade Playhouse, the award-winning show "The Curious Incident of the Dog in the Night-Time" goes up on February's final weekend.
Meanwhile, on the grounds of Santa Monica Airport, the Ruskin Group Theatre has yet to announce its next show after closing "Bad Habits" (with legendary character actor Orson Bean in his final theatrical performance before his death in Venice). However, once a month the Ruskin puts on "L.A. Café Plays," a theatrical experiment that sees playwrights writing a short one-act in the morning, then actors bringing it to life that evening. Needless to say, theatre aficionados and curious onlookers alike will find plenty of performances to enjoy during a stay at the Fairmont Miramar.