Poolside Kitchen
Located in the middle of lush gardens and under palm trees, our pool offers the ultimate relaxation. Choose from a selection of refreshing cocktails or light bites, fired up right next to the water. And don't miss Poolside Cinema, happening every weekend at sunset during the summer months. Reservations for Poolside Cinema can be made at the front desk.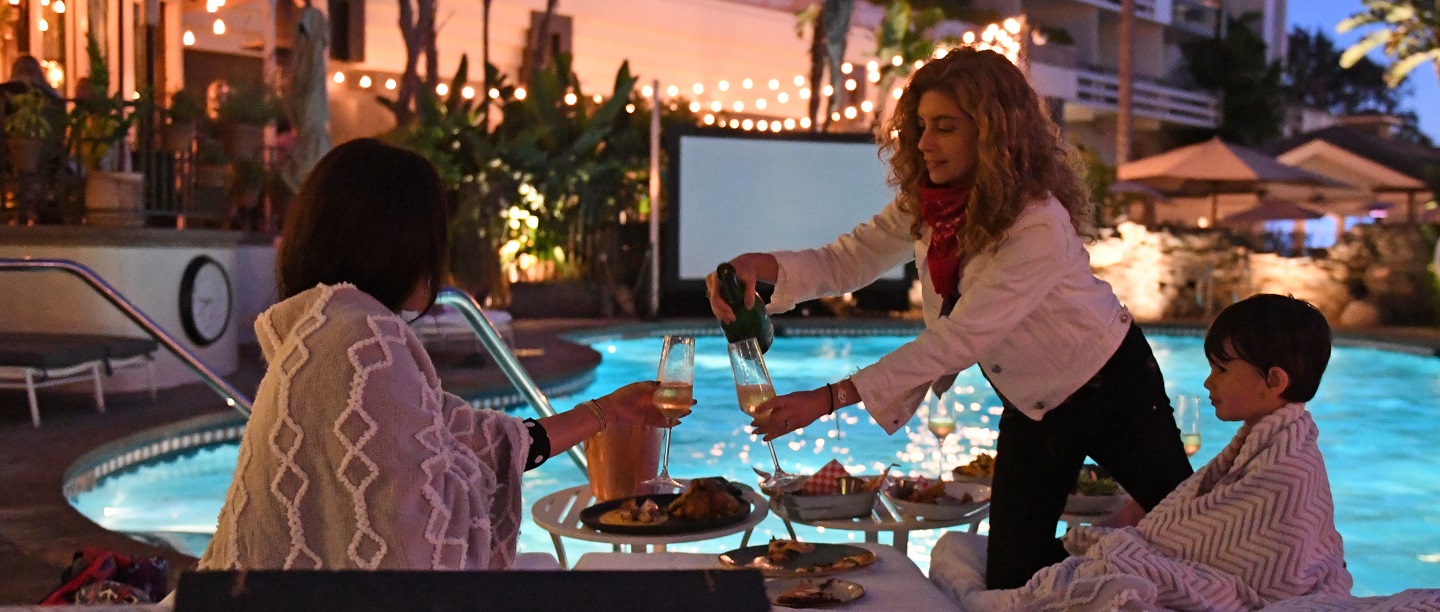 Enjoy the ultimate dinner and a movie date night, with dinner service by FIG Restaurant. Lounge space and popcorn are offered complimentary for hotel guests.
LOCATION
101 Wilshire Blvd
Santa Monica , California 90401
HOURS
Daily | 11:00 am – 5:00 pm
Shareables

Brioche Donuts

Momma's Preserves

Cheddar-Bacon Biscuit

Whipped Butter & Momma's Jam

Crispy Calamari

Blistered Garlic, Shallots & Momma's Lil Peppers Charred Lemon

Chilled Mexican Shrimp

Habanero Cocktail, Marie Rose Sauce Lemon

Queso Fundido

Creamed Rajas & Impossible Green Chorizo, Warm Tortillas

Rosemary Fries

Avocado Ranch

Brunch Fixings

Breakfast Burrito

Bacon, Eggs, Cheddar Cheese & Crispy Potatoes, Guajillo Salsa

FIG Burger

Allium Aioli, Hierloom Tomatoes, Muenster Cheese, Gem Lettuce, Wispy Onions, Rosemary Fries & Avocado Ranch

Spicy Fish Tacos

Shaved Cabbage, Mango Salsa & Cilantro Crema, Avocado

Farmer's Market Veggie Salad

Shaved & Chopped Vegetables & Chickpeas, Piquillo Peppers & Red Wine Vinaigrette

Main Lobster Cobb Salad

Charred Corn, Tiny Tomatoes & Avocado, Boursin Cheese & Lemon Tarragon Dressing

FIG's Classic Chopped Salad

Mary's Chicken, Smoked Bacon, Corn & Hazelnuts, Avocado, Lemon & Oregano Dressing

Soko Sushi

Sushi Bento Box

Tuna, Yellowtail, Salmon, Halibut Nigiri, Tuna Avocado Roll, Cucumber & Seaweed Salad, Edamame & Fruits

Desserts

Shortcake

Tamai's Strawberries, Bee Pollen & Yogurt Sorbet

17

Warm Chocolate Chip Cookies

12

Housemade Sorbet or Ice Cream

5
Appetizers

Roasted Tomato Soup

Croutons & Basil Oil

Home Style Chicken Noodle Soup

Egg Noodles & Dill

Lemon Garlic Hummus

Market Vegetable Crudité & Marinated Olives Grilled Pitas

Spicy Ahi Tuna Poke

Scallions, Soy, Chile Oil & Taro Root Chips

Cheese & Charcuterie

Mustard, Honey Drenched Nuts & Pickles, Crackers

Margherita Flat Bread

Tomato Fondue, Oregano & Basil

Crispy Calamari

Garlic Confit, Momma's Lil's Peppers & Shallots Guajillo Salsa

Chilled Shrimp Cocktail

Dill, Lemon, & Cucumber, Horseradish-Cocktail Sauce

Hamachi Sashimi

Citrus, Serrano Chiles, Cucumbers & Ponzu, Scallion Oil

Nachos

Guacamole, Black Beans & Salsa Verde Lime Crema

Entrees

Turkey Club

Smoked Bacon, Butter Lettuce & Tomato, Brioche, Mayo & Fries

Cuban Sammy

Citrus Marinated Pork Shoulder & Shaved Ham, Emmenthal Cheese & Vinegar Dusted Fries

Classic Burger

Niman Ranch Beef Patty, Lettuce, Tomato & Pickle Cheddar Cheese & French Fries

Spicy Fish Tacos

Mango Relish, Shaved Cabbage, Cilantro Crema

Taylor Street Greek Salad

Kalamata Olives & Marinated Tomatoes, Feta Cheese & Bulghur Wheat, Oregano Dressing

Caesar Salad

Aged Parmesan, Fennel-Garlic Crumbs, Roasted Garlic Dressing

Albacore Tuna Nicoise Salad

Fine Beans, Nicoise Olives & Tomatoes, Marinated Potatoes & Slivered Egg, Sherry Vinaigrette

Chicken Cobb Salad

Smoked Bacon, Tomatoes & Blue Cheese, Avocado, Boiled Egg &Tarragon Dressing

Flat Iron Steak Salad

Butter Lettuce, Roasted Beets & Goat Cheese Radishes & Sherry Vinaigrette

Ora King Salmon

Wilted Spinach, Celery Root Puree, Lemon-Caper Butter Sauce

Mary's Half Roasted Chicken

Vesuvio Fingerling Potatoes & Braised Swiss Chard, Charred Lemon & Chicken Jus

Steak Frites

8oz Flat Iron, Herb Butter & Frites

Soko Sushi

Sushi Bento Box

Tuna, Yellowtail, Salmon, Halibut Nigiri, Tuna Avocado Roll, Cucumber & Seaweed Salad, Edamame & Fruits
Poolside Cocktails

101 Margarita

Deleon Platinum Tequila, Fresh Lime & Grand Marnier

"Make It Hot" With Handcrafted Jalapeno Jarabe

+2.00

Basil Cucumber Gin Lime Rickey

Nolet's Gin, Cucumber, Basil & Lime

Strawberry Aperol Spritz

Aperol, Ketel One Vodka, Muddled Strawberries & Sparkling Wine

The Miramar

Amass Vodka, Lemon, Hibiscus, Rosemary & Champagne

Frozen

Colada Shipwreck

Bacardi Silver Rum, Coconut & Pineapple

Hollywood Frosé

Hampton Water Rosé, Grey Goose Vodka, Passion Fruit

Rosalita Margarita

Patrón Silver Tequila, Lime & Agave

Ready to Drink

Crystal Shiso Mojito

Casa Magdalena Rum, Sochu, Shiso Coconut & Indian Lime

Heart Breaker

Vodka, Oroblanco Grapefruit, Kumquat Jasmine, Ginger & Honey

Rocket Queen

Magdalena Rum, Red Pomelo, Cinnamon, Pandan & Absinthe

Wine

Prosecco

Della Vite Treviso

Champagne

Veuve Clicquot Brut

Chardonnay

Rombauer, Carneros

Sauvignon Blanc

Cloudy Bay, New Zealand

Chianti

Villa Antinori, Tuscany

Red Blend

Aleksander, Paso Robles

Hampton Water Languedoc, France

Beer

Corona Light

Common Space Fresh Pils of LA

SM Brew Works IPA

Peroni

Santa Monica Wit

Seafarer Kölsch
*Consuming raw or undercooked meats, poultry, seafood, shellfish or eggs may increase your risk of foodborne illness.
WARNING: Certain foods and beverages sold or served here can expose you to chemicals including acrylamide in many fried or baked foods and mercury in fish, which are known to the State of California to cause cancer and birth defects or other reproductive harm. For more information go to www.P65Warnings.ca.gov/restaurant.
Exclusive Offers and Updates from Fairmont Miramar