Lifestyle
The Rebirth Of The Third Street Promenade
In 1987, the Santa Monica Mall thought it had seen its best, busiest days go by. Amid faltering popularity, other cities were starting to tear their own pedestrian shopping experiences out — the Golden Mall in Burbank, in fact, would be turned back into San Fernando Boulevard in 1989.
But Santa Monica wanted a second chance.
"Santa Monica was a little bit unusual," says City Urban Designer Alan Loomis. "They decided to double down on this pedestrian mall concept to build what you see today."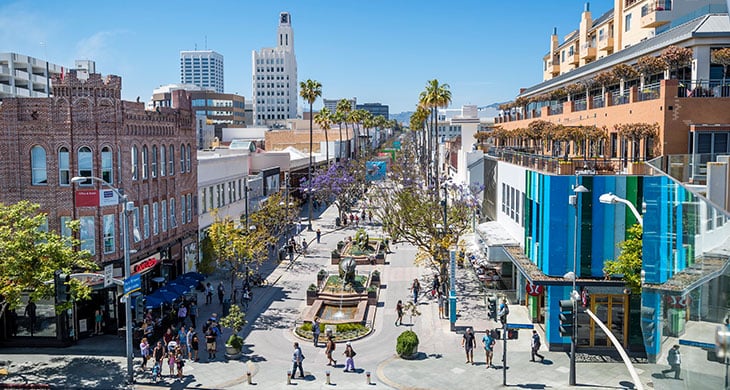 What you see today is the Third Street Promenade. It reopened in 1989 after a redesign, a two-year renovation, and a renaming, and it was a success out of the gate. In the 30 years since, it's grown into one of the Los Angeles area's most famous destinations.
It would have been hard to imagine in 1987. The Mall, as it was known from its christening in 1965 up to the late '80s, had been an effort to stem the tide of business moving to the suburbs, with a promise of traffic-free shopping. It is estimated that 200 different towns and cities across America created pedestrian malls, but many of them failed — a fate Santa Monica's version narrowly escaped.
To save it, an overhaul added everything from more parking to jacaranda trees, fountains, and other cosmetic improvements. But the biggest addition may have been its most subtle. The original mall, Loomis says, was built as flat concrete, like one long sidewalk. A curb was added to make it feel, oddly enough, more like a regular, trafficked street.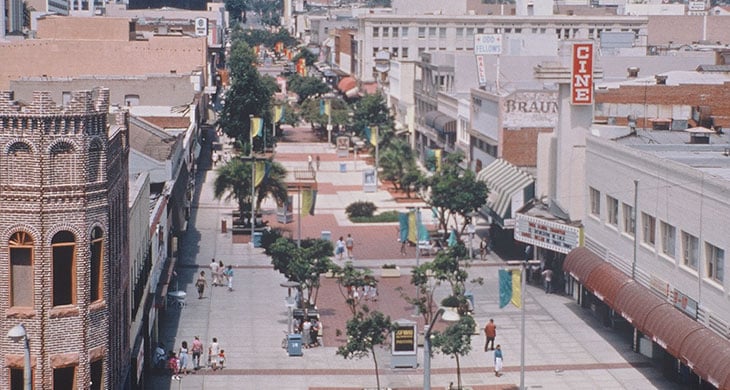 "There's two different stories as to why," says Loomis. "One is that they weren't 100 percent convinced that a pedestrian mall was going to succeed, so they were hedging their bets and saying, 'we can reopen this to cars if it doesn't work.'" (This is also the story that was told in reporting at the Los Angeles Times back in the day.)
"The other story I've heard, from the actual designer of the Promenade, is that it was done to provide a sense of scale," says Loomis. "The problem of the '65 mall is that it was just all concrete from storefront to storefront, and people were wandering aimlessly around, like sheep or cattle in a pasture, and not focused on the storefronts. So, putting in an actual curb, and actual sidewalks, gave cues to pedestrians as to how to behave."
The new-look Promenade also came with major improvements in terms of its tenants. Focused mostly on retail previously, Third Street added live comedy, with Second City taking over the Mayfair Theatre. Cineplex Odeon opened with a four-screen multiplex (today, it's the AMC Broadway 4; the AMC Santa Monica 7 opened in the early '90s), and restauranteurs were courted extensively to provide reasons for locals and tourists alike to be on the Promenade into the evening.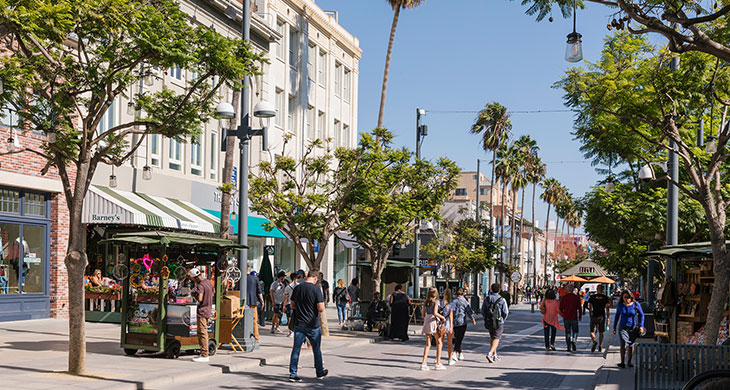 Today, that mix attracts more than 11 million visitors annually. But that doesn't mean the Promenade can rest on its laurels. As shopping switches more and more to an online experience, Loomis and the city are working on what they're calling Promenade 3.0, which, slyly, celebrates the 30th anniversary of version 2.0. It will involve activating that center strip with seating, stages for performers, and community events.
"My thesis is that, in the 21st century, the formula is a great public space with great reasons to be in the public space," says Loomis. "And the retail will sort of live off of that. Whereas in '89, we created a great public space with lots of people because they were coming here to [shop] and go to the movies. … It was the reverse."
As the public's relationship with commerce and community evolves, though, the Third Street Promenade will have a solid base from which to build, all thanks to the pedestrian mall's second chance back in 1989.
Featured Photo: Santa Monica Travel & Tourism