Lifestyle
The Community Inspiration Behind Santa Monica's Night Market
There's something magical about a balmy Los Angeles summer evening — especially at Santa Monica's newest Thursday hotspot, Night Market. The product of a dream-turned-reality by nightlife entrepreneur Brent Bolthouse, this new venture combines the best of what brings people together: food, drinks, music, and community.
On the corner of Ocean Avenue and Wilshire Boulevard, between the Fairmont Miramar front drive and the wildly-popular Bungalow right next door (also founded by Bolthouse, along with his star-studded Coachella afterparty The Neon Carnival), this weekly rendezvous of local food vendors, live DJs, and kid-friendly activities has been gaining steady momentum since its launch in mid-May.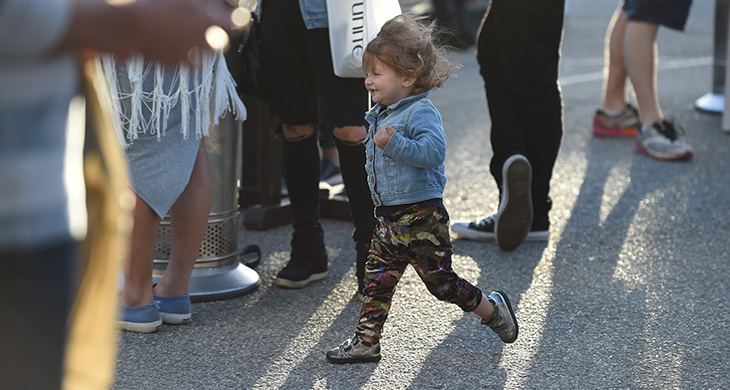 Following the community-centric blueprint of The Bungalow and taking inspiration from farmers markets, Night Market provides an ideal open-air setting between city and sea to unwind with friends and loved ones while celebrating the local essence of Santa Monica (not to mention the fast-approaching weekend).
"As we started looking at the landscape of what was happening to The Bungalow nine years in, to what is a fantastic bar and amazing story, we thought: how can we continue to do things that are neighborhood-driven?" Bolthouse explains. "The whole premise of The Bungalow was that it was a community-based, local bar. And that was really the way we architected Night Market from the beginning."
Partnering with local radio station, KCRW, he helped attract an impressive array of musical talent to The Bungalow's backyard, including a live opening night performance by Grammy award-winning singer Macy Gray and a rotating roster of buzzworthy DJs, including the Grammy-nominated Mayer Hawthorne. For Bolthouse and his friends at KCRW, Night Market was the perfect opportunity to bring free music back to the city after the recent schedule change of summer concerts at the Santa Monica Pier.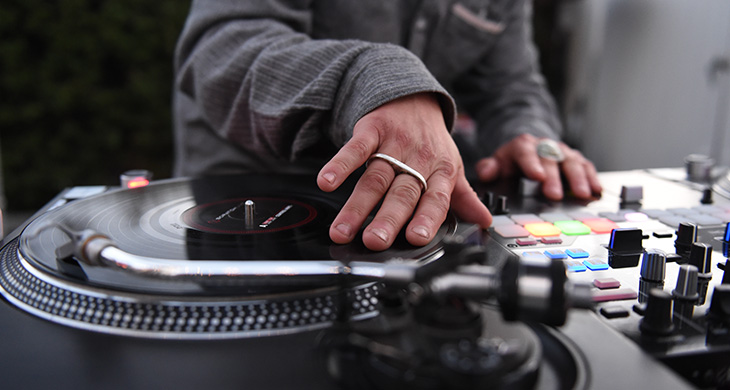 "We wanted to support KCRW, which is an institution in Santa Monica, and [The Bungalow] has become an institution in Santa Monica, and then from there we really thought about what people would love," says Bolthouse. In addition to the live music lineup, he rallied beloved Santa Monica eateries to join the Thursday night fold, drawing in pop-up kitchens from the city's most sought-after restaurants and food trucks, including Tacos 1986, Man Eating Plant, and Urban Pie LA, as well as an appearance from Cal Mare and its Michelin star chef, Michael Mina.
In addition to sampling LA's latest and greatest street food-style offerings, supporting Night Market means supporting small businesses around the city. Considering every vendor as a partner, Bolthouse doesn't charge them any rent to attend, and vendors keep every dollar they make.
"We appreciate and understand how hard it is to be a small business owner," he says. "I think we all feel really good importing local business. We're part of the food chain now and it's exciting. It feels like the karmic thing to do, supporting as many people as you can."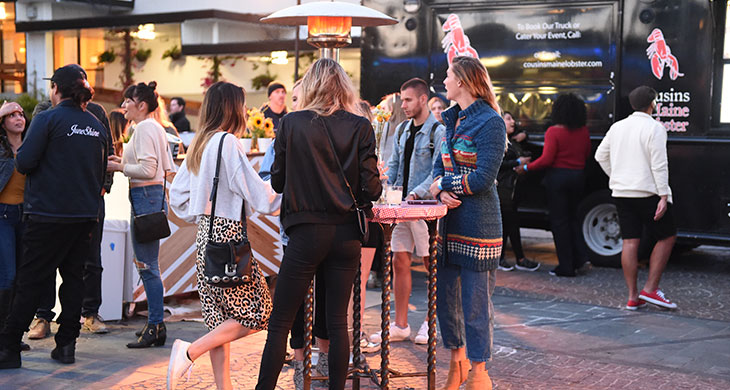 Admission to Night Market's weekly festivities is also free for its visitors, who are joining in on the revelry in increasingly large numbers as word of mouth continues to spread. More than a fun venue to savor a Santa Monica evening, it's an atmosphere where anyone and everyone is welcome.
"We're always trying to give the community something really special that they can feel like they can call their own," says Bolthouse. "People are super excited. It just gives you something fun that you don't get to do every day."
Night Market is held just inside of the Fairmont Miramar entrance gates on the corner of Ocean Avenue and Wilshire Boulevard every Thursday night from 5-10pm throughout the summer and into the fall.
All photos courtesy of Xperience Factory.