Lifestyle
Pride Month At The Miramar
It's June and PRIDE month has officially kicked-off here at the Fairmont Miramar Hotel & Bungalows in Santa Monica, California. Festivities include vibrant art and floral installations, PRIDE-themed cocktails, rainbow lights on our iconic Moreton Bay Fig Tree, and more. Join us as we celebrate and showcase some of the narratives that make up this beautiful and vibrant community.
This month we are honored to feature local LGBTQ+ artist, Tim Devlin, creator of the colorful multi-textural, floral-based installation, "Pride-a-Blooma" located right outside of FIG restaurant. "Plant material and natural elements are at the core of everything I do," notes Tim, who uses nature as his voice and escape to create these beautiful masterpieces. His inspiration for this installation which is featured as one of the stops on the SaMo Pride Rainbow Road Art Walk, "comes from the idea of pride as a garden and features an explosion of color. Taking cues from the pride flag palette, the installation showcases unique textures and color combinations. Dried and artificial plant material will be used to achieve a high level of saturated color for the ultimate pop." His art will be featured at the hotel for the entire month of June. To learn more about Tim and see some of his other pieces, be sure to check out his website HAUS OF DéVLIN.
To build on the bright energy behind Devlin's expressive art installation, the Miramar will light up its iconic 150-year-old, Moreton Bay Fig Tree. Every evening throughout the month of June watch our front lawn come to life and our Fig tree glisten in the PRIDE colors. A moment you will surely not want to miss.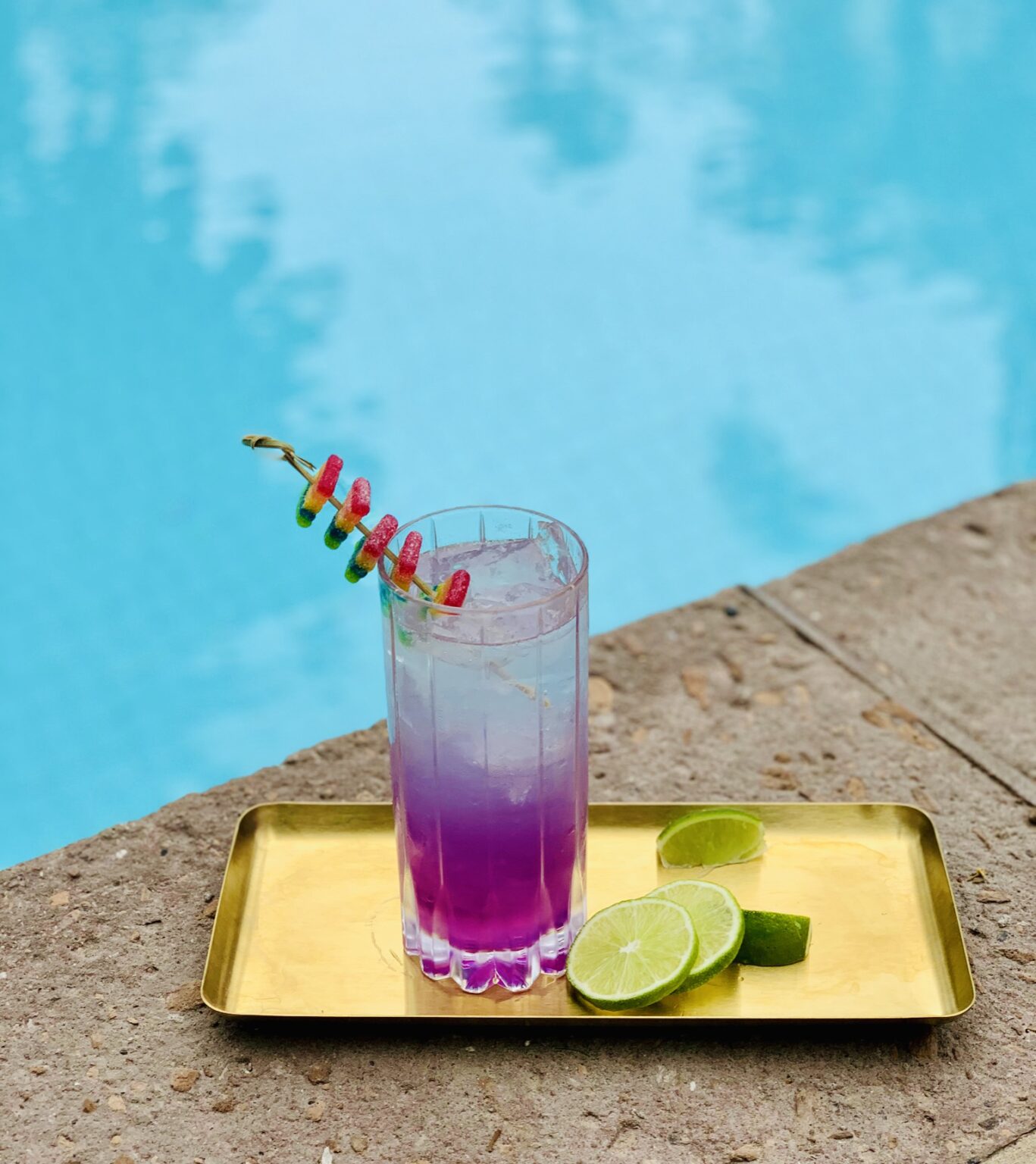 After taking in all the activations it may be time for a refresher. Enjoy our curated vodka, lime, Peach Schnapps, and ginger beer, "Purple Rain" cocktail. Garnished with a rainbow airhead, this drink will change colors right in front of you (check out our IG for a sneak peek) and will be the perfect insta-moment. Available at The Bungalow, FIG Restaurant, and our newly re-designed Lobby Lounge. A portion of the proceeds from each cocktail sold throughout the month of June will be donated to Liberty Hill, a foundation which has supported community-based organizing by LGBTQ leaders throughout their history.
We invite you to join us for all the PRIDE celebrations happening, Only at the Miramar.