Lifestyle
One of Our Best Buddies
Finding a good job can be a challenge for anyone, but being on the autism spectrum doesn't make it any easier. According to the National Autistic Society, data from the Office for National Statistics (ONS) showed that only 22 percent of autistic adults are employed. Yet work brings dignity and a sense of purpose to everyone, and those who are "neurodiverse" are no different.
According to Harvard Health, "neurodiversity describes the idea that people experience and interact with the world around them in many different ways; there is no one 'right' way of thinking, learning, and behaving, and differences are not viewed as deficits." April is Autism Awareness Month (also known as Autism Acceptance Month), and it is a good time to raise awareness about that neurodiversity, and the annual Autism Walk in Los Angeles coming up on April 23.
Chris Scaccianoce, a valued staff member at Fairmont Miramar Hotel & Bungalows, has worked in the HR Department for 20 years, filing everything employee-related from worker's comp to new hires, and more. He came here through a partnership with Best Buddies, "the world's largest nonprofit working to end the social, physical and economic isolation of the 200 million people with intellectual and developmental disabilities (IDD)," says Samantha Garrick, director, Best Buddies in Los Angeles. Chris is a Heartist, a term created by Accor for employees.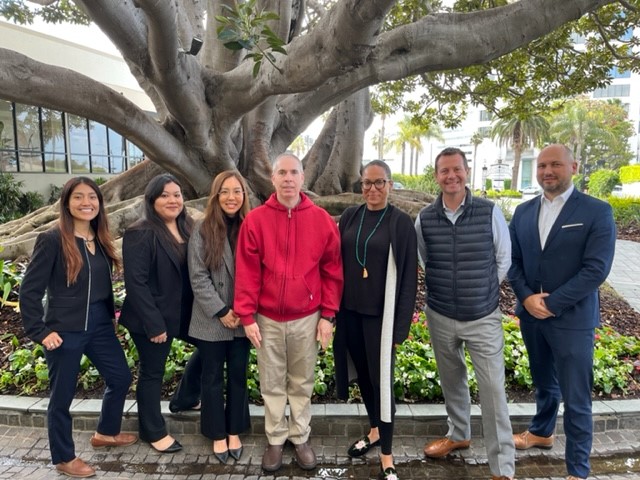 The IDD community served by Best Buddies includes people with autism, Down's syndrome, cerebral palsy, traumatic brain injury, Fragile X, William's syndrome and other diagnosed disabilities. They offer four programs: friendship, supported employment (Chris' program), leadership development and inclusive living. The supported employment program helps secure competitive employment for people with IDD.
"We work with our participants, like Chris, and we focus beyond the typical jobs where a person with IDD would be placed," says Garrick. "We take an individual approach to finding a position matching their talents and interests. We match skilled and qualified individuals with IDD with businesses seeking enthusiastic and dedicated employees."
The support works both ways–it is offered on an ongoing basis to the employee and the employer. "It's never a one-way street," she says. "It's with the expectation at the beginning that our participants play an equal part." With his long tenure at the Miramar, Chris is obviously a success story. He loves his work, and, in fact, it's hard for him to say which part is his favorite. He says that he likes how his environment is clean, and he enjoys filing his new hires and term folders. Chris also enjoys making copies in the copy machine. In his spare time, he likes to watch comedy movies with friends but doesn't have a favorite one–he likes them all–and enjoys playing with his two dogs, Mickey and Roxy.
Those in the Best Buddies program can be in it for life, unless, of course, they no longer need the support–like Chris, who is "graduating" soon–and that's the goal. "We're working to put ourselves out of business," says Garrick. "We're hoping to live in a world where our services will no longer be necessary."