Lifestyle
6 Tips For Creating The Hotel Wedding Of Your Dreams, According To Celeb Wedding Planner David Tutera
Anyone who's planned a wedding knows that choosing where you'll get married is often the biggest decision you'll make, and venue options are seemingly infinite. Take it from renowned event planner David Tutera, though: It's hard to go wrong with an amazing hotel.
Tutera has pulled off weddings just about everywhere, from Napa Valley vineyards to the beaches of the Bahamas, but he says that hotels can often be the perfect pick — guests can stay on-site all weekend, there are often top-notch chefs on staff, and the best properties can offer a variety of inspiring event spaces for couples to make their own.
Tutera recently planned a one-of-a-kind wedding at the Fairmont Miramar in Santa Monica for Jamie and Shilo (featured on the upcoming episode of Lifetime's My Great Big Live Wedding with David Tutera on Friday, July 12th) which incorporated the couple's favorite things, the hotel's oceanfront setting, and seemingly non-stop surprises for guests. Here, the expert's tips on planning your own big day at a hotel.
1. Look Beyond the Ballroom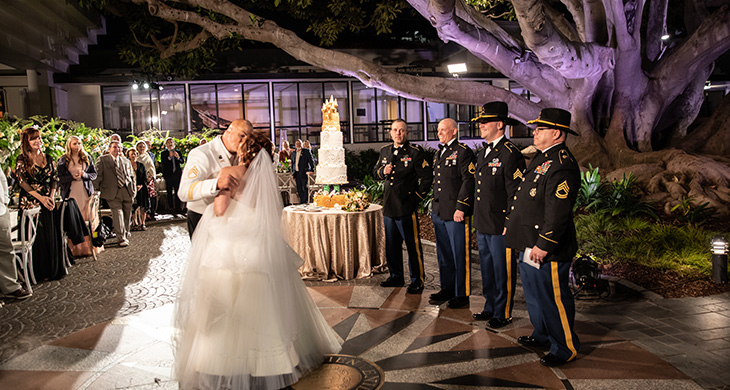 Tutera encourages future brides and grooms to explore every area of a hotel when first touring it. "You want to make sure you're looking at a property that has a vast amount of options and look to see what other areas can be used. Sometimes, there are nooks and crannies of a property that you might not even expect to use for an event or a wedding, and those are the areas that make the environment speak for itself," says Tutera.
Jamie and Shilo's wedding took full advantage of the Fairmont Miramar's multitude of locations around the property: The ceremony took place under the hotel's iconic fig tree at the entrance of the hotel, then the couple hosted a multi-course dinner for their 100 guests at one dramatically long table in the drive before heading inside for live music and dancing late into the night. Shares Tutera, "the beauty of it is there was a constant change of [scenery] and a unique, unexpected use of space."
2. Consider Plants Instead of Flowers
Orchids, ferns, succulents, even planted boxwoods were some of the live decor incorporated into Jamie and Shilo's wedding — plants that can last for months and even years, rather than cut flowers that usually die within days. "They're beautiful and there's an ongoing use for them besides just that night," says Tutera. "They're able to have a continuation of life afterwards."
3. Bring Your Surroundings into the Ceremony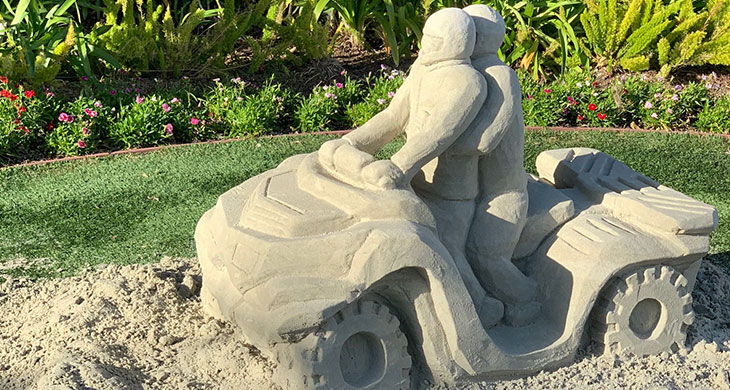 Whether you're hosting your wedding in a big city, a tiny town, or a far-flung destination, try to incorporate elements from the area to remind guests why it's special. Since the Fairmont Miramar sits just across from the ocean in Santa Monica, the couple used oversized sand castles to give the ceremony a beachy feel without having to set up on the sand.
"[Jamie and Shilo] love to take really unique adventures and they love the beach, so we had a sand castle artist come and recreate past adventures they've taken together — swimming with sharks, mountain climbing," he recounts. "As they walked down the aisle, they saw these massive sand castles that were created for them. That's the stuff that personalizes any wedding."
4. Turn Everyday Items into Unexpected Art
For a Key West wedding that Tutera and team worked on, they hung 2,000 Asian lanterns in colors ranging from peach to sage green from the ceiling to make the space feel magical. At another, he filled a pool with 1,000 monochromatic beach balls of different sizes. The result was a dramatic backdrop with a lower price tag than floral displays. "It looked like an art installation, [and it] was really affordable and visually a big 'wow,'" he says.
5. Keep the Party Going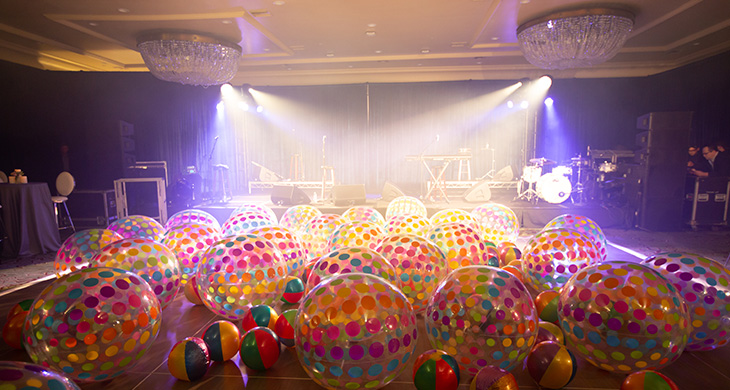 After-parties are an excellent way to make sure the night continues on and on… because you're not going to want the fun to end. The key to making sure guests are up for the next event, says Tutera, is to keep the reception moving so the evening doesn't feel like it's stalled or being dragged out. "Always keep guests wanting more," Tutera explains. For the after-party at the Jamie and Shilo's wedding, everyone headed into the ballroom for dessert and found that the room had been transformed into a club with a dance floor as country group Lonestar played on stage.
If you can't fly in a famous musical act, you can still throw a memorable after party, even if it takes place in the same space as the dinner or reception. "By changing the music or changing the lights, which is not a cost addition, you change the energy and the vibe," he says. "You'd be surprised. It's a major difference and people want to stay longer."
6. Sub Signature Drinks Out for Specialty Bars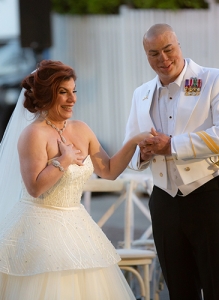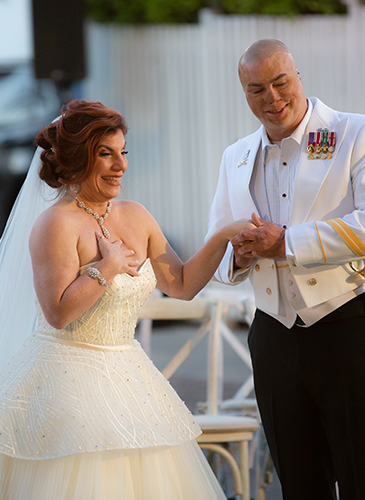 The signature drink trend has been around a while now, and though serving a specialty cocktail created for your wedding can be fun, the concept can also be a little limiting. For a fresh idea, Tutera recommends setting up a bar that's focused on a certain spirit, offering a multitude of inventive options. "Whether it's a whiskey bar or a champagne bar or even a craft beer bar," he explains, "there are different ways to do it and it just doesn't feel so predictable. It also opens the door to pleasing more guests."
Overall, hotel weddings offer plenty of opportunities for your big day to be exactly as it should be: Fun, meaningful, and most of all, personal.
Photos: Ben Aguirre Photography