Food & Spirits
A Chef's Trip To The Santa Monica Farmers Market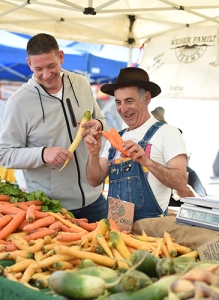 There are plenty of reasons why the menu at FIG Restaurant at the Fairmont Miramar is overflowing with seasonal, farm-fresh, and deliciously obscure ingredients. To start, the restaurant prides itself on crafting innovative cuisine, utilizing local produce, and changing up the menu frequently to showcase what's at its best right at any given time (lining up with executive chef Jason Prendergast's focus on sustainability).
But there's another factor at play: One of the country's most impressive farmers markets is less than half a mile away from the hotel. Operating since 1981, the Santa Monica Wednesday Downtown Farmers Market is the largest grower-only Certified Farmers Markets in the state of California, hosting 75 farmers weekly.
So it's no wonder it's a magnet for chefs from LA's top restaurants. You'll count plenty of them among its 9,000 weekly visitors, scooping up staple ingredients, snagging limited items that may only be available a few fleeting weeks, and perusing heirloom varietals of everything from beans to potatoes to lettuces.
While Prendergast visits multiple markets a week, this one definitely packs the most produce punch. We shadowed the chef on a recent Wednesday morning to watch how he tackles the market — and how he uses his finds to influence the dishes at FIG.
When he sees something he wants, he buys in bulk.
During a single market run, Prendergast and his kitchen team buy about 30 or 40 cases worth of produce, so the oversized carts they bring are certainly necessary. (Surprisingly, this only gets the kitchen through two or three days.)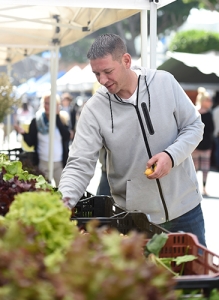 "We'll do a lot of buying based on what inspires us here," says Prendergast. On this spring morning, he spots the deep-hued purple podded peas from Coleman Family Farms out of Carpinteria. "These are the first ones we've seen at the market this year. They're great, a little bit sweeter than normal peas," he shares. He wants to use them in place of traditional English peas in the restaurant's wood-oven roasted spring peas with Guanciale and little gems, so he decides to buy all 20 pounds that the farm is offering today.
Throughout the day, he'll pick up cases of other attractive ingredients — 40 pounds of Bloomsdale spinach, for example, that he'll use as the base of the menu's spinach salad topped with a cured egg, garlic crumbs, and a pancetta vinaigrette. "This spinach is amazing right now and it's hearty, so it stands up to a warm dressing," he says.
He buys out another stall's entire lot of Castroville artichokes, a staple in the dinner menu's halibut entree. He braises the chokes whole in white wine before quartering them and combining them with fish stock, littleneck clams, and a bit of that spinach, topping the whole dish with the fish. "They just look amazing, and you can tell by how dense they are that they are high quality," he explains.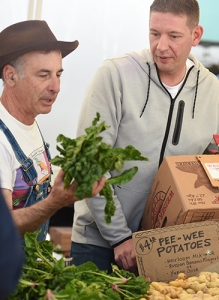 Relationships with farmers are crucial.
The farmers market is kind of like Prendergast's version of Cheers. Everybody knows his name… though beer and cocktails are replaced wither berries and carrots. At most of the stands he stops at (and even many he doesn't), the chef — who's been frequenting the market for more than a decade — gets a hearty "Hey there!" or "How's it going, Jason?" from purveyors.
They might also point out something special they're offering or confirm an order he's already put in. "By Saturday, we have emails from all the farmers that we use on a regular basis with what they're going to have this week, and that gives us an opportunity to plan and pre-order," Prendergast says.
Small details can make a big difference.
The lunch menu's tandoori fried chicken sandwich — on an artisan bun with mango-habanero chutney, butter lettuce, pears, and poppy seed dressing — would be pretty killer on its own. But the chef also layers the sandwich with an Indian-inspired Raita slaw, made with sunflower sprouts he procures from a purveyor of microgreens here. "It adds some brightness," he says of the sprouts.
Today there are also radish sprouts on offer, which he'll use to give a peppery green garnish to the smoked salmon plate on the breakfast menu. "They're really unique." Depending on what's on offer at the market, menu items like these will be tweaked to incorporate Prendergast's freshest finds.
Buy something seasonal… even if you don't know what you'll use it for.
Items like ramps, chive blossoms, and fiddlehead ferns are at the market for mere weeks in the spring, so Prendergast often buys them up when he can and creates a dish later. Today, the rare item on offer is fava tendrils or the tender leaves from the fava bean plant that lend dishes a nutty flavor.
"We'll use them to make a pistou or a pesto, and we'll wilt them into the branzino dish with citrus and fava beans," he says. Even though he's come up with a plan before getting to the kitchen, non-chefs can still take a cue from his Prendergast's seasonal creativity on the fly. Next time you're at the market, buy something new and different — you'll find something delicious to do with it back in your own kitchen.
See how Chef Prendergast transforms these ingredients into his innovative dishes at FIG: